Premium Insights Subscription
ASHRAFLAIDI.COM
PREMIUM
INTERMARKET INSIGHTS
Trade signals on FX, indices, commodities & cryptocurrencies
Each trade backed by charts, intermarket technicals and quantitative rationale
Weekly video covering existing and upcoming trades with focus on technicals, quantitative analysis and macro-technical approach to Intermarket flows
Each trade action is notified via Twitter, Telegram, SMS and email
Membership to VIP WhatsApp Broadcast Group for selected product tiers
Monthly

$110 USD

Premium Insights package includes trade signals and videos in English & Arabic

3-Month

$295 USD

10%

savings off monthly rate

a

Premium Insights package

6-Month

$550 USD

16%

savings off monthly rate
Premium Insights package

WhatsApp Broadcast Group

Yearly

$995 USD

25%

savings off monthly rate
Premium Insights package

WhatsApp Broadcast Group
FREE 1-WEEK Subscription with every package
About Premium Intermarket Insights
Our Premium Insights service provides trading signals, backed by ranges for entry, limit/target and stop. These are backed by technical, quantitative and fundamental rationale. The intermarket focus adopts technical and quantitative analysis across two or three market segments to bolster confidence in individual trades. Most trades use a top-down approach before filtering through the suitable signal. Technical and quantitative analysis range from classical and modern technical analysis, to price action, fractals and pattern-recognition as well as cross-market cycles. The aforementioned analysis is often too detailed to be communicated in each trade signal, but is covered more thoroughly in the weekly Premium videos in a way that is rarely conveyed in retail or institutional circles.
WhatsApp Broadcast Group
What is the AshrafLaidi.com WhatsApp Broadcast Group?
The WhatsApp Broadcast Group (WBG) consists of frequent trades and ideas on the markets, pre-trade alerts and 2-way interaction between Group members and Ashraf Laidi, all on the WhatsApp App.
WBG members receive frequent updates on existing Premium trades than for general Premium subscribers, as well as trades and suggestions on hedging and stops not available to the general Premium subscribers.
Updates and trades to WBG are communicated via text, voice notes and charts on WhatsApp on currencies, commodities, indices, bonds and occasionally individual indices.
WBG members can interact with Ashraf Laidi team via WhatsApp to seek clarifications and views on specific trades, or on the markets in general.
WBG members are alerted via WhatApp with a simple and quick message ahead of each new trade action (new trade, taking profit or moving stop), giving them ample time notice before the action is published in English and Arabic with rationale and charts and sent via the website email, SMS, Twitter and Telegram.
WBG is a "Broadcast" group and not the commonly used WhatsApp group, which means members cannot be "seen" by other members; and questions/comments from members to Ashraf Laidi team cannot be seen by the rest of the group.
Who can qualify for the WhatsApp Broadcast Group?
There are 4 subscription terms for the Premium Insights at reduced prices over the time horizon (see below); 1-month, 3-month, 6-month and 12-month subscriptions. Members with active 6-month or 12-month subscriptions are eligible to be part of the WhatsApp Broadcast Group. The WBG is not available for members of 1-month subscriptions or 3-month subscriptions.
How do I change my subscription from 1-month or 3-month package to a 6-month or 12-month package?
If you are already a subscriber to the 1 month or 3 month Premium Insights & would like to extend your subscription to the 6-mth or 12-mth plan in order to qualify for the WBG, then follow these steps:
Submit your payment for 6-mth or 12-mth plan, using this link:

http://ashraflaidi.com/premium/subscribe
Once we obtain the payment, we (not you) take on the task of cancelling your 1 mth or 3 mth plan & refund you the difference for any remaining time.
AGAIN, if you are an existing client on 1 mth or 3 mth plans & want to be part of our VIP WBG, then follow the above LINK (no other link) and DO NOT cancel your existing plan. We do that for you.
Save up to 25% off
The 6-month package of $550 saves you 16% off the 1-month option, which costs $110. And when you opt for the 12-month package of $995, you are saving $27 per month off the monthly subscription. Lock in all the benefits of WBG and save $27 per month or 25% per month.
WhatsApp Broadcast Group Testimonials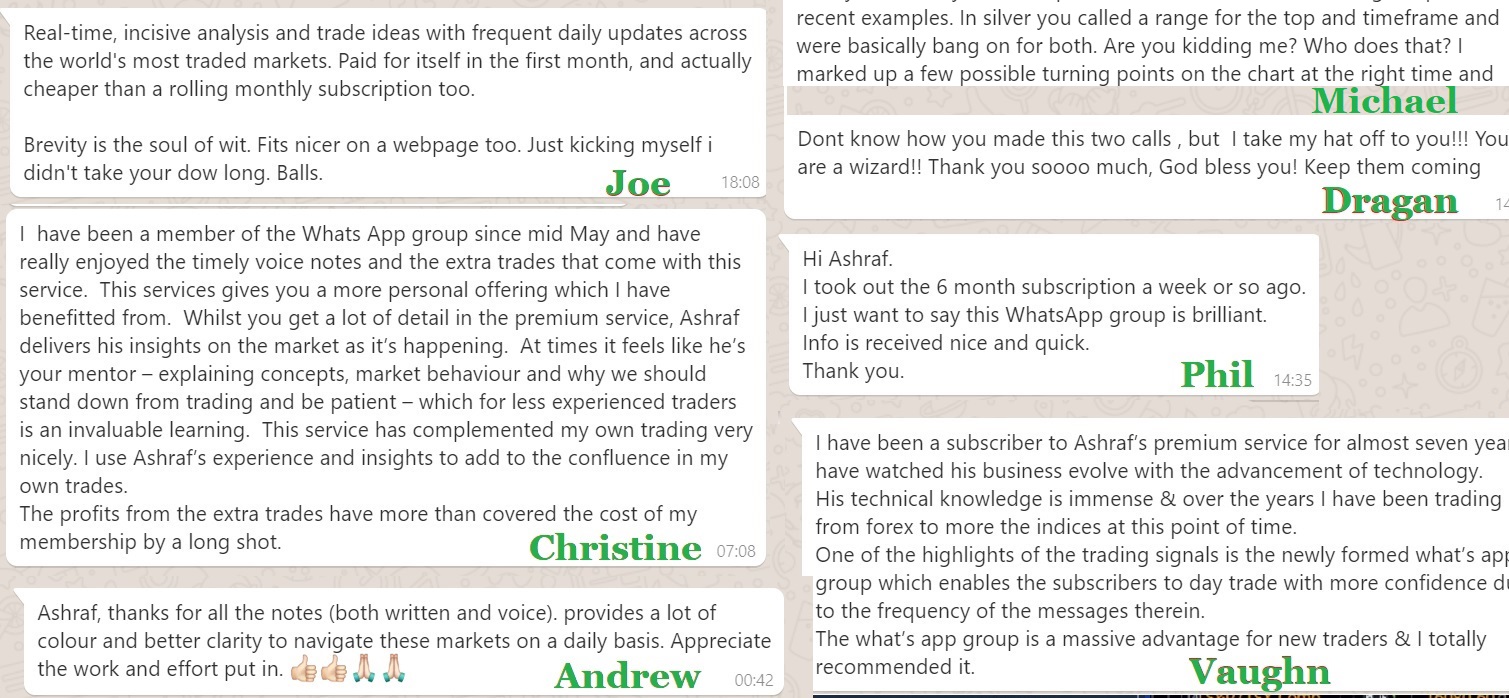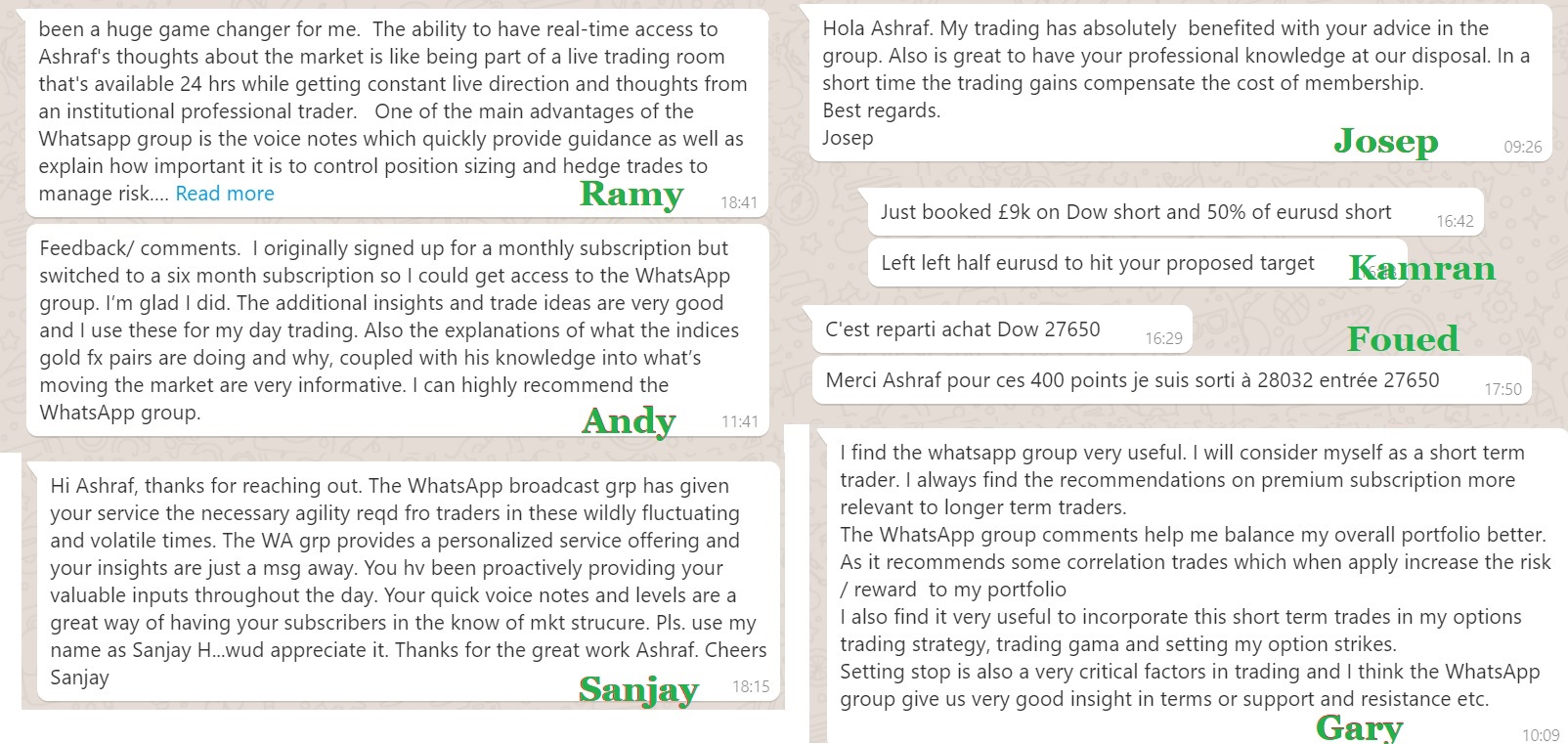 You will NOT be charged until your trial period is over
After the trial period, you will be charged recurrently based on the subscription term you select
To cancel your periodic subscription, please email subscription@ashraflaidi.com at least one day before your next billing cycle
Your payment will be taken by Intermarket Strategy Ltd via PayPal.