Posted Feb 19, 23:10
| | |
| --- | --- |
| PPI Input (q/q) | 1.0% |
| Trade Balance | Feb 19 23:50 |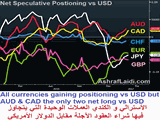 14 hours ago:
What breaks the deadlock? The past week demonstrated that strong economic data isn't enough to sustainably boost any currency until the political fog clears. The yen was the top performer on the week while the pound lagged but the overall ranges were small. 1 of the 3 USD Premium trades was closed at a profit, leaving 2 USD trades in progress, 1 of which is in the green and the other in the red.
Read More...
PREMIUM INSIGHTS
Update: Feb 15, 14:55

Another Metals Trade
New metals supported by 3 charts & detailed note
صفقة جديدة على على المعادن
Full trades & charts.
USD Reverses, AUD Jobs Next
Feb 15, 2017 22:40:
Signs that better post-election confidence is beginning to translate into growth sent the US dollar initially higher but other questions reversed the move. The New Zealand dollar was the top performer while the pound lagged. The Australian jobs report is due up next. A new metals trade has been added to the Premium Insights, supported by three charts & details, bringing the number of commodity trades to three.
Read More...
The Strongest & Weakest
LATEST ARTICLE
Jan 27
Protectionism won't Protect USD
The notion that Trump's planned protectionist measures (tariffs and border adjustment tax) will be USD-positive is founded on an unrealistic world –where Mexico, China and other US...
HOT-CHART
Feb 20
Saudi Tadawul Participation
نسلط الضوء على اهمية نسبة المشاركة في المؤشرات من خلال عدد الأسهم التي تجاوزات متوسط ال 200 و 55 يوم. و مشكلة القمم المنخفضة ليس فقط في مؤشر التداول السعودي و لكن أيضا في نسبة المشاركة.