Posted Dec 12, 12:00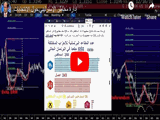 Dec 12:
Powell kicked off another round of US dollar weakness ahead of what should be a wild finish to the week in the FX market. Risks include the ECB decision, UK election and US-China tariffs (more on each below). The Australian dollar broke a year-long trendline Wednesday, but keep an eye on AUDUSD's 200 DMA. After having closed GBP trades at a gain 2 days ago, a new round of Premium Insights trades will be released later this evening ahead of the UK elections.
فيديو المشتركين إدارة مخاطر الإسترليني حول الانتخابات
Read More...
PREMIUM INSIGHTS
Update: Dec 5, 17:30

3rd Trade of the Week
3rd Premium Trade for the Week w/ 2 Charts
صفقة ثالثة للأسبوع مساندة برسمين بيانيين و التفسير بالعربي




Full trades & charts
GBP Pares Poll Losses, Fed Next
Dec 11, 2019 12:31:
The pound is paring its losses following a 100-pip drop caused by an update to a highly-influential election poll. US CPI is due next, followed by the FOMC decision later in the evening --widely expected to keep rates on hold. The Fed has succeeded in keeping itself out of the conversation (for now) as the countdown to US elections starts. Market emphasis shifts towards the Fed's rising purchases of repos and the onset for possible QE4 (more below).
Read More...
The Strongest & Weakest
HOT-CHART
Nov 18
A Perfect Indicator?
Those who have shorted equity indices over the past 3 weeks (like I have) were simply wrong.