Posted Jun 22, 2:21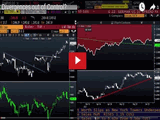 21 hours ago:
Oil is working its way back into the central banking and economic equation with prices now down 19% since the May 25 OPEC meeting. GBP was the top performer Wednesday while CAD lagged. The RBNZ held rates at 1.75%, as expected. A new NZD Premium trade has been issued in addition to the 7 existing trades.
Read More...
PREMIUM INSIGHTS
Update: Jun 22, 3:00

New NZD Trade
2 New charts & note on NZD
صفقة جديدة على الدولار النيوزيلندي
Full trades & charts.
Dollar Slow to Warm to Hawks
Jun 20, 2017 0:29:
The market is seemingly saying, "we've been burned by this before" as the dollar reluctantly rises on optimism from the Fed. USD led the way on Monday while the yen lagged. The central bank calendar is busy in the day ahead. CADJPY Premium trade will be kept as is but members are free to adjust the stop.
Read More...
The Strongest & Weakest
LATEST ARTICLE
Jan 27
Protectionism won't Protect USD
The notion that Trump's planned protectionist measures (tariffs and border adjustment tax) will be USD-positive is founded on an unrealistic world –where Mexico, China and other US...
HOT-CHART
Jun 05
Qatari Shakedown
Qatari stocks tumbled more than 7%, the worst decline since 2009 after Saudi Arabia led an immediate regional break in economic and political relations with Qatar, which includes Bahrain, UAE,...