Posted May 26, 0:02
| | |
| --- | --- |
| National Core CPI (y/y) | May 25 23:30 |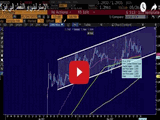 May 26:
Crude prices fell 5% as traders sold-the-fact on a 9-month supply cut extension. The US dollar was the top performer while the Australian dollar lagged. Japanese CPI is due up next.
Read More...
PREMIUM INSIGHTS
Update: May 24, 10:17

New GBP Trade
New GBP trade
صفقة جديدة على الإسترليني
Full trades & charts.
PREVIOUS NEWS
Fed Finds Doubt, BOC Finds Confidence
May 24, 2017 23:05:
The FOMC minutes showed that officials aren't dead-set on hiking in June and beyond. That led to a US dollar lagging Wednesday while in contrast CAD led the way after the BOC statement hinted that policymakers are growing more optimistic about growth. Next, it's onto comments from Evans, Sakurai and Debelle. A new GBP trade has been issued in addition to the 5 existing Premium trades.
Read More...
The Strongest & Weakest
LATEST ARTICLE
Jan 27
Protectionism won't Protect USD
The notion that Trump's planned protectionist measures (tariffs and border adjustment tax) will be USD-positive is founded on an unrealistic world –where Mexico, China and other US...
HOT-CHART
May 17
EURUSD Track Record
The matrix below highlights the 12 trades in EURUSD issued by the Premium Insights since December 2015.