Posted Oct 15, 12:12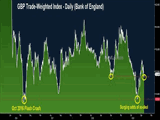 13 hours ago:
The market caught deal fever last week but hope turned into skepticism early this week. Indices are higher, awaiting the release from the rest of US bank earnings (after JPM beat estimates). GBP is the strongest performer of the day amid recurring remarks from UK & EU officials expressing attempts to reach a deal in the final innings (more below). Beijing said it would buy $50 bn more in US agricultural goods only if Washington removed retaliatory tariffs set since the start of the trade war. A new Premium trade has been issued, backed by 3 charts & 6 key notes. The chart below highlights the emerging support for the GBP's trade weighted index amid Brexit negotiations.
Read More...
PREMIUM INSIGHTS
Update: Oct 15, 11:29

New Index Trade
Backed by 3 charts, 6 notes
صفقة جديدة للمشتركين مدعومة بثلاثة مخططات و ستة وملاحظات بالتفسير بالعربي
GBP Analog, Fractal Realized
Oct 11, 2019 17:44:
Saying there is a Brexit deal or no-deal is not helpful in these markets. Making the prediction that GBPUSD will rise, or will not fall below 1.18 is fine, but will not make you money. Committing funds to a tradable idea with price parameters is what this market is all about. 3 weeks ago, I identified the similarity of the pattern in GBPUSD price action in Sep 2019 to that in Sep 2018, suggesting a temporary pullback will emerge prior to an shar recovery. A repeated pattern is often called a fractal or analog (scale and duration does not have to be exact). This was issued as a long trade for the Premium susbcribers. Other factors such as GBP cycles and peaking USD peak also helped us take the trade. OUTCOME: GBPUSD's 3rd biggest weekly gain in over 10 years.
Read More...
The Strongest & Weakest
HOT-CHART
Sep 02
Trusting Inv H&S Formation Beyond the Weekend
Some subscribers complained that last Tuesday's Premium trade (Aug 27) shorting the DAX30 was issued too early in the morning (many did not hear the SMS, see the email, Tweet or Telegram...