Posted Feb 22, 16:44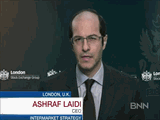 2 hours ago:
Explaining to BNN the importance of understanding yesterday's price action ahead of "Big Wednesday". Full interview.
Read More...
PREMIUM INSIGHTS
Update: Feb 20, 18:00

New USD Trade
Another USD Trade
صفقة ثالثة على الدولار الأمريكي
The Strongest & Weakest
LATEST ARTICLE
Aug 17
Euro Moves Far from Brutal
Earlier today, euro suffered a minor bump on the release of the minutes from last month's ECB Governing Council policy meeting, which revealed growing concerns with a possible overshoot in...
HOT-CHART
Feb 15
Deficits, USD & Gold
Why is USD sustaining fresh selling despite expectations of 3-4 Fed hikes this year. Does the budget deficit matter for FX. And one more look at gold. Watch the full video..