Posted Nov 20, 23:11
| | |
| --- | --- |
| All Industries Activity (m/m) | Nov 21 04:30 |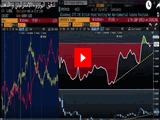 PREMIUM INSIGHTS
Update: Nov 20, 19:28

2nd leg of EURUSD
Adding new EUR Trade
صفقة أخرى في اليورو / الدولار
PREVIOUS NEWS
GBP & EUR Moves
Nov 20, 2017 11:08:
Sterling and euro are in the news for different reasons with the former gaining on improved prospects of an agreement on the Brexit bill and the latter undergoing volatility in Asian trade after German coalition talks collapsed following the Free Democratic Party's walking out of the exploratory talks. More strikingly is the euro's recovery of all its 70-pip decline in London trade amid the realisation that any delayed would fail to derail the economic recovery in Germany and rest of the Eurozone. A new Premium Insights trade/note on the euro will be issued later today.
Read More...
Dimanche La Journée du Trading
Nov 16, 2017 21:47:
Ce Dimanche 19 novembre, plus de 5 hrs de formations gratuites avec des experts reconnus. XTB vous propose une journée complète de formations et d'informations sur les marchés.
Read More...
The Strongest & Weakest
LATEST ARTICLE
Aug 17
Euro Moves Far from Brutal
Earlier today, euro suffered a minor bump on the release of the minutes from last month's ECB Governing Council policy meeting, which revealed growing concerns with a possible overshoot in...
HOT-CHART
Aug 24
US Stocks Sector Performance
In comparing the year-to-date sector performance for the S&P500 to that of 2016, the 2 most striking developments is the reversal in energy stocks from best performer in 2016 to the worst so...