Posted Mar 6, 18:25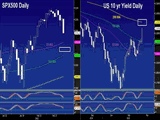 5 hours ago:
USD soared further, dragging EURUSD to fresh 11-year lows of $1.0845 on another solid US jobs report supporting the case for a Fed June or September rate hike as US non-farm payrolls powered ahead with a 295K increase in non-farm payrolls in February, overshooting expectations of a 3rd consecutive decline to 235K. The only negatives of the report standing the way of Q2 rate hike is the decline in the average hourly earnings to 0.1% m/m from 0.5% y/y and to 2.0% y/y from 2.2% y/y . Full charts & analysis here
Read More...
PREMIUM INSIGHTS
Update: Mar 6, 19:20

New EUR Short for next week
We issue another EUR short ahead of Monday's Asia session and the unfloding activity in global equities. Trade & charts found here
PREVIOUS NEWS
Dollar Dominant Ahead of NFP
Mar 6, 2015 0:23:
The ECB underscored the massive divergence in developed world monetary policy and a strong US jobs report would add to the argument. On Thursday, the dollar was the top performer while the kiwi lagged. The teetering Australian dollar will be the focus of Asia-Pacific trading. A new set of Premium trades will be issued tomorrow before the release of the US jobs report.
Read More...
Euro breaks $1.10 as ECB kicks off QE
Mar 5, 2015 17:05:
The current 22% decline in EURUSD over the last ten months is comparable in magnitude to that of 2011-2012, 2009-2010 and 2008-2009. The recovery of inflation from its -0.6% lows in July 2009 to 1.9% in Nov 2010 took a little over 12 months, but the trough in core inflation at the time was at +1.3%, compared to the current +0.6%. Full charts & analysis.
Read More...