Posted Aug 25, 2:13
| | |
| --- | --- |
| Existing Home Sales | 5.39M |
10 hours ago:
The US dollar was generally stronger on Wednesday despite a soft existing home sales report but the general tone in markets is increasing complacency. With a light Asia-Pacific calendar ahead, we look at the risks.
August 25 might be the most-complacent day of the year. Even at the best of times it's a day that comes at the end of the slowest month. This year it precedes a Jackson Hole conference that's the only thing anyone has circled on the calendar this week.
Read More...
PREMIUM INSIGHTS
Update: Aug 19, 14:42

From Indices to GBP Trade
After 2 Index trades were issued earlier this week, a new GBP trade has been posted. Full trades & charts.
Underestimating Housing
Aug 23, 2016 22:16:
One of the great paradoxes in the global market is the price of housing. Overvalued US houses were the source of the financial crisis and crashed afterwards but elsewhere, low rates have led to seemingly endless rise in home prices.
Read More...
The Strongest & Weakest
Open:
()
Close:
()
Hi:
Lo:
Start of day is 17:00, Eastern Time/New York Time,
HOT-CHART
Aug 12
Central Bank Olympics
That's where things have reached. Swimming against the tide, missing growth/inflation targets for 4 years in a row and much more..
Subscribe to Ashraf's Newsletter
Saudi index < 6k for 1st time in 6 months. مؤشر تداول السعودي تحت 6000 لأول مرة منذ 6 أشهر

(5 min ago)

سنراكم على قناة العربية في نصف ساعة من الآن

(40 min ago)

European shares' losses dominate in mining & especially in healthcare after yesterday's 3% drop in #biotech ETF #IBB #forex #nasdaq

(2 hr ago)

RT @m_maririo: اليوم موعدكم مع الاستاذ أشرف العايدي @alaidi للتعرف على أهمية خطاب #يلن في جاكسون هول https://t.co/6EEd7I49c9 سجل الأن #فورك…

(3 hr ago)

RT @Livesquawk: German IFO Current Assessment Aug: 112.8 (est 114.9; prev 114.7)

(3 hr ago)

RT @Livesquawk: German IFO Business Climate Aug: 106.2 (est 108.5; prev 108.3)

(3 hr ago)

Complacency Bubble by @FX_Button https://t.co/ZMDGcfRMjy #forex #SPX

(10 hr ago)

@MohammadAlathbaإلى حتى جميع السوق يكون مقتنع بالمزيد من الارتفاعات

(15 hr ago)

@MrMT52 مثال: البرنامج يشتري عندما السوق يرتفع على الأقل ثلاثة جلسات متتالية في خلال خمسة جلسات

(15 hr ago)

Last 30 mins of trading are back. #SPX

(15 hr ago)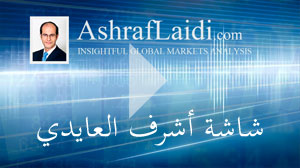 Premium Content

21-yr Intermarket Charts - 7 indices 11 currencies 14 commodities
Interactive charting by instrument, chronological and alphabetical order. This enables organizing each individual commodity, currency or equity index' performance by magnitude or chronological order.
View..