Posted May 29, 16:38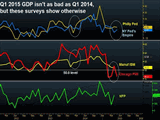 26 minutes ago:
The six-point drop in today's release of the May Chicago PMI to contraction territory at 46.2 doesn't augur well for next week's release of the manufacturing ISM and NFP figures. The situation is different from last February when a similar thing occured. Full charts & anlaysis.
Read More...
PREMIUM INSIGHTS
Update: May 28, 12:07

Trading AUD's Capex Gloom
We issue a new AUD trade with 3 charts ahead of next week's RBA decision. (It's not AUDUSD) . Trade & charts found here
LATEST ARTICLE
May 22
Intermarket convergence: Bunds, Oil, USD, EUR
The latest technical picture in intermarket dynamics suggests the USD is not yet ready to regain the positive momentum of the recent months, but the stabilisation path for oil, euro, bond yieds...
HOT-CHART
Apr 30
Bailing out of DAX & Dehedging EURUSD
Wednesday's 378-point collapse in Germany's DAX-30 index—a 3.2% drop, was the biggest in a single day since the eruption of the Spanish/Italian debt crisis in June 2012.
PREVIOUS NEWS
The Focus is on Japan After FX Warning
May 28, 2015 23:00:
It may be true that most countries want a bit of FX weakness but there is a limit. Japan is beginning to show signs of strong growth and the USD/JPY rally abruptly ended Thursday on an FX quip from Fin Min Taro Aso. On the day, CHF led the way while the antipodeans lagged. The focus will remain on the yen with a slate of top-tier economic data up next.
In today's Premium Insights, we added a EURAUD trade with 3 charts, currently +50 pips in the money.
It's been a generation since markets have had to deal with a strong Japanese economy and at the moment, the reaction is total skepticism if not disbelief. But Japan has strung together a few good months and the consensus for 2015 growth has moved close to 2% from 0.9% at the start of the year.
Read More...