Posted Aug 21, 16:19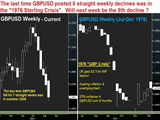 8 hours ago:
This week, GBPUSD will post its 7th straight weekly decline, which would be the longest losing streak since summer 2008, when Bank of England intensified its easing campaign. If GBPUSD also falls again next week, it will be the EIGHTH consecutive decline, something not seen since the 1976 sterling crisis.
Read More...
PREMIUM INSIGHTS
Update: Aug 19, 18:15

Today's EURAUD Reminder
We confirm our EURAUD positioning with 2 new charts as both of of our existing Premium trades accumulate a total of 180-200 pips (depending on entry point). Tonight's semi-annual stmt & Thursday's flash Eurozone PMIs should further generate activity in the cross. Full charts, trades & rationale are found here. Full access to trades & charts here.
LATEST ARTICLE
Jul 31
ECI Enforces USD Dynamics
Despite the several US economic releases this week (July ADP on private sector jobs, Q2 GDP, Fed decision and July non-farm payrolls and unemployment), the Q2 employment cost index released on...
HOT-CHART
Jun 12
World Cup & Market Patterns
9 of the last 13 World Cup tournaments elapsed during a period of falling stocks, with an average decline of 6% from the first to the final match. But see what happens in post-WorldCup Octobers.
PREVIOUS NEWS
Sometimes it's Best to Bet on Second Place
Aug 20, 2014 23:23:
The US dollar rally started on about July 10 and since then has gained at least 2.3% against every major currency except one – the Australian dollar. AUD/USD is still down 1.1% in that period but the relative resilience of the Aussie says something about underlying demand. As the NZ dollar extends losses across the board and breaks below a key trend line, our AUDNZD long pusjes further into the green. There are currently
10 Premium trades
in progress, 6 of which in profit, 1 flat and 3 are in a loss. All details are in
the Premium Insights
. The reason that betting on the second best performer in a trend is that the hot money tends to flood into the leader. In this case it's the US dollar and on some metrics that move is beginning to look overdone. When the inevitable correction comes, second best is the safe place to be.
Read More...
Dollar Beginning to Break Out, Stevens Next
Aug 19, 2014 22:38:
It wasn't the CPI report that gave the dollar a lift on Tuesday but rather a strong housing starts report. EUR/USD and GBP/USD both fell to longer-term lows and USD/JPY is near the July high. The next event to watch is an appearance from RBA Governor Stevens. As we move towards this evening's Aussie events, EURAUD sustains its 3rd consecutive quarterly decline, which is the longest losing streak in 4 years. Since we opened two Premium shorts in EURAUD more than 4 weeks ago, a net of 180-pips has accumulated in both trades. The key with these trades is not only determining the correct direction, but also managing stops carefully. Full details of these trades and today's charts are found in
the Premium Insights
. We wrote yesterday about the lack of enthusiasm for Yellen's speech and overall complacency on the Fed. An overwhelming consensus of analysts sees nothing but endless calls for patience and slow steps to raising rates. The consensus is so clearly dovish that we argued there is little risk in betting on a more hawkish stance and stronger dollar.
Read More...