Posted Mar 21, 10:18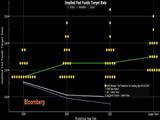 16 hours ago:
The message confirmed from the FOMC there will not be any rate hike rates this year ... unless there is a shocking surprise in growth. The other key development is the Fed announcement to halt the process of uwinding its balance sheet by end of September. The US dollar slumped after the Fed statement, taking out some important levels, especially as the 10-year yield posted its biggest daily decline since May 2018. Aussie is up further on an unexpected decline in the jobless rate. The Premium EURUSD short was closed for 220 pip gain, while 8 of the remaining 9 trades are in the green.
Read More...
PREMIUM INSIGHTS
Update: Mar 20, 15:20

2 Trades in Last 24 hrs
5 Charts supporting the 2 trades
صفقتين جديدتين خلال ال24 ساعة الأخيرة
PREVIOUS NEWS
إستغلال الفشل المناسب في مؤشر الداكس
Mar 20, 2019 16:24:
سيكون أهم جزء يصدره مجلس الاحتياطي الفيدرالي هذا المساء هو ما إذا كان سيحدد متى سيتوقف عن بيع احتياطيات السندات التي اشتراها بين عامي 2008 و 2015 لتخفيف الأزمة المالية. و في نفس الوقت أركز على مؤشرات الأسهم ، مثل توقع المزيد من الانخفاض في مؤشرالداكس الألماني. التحليل الكامل
Read More...
May Plots Delay, Fed Plots Lower Dots
Mar 20, 2019 12:40:
Indices are finally coming off their lofty highs. Pivotal trade deals between the US & China along with the UK & EU are approaching the end game, we look at what's priced in. CHF is the strongest currency of the day (our USDCHF short remains intact), while GBP is the worst performer of the day after PM May formally sent a request for a short Brexit delay to EU's Donald Tusk. The Fed statement & dot plot forecast are at 14:00 New York, 18:00 London, 22:00 Dubai, and Powell's press conference follows 30 mins later. Last night, a new Premium trade was issued (currently 40 pts in the green), accompanied by 3 charts and 8 supporting arguments. An additional trade will be issued ahead of the London close.
Read More...
The Strongest & Weakest
HOT-CHART
Mar 14
Ashraf's Trade on Real Vision TV
Ashraf Laidi of Intermarket Strategy, returns to Real Vision to analyze the historical cycles in the British pound and to discuss the fundamental backdrop & news regarding Brexit, runs...