Posted Nov 20, 15:17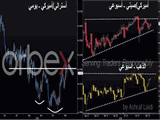 5 hours ago:
ما هي آخر تطورات الحرب التجارية بين الصين والولايات المتحدة؟ وكيف أصبح تأثيرها على المتداولون في هذه الفترة؟ اقرأ المزيد هنا
Read More...
PREMIUM INSIGHTS
Update: Nov 14, 13:22

New GBP Trade
New GBP Trade pre-Brexit Cabinet vote
صفقة على الاسترليني
PREVIOUS NEWS
Gold's 6th Day
Nov 20, 2018 14:33:
Gold is posting its 6th consecutive daily gain, the longest winning run since December as it broadens strength against bond yields and stock indices. Metals' ascending momentum is partly helped by USD weakness and indices' accelerating sell-off, leaving precious metals as the sole survivors at a time when the 4 leading crypto currencies are down between 70% and 85% year-to-date and oil is renewing its selloff. For gold bulls, 1234/6 is considered as the assumed go-to point, but as long as 1263/5 is not printed, the current move should be treated with optimism and caution. USDJPY breaking below the 55-DMA of 112.70 is worthy of note, but pair is not considered in danger until a daily close of 112 is seen. Meanwhile, the Premium short DAX trade hit its final 11050 target from 11420 entry. Although many of you have seen my analysis on the DAX mentioning the 10100 target, shorting at current level ought to be done with extreme care (pay attention to leverage and size). The Premium video is now posted more info on indices entries as well as existing USD trades.
Read More...
Political Calculus and Calamity
Nov 19, 2018 15:00:
Theresa May's government hangs by a thread and a leadership challenge could come as soon as Tuesday. The reports of plots and discord put the pound at risk in the new week. Early moves put AUD lower on renewed US-China tensions. The new GBP trade is on.
Read More...
The Strongest & Weakest
LATEST ARTICLE
Jun 07
Ahead of the ECB
EURUSD posts its biggest weekly gain in five months despite ongoing uncertainty in Italy and fresh declines in Italian bonds and equity indices.
HOT-CHART
Jul 26
ECB Scenarios
The ECB decision is at 1145 GMT (12:45 London), but it's a foregone conclusion that interest rates won't change. Instead, focus on messaging and press conference 45 mins later.