Posted Sep 25, 13:11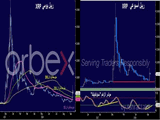 9/25/2018 12:11:00 PM:
"ريبل" ، العملة المشفرة التي أحدثت ضجة هائلة في أواخر العام الماضي في الأخبار مرة أخرى ... للأسباب الصحيحة. ارتفع "ريبل" في الأسبوع الماضي بنسبة 186٪ من 0.26 دولار إلى 0.76 دولار، قبل أن يعود إلى 0.53 دولار. لماذا قفز "ريبل" بهذه الطريقة وما هو الطريق قدماً؟ التحليل الكامل
Read More...
PREMIUM INSIGHTS
Update: Sep 24, 17:30

3rd USD Trade
Opening a 3rd trade in a major USD pair
صفقة ثالثة على الدولار الاميركي
PREVIOUS NEWS
ندوة مساء اليوم
Sep 25, 2018 10:59:
سيكون محور ندوتنا الإلكترونية القادمة يوما قبل قرار الاحتياطي الفدرالي المتوقع أن ترفع الفائدة للمرة الثالثة في العام، سيقوم الأستاذ أشرف العايدي بتغطية خطط التداول على المدى القصير و المتوسط في أزواج اليورو/دولار، الدولار/ الين و الدولار مقابل السويسري إحجز مقعدك الآن للمشاركة من السعودية فقط
Read More...
Clashing Trade, Brexit & Fed
Sep 24, 2018 17:28:
President Trump's tariffs on China have taken effect on the week when the Fed meets to raise rates for the 3rd time this year and speculation mounts on whether UK voters may be called up again as talk about a second referendum or a snap election will be the way to go. CFTC positioning showed big moves in GBP and AUD. There are holidays throughout Asia to start the week, while Germany's IFO sentiment survey emerged slightly better than expectations. ECB president Mario Draghi indicated today "relatively vigorous" pickup in Eurozone inflation, further bolstering chances that ECB will begin raising rates next year after it concludes its QE program in December. A new USD trade has been issued to Premium subscribers, supported by 2 charts.
Read More...
The Strongest & Weakest
LATEST ARTICLE
Jun 07
Ahead of the ECB
EURUSD posts its biggest weekly gain in five months despite ongoing uncertainty in Italy and fresh declines in Italian bonds and equity indices.
HOT-CHART
Jul 26
ECB Scenarios
The ECB decision is at 1145 GMT (12:45 London), but it's a foregone conclusion that interest rates won't change. Instead, focus on messaging and press conference 45 mins later.