Posted Sep 23, 17:09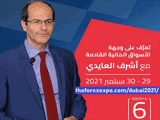 14 hours ago:
انضموا إلينا في
دبي فوركس إكسبو يومي 29 و30 سبتمبر
لفرصة التعرُّف على وجهة الأسواق العالمية القادمة مع خبير الأسواق العالمية أشرف العايدي واحصلوا على فرصة حصريّة ومميّزة لحضور عشاء خاص مع أشرف العايدي ومناقشة فرص الأسواق
TheForexExpo.com/Dubai2021
Read More...
PREMIUM INSIGHTS
Update: Sep 22, 18:40

Pre-Fed FX Trade
***
1

New Trade with

no

Charts

***

صفقة جديدة للمشتركين ليس مساندة بمخططات و ملاحظات هامة
PREVIOUS NEWS
FOMC Consistent with Jackson Hole
Sep 23, 2021 13:52:
The FOMC upped its hawkish message on Wednesday, but the market reaction was mixed in with developments on Evergrande. There is an explanation in the final paragraph on why FX held and indices held up despite seemingly hawkish twist. GBP is up after the BoE showed more optimism in its statement/minutes. The Canadian dollar is the top performer while the yen lagged on the day. Canadian retail sales fell by less than expected and US jobless claims edged up rose to 351K, a little more than expected. A new Premium FX trade was issued ahead of yesterday's FOMC statement. Below is some of our analysis on the Fed's new dot plot, Powell's presser and market reaction.
Click To Enlarge

Read More...
The Strongest & Weakest