Posted Aug 21, 17:57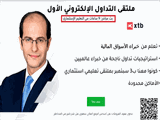 12 hours ago:
ملتقى التداول الإلكتروني مع إكس تي بي يوم الثلاثاء 3 سبتمبر الساعة 9 صباحاً بتوقيت مكّة المكرّمة بوجود 10+محاضرين و منهم أشرف العايدي الذي سيبدأ محاضرته الساعة 3 عصرا بتوقيت مكة المكرمة و للمشاركة في البث المباشر إضغط هنا
Read More...
PREMIUM INSIGHTS
Update: Aug 19, 18:00

1st Trade Ahead of Minutes & Powell
Trade Ahead of Minutes/Powell
صفقة جديدة للمشتركين قبيل باول مرفوقة بمخطط مع التفسير بالعربي
PREVIOUS NEWS
Exuberant Demands?
Aug 21, 2019 1:04:
There's a mismatch between financial markets's expectations and policymakers willigness to deliver and this dissent should come into sharp focus soon enough. The yen and Swiss franc were the top performers Tuesday while the US dollar lagged. The FOMC minutes from the Jul 31 rate hike are due up at 7 pm London. For a reminder of what the Fed said and reasoned on that day, please read on below. Both of the Premium English and Arabic videos were part of one single video posted yestserday here and here.
Read More...
Fiscal Stimulus on the Agenda
Aug 20, 2019 19:52:
Will central banks get a helping hand from fiscal policy as talk of deficit spending gains momentum? Chatter of govt stimulus from Germany and now talk of tax cuts from the White House are making the rounds. The Washington Post reported that the White House may push for a temporary cut in the 6.2% Federal payroll tax. Trump backed the idea today. GBP was the 2nd strongest currency of the day (behind CHF) after German Chancellor Merkel said the EU would consider practical solutions regarding the post-Brexit bakcstop. EURGBP dropped back near session lows but GBPUSD clinged near the highs. Below is the English and Arabic videos combined in one video, highlighting yesterday's Premium trade.
Read More...
The Strongest & Weakest
LATEST ARTICLE
May 24
After Theresa May
Now that PM Theresa May has announced stepping down from the Conservative Party leadership as of June 7, the ongoing political chaos will shift temporarily from striking a deal on the Withdrawal...
HOT-CHART
Jul 30
DAX Metamorphosis
The Daily DAX30 chart below may appear confusing at first, but it's worth taking some time to find the "clarity".