Posted Dec 14, 16:37
| | |
| --- | --- |
| Core Retail Sales (m/m) | 0.2% |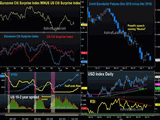 Dec 14:
The yen is the only gainer versus the US dollar as indices drop back into the red on a combination of disappointing retail sales and industrial production figures from China and stronger than expected retail sales from the US. Interestingly, The Wednesday and Thursday sessions in US indices showed the smallest 2-day change in more than 3 months, highlighting the magnitude of the volatility since the Oct peak. The ECB managed to find some middle ground that signaled disappointment in the economy without hinting at any changes in policy, placing renewed pressure on the euro to hug the major 200-WMA. Ashraf sent me some charts to focus on ahead of Wednesday's Fed decision. More on this below.
Read More...
PREMIUM INSIGHTS
Update: Dec 6, 18:23

Thursday Index Trade
A New Index Trade
صفقة جديدة على مؤشر أساسي
ECB to End 3-Year QE
Dec 13, 2018 12:14:
Just a few more words on PM Theresa May before we move on to the ECB below. May might have won a pyrrhic victory in fending off a leadership challenge. That could be the same for the pound as it rose more than 120 pips on Wednesday to lead the way. Month-to-Date, silver leads all major currencies, followed by gold, CHF and EUR. The ECB decision is up next.
Read More...
The Strongest & Weakest
LATEST ARTICLE
Jun 07
Ahead of the ECB
EURUSD posts its biggest weekly gain in five months despite ongoing uncertainty in Italy and fresh declines in Italian bonds and equity indices.
HOT-CHART
Jul 26
ECB Scenarios
The ECB decision is at 1145 GMT (12:45 London), but it's a foregone conclusion that interest rates won't change. Instead, focus on messaging and press conference 45 mins later.