Posted May 28, 22:27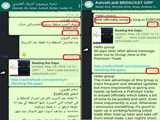 May 28:
EUR/USD finally cut through resistance in the 1.1000/20 zone on Thursday as the euro led G10 FX. USDX is on course for its biggest monthly fall of the year. The Canadian and US dollars were the laggards as risk trades dipped late on China worries. The April US PCE report and comments from Powell are due on Friday along with a Trump announcement on China. The Premium Dow30 short was stopped out at 25700, while the EURUSD long is a few pips away from 200-pip gain. Today's Premium FX trade is currently 130 pips in the green. Below are screenshots from Ashraf's WhatsApp Broadcast Group, whose members received a trade heads-up alert nearly 1 hr before the actual trade was issued to the Premium Subscribers.
Read More...
PREMIUM INSIGHTS
Update: May 28, 16:55

New Thursday Trade
***

New Trade with

2

Charts

&

5
Key Notes
***
صفقة جديدة للمشتركين مدعومة بمخططين و التفسير بالعربي داخل الرسوم البيانية
The Strongest & Weakest
HOT-CHART
Feb 21
GBP Index & Upside Econ Surprises
In a phase when unwinding of carry trades and risk-repositioning dominate FX markets, beware from excessive divergence from the data.