Posted Oct 19, 16:59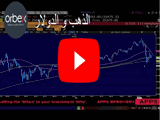 Oct 19:
رغم الإرتفاع بأسعار مؤشر الدولار تمكن الذهب من المحافظة على مكاسبه هذا الاسبوع. الفيديو التالي يلقي نظرة على الاسباب والمستويات الحاسمة
Read More...
PREMIUM INSIGHTS
Update: Oct 16, 17:00

Other Metals Trade
2nd Metals Trade
صفقة ثانية على المعادن للمشتركين
PREVIOUS NEWS
How Bad Can it Get for Italy?
Oct 19, 2018 13:55:
USD is on the downside alongside JPY as global indices rally on willingness from the EU to diffuse Italy's budget excesses. This followed Thursday's drubbing as Italian 10-year yields blew out again on Thursday as the EU and Italian leaders dig in for an extended battle. The saga adds to the cynicism in broad markets that sparked a sharp risk-off tone that boosted JPY and weighed on GBP. Disappointed figures from US existing home saless, Canada CPI and retail sales kept USDCAD in check.The CAD trade was stopped out and a new CAD Premium trade has just been issued ahead of Canada's data. A new intraday index trade will also be issued.
Read More...
Gold up on Fed's Inflation Tilt
Oct 18, 2018 15:42:
USD and gold resume gains on a combination of the hawkish tilt in yesterday's release of the FOMC minutes and today's set of data beats in jobless claims and Philly Fed index. Gold, Aussie and Kiwi are the main outperformers vs USD with the yellow metal favoured by an upward tilt in inflation assessment from the Fed. That is also propping gold during equity sellloffs, which was not the case in Jan-Feb. UK retail sales fell by more than expected but GBP continues to hold alongside the 1.3080 support on emerging talks of an extended transition period post-Brexit. Both metals' Premium trades are in progress.
Read More...
The Strongest & Weakest
LATEST ARTICLE
Jun 07
Ahead of the ECB
EURUSD posts its biggest weekly gain in five months despite ongoing uncertainty in Italy and fresh declines in Italian bonds and equity indices.
HOT-CHART
Jul 26
ECB Scenarios
The ECB decision is at 1145 GMT (12:45 London), but it's a foregone conclusion that interest rates won't change. Instead, focus on messaging and press conference 45 mins later.