Posted May 18, 10:27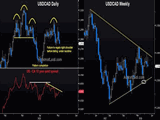 May 18:
The bond market continues to break down as US 30-year yields broke a major resistance level Thursday. Sterling was the top performer after some Brexit related news denials and confirmations, while the yen lagged. Key Canada CPI and retail sales data are due later today. 1 CAD Premium trade remains open.
Read More...
PREMIUM INSIGHTS
Update: May 15, 15:44

New Index Trade
5 Reasons
صفقة على مؤشر رئيسي
PREVIOUS NEWS
العملة التي لا يمكن إيقافها
May 17, 2018 14:25:
على الرغم من كل الاهتمام بإرتفاع الدولار الأمريكي، إلا أن نظيره الكندي لا يزال أقوى عملة أداء منذ بداية الشهر وبداية الربع السنوي. وقد وصلت المفاوضات لإنقاذ اتفاقية التجارة الحرة لأمريكا الشمالية (نافتا) إلى طريق مسدود دون عقد اجتماعات محددة. مع ذلك، لا يزال الدولار الكندي هو الأفضل أداءً (تحليل كامل)
Read More...
Unstoppable Loonie
May 17, 2018 13:03:
Despite all the attention commanded by the US dollar, its Canadian counterpart remains the strongest performing currency since the start of the month and the beginning of the quarter. NAFTA negotiations have reached a new impasse but the loonie remains the top performer on improved pipeline politics. Full analysis.
Read More...
The Strongest & Weakest
LATEST ARTICLE
Aug 17
Euro Moves Far from Brutal
Earlier today, euro suffered a minor bump on the release of the minutes from last month's ECB Governing Council policy meeting, which revealed growing concerns with a possible overshoot in...
HOT-CHART
Mar 20
Rare Quarterly Dow Doji
The quarterly candle on the Dow Jones Industrials Average shows a rare long-legged doji, one of the most striking reversal signs in candlestick analysis. Full Analysis..