Posted Sep 22, 23:35
| | |
| --- | --- |
| Flash Manufacturing PMI | Sep 23 13:45 |
| Eurozone Flash PMI Manufacturing | Sep 23 08:00 |
| All Industries Activity (m/m) | Sep 23 04:30 |
| Unemployment Claims | 252K |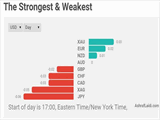 Sep 22:
Politics in markets are overrated but it's now six weeks until the US election and with the Fed sidelined and the first debate due Monday, it's time to take a closer look. The dollar was generally soft Thursday but the Swiss franc was the top performer while the yen lagged. The Japanese manufacturing PMI is due next.
8 Premium trades are currently in progress; 5 in FX, 2 metals and 1 in an index.
The two reasons for USD strength are Hillary Clinton and Donald Trump. Oddsmakers give Clinton about a 65% chance to win but Trump has closed in the polls. In this environment, there is no telling what will happen but one theme permeates from both candidates – spending.
Read More...
PREMIUM INSIGHTS
Update: Sep 21, 19:31

Closing 2, opening 2
Closing USDJPY and GBPUSD shorts at 250 and 230 pips gain respectively. 2 new trades have been opened ahead of the Fed decision. Full trades & charts.
PREVIOUS NEWS
Central Bank Gridlock
Sep 21, 2016 23:35:
The trio of central bank decision on Wednesday highlighted the hope and skepticism that surrounds major economies. The yen was the top performer while the US dollar lagged. We break down the path forward. The Premium Insights closed the GBPUSD and USDJPY trades at 230 and 250 pips respectively. 2 new trades were posted, one of which has been filled.
Read More...
The Lesson in the USD Trade
Sep 20, 2016 0:00:
A strong market is like a strong trader: The good days are great and the bad days aren't too bad at all. The US dollar lagged to start the week but the damage was minimal in another sign of the latent buying interest. The Australian dollar was the top performer with the RBA Minutes due up next. A few Premium trades will be closed ahead of the BoJ-Fed meetings and new ones will open.
Read More...
The Strongest & Weakest
LATEST ARTICLE
Aug 26
JPY Crosses & Equity Indices
The divergence between yen crosses and US stock indices has persisted for 6 months, the longest and deepest divergence since 2002.
HOT-CHART
Sep 06
Breaking down Manuf & Services ISM
Six days after the manufacturing ISM index dived back into contraction territory along with its employment and new orders components, today's release of the services version does its part of...