Posted Sep 17, 21:31
| | |
| --- | --- |
| Fed's Yellen Speech | Sep 18 12:45 |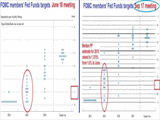 1 hour ago:
A rallying trifecta in the US dollar, equity indices and bond yields emerged after the FOMC issued slightly more hawkish projections on the Fed Funds rate. 14 of the 16 Fed members expect a rate hike in 2015, but more importantly, the median estimate for the Fed Funds rate by end of 2015 is now 1.375% from 1.0% in the June projections. Red-line comaprison of FOMC statement and dots forecasts are here.
Read More...
PREMIUM INSIGHTS
Update: Sep 16, 20:04

GBP ahead of tonight's polls & tomorrow's UK jobs
We issue a 2 new GBPCAD trades & charts ahead of tonight's two Scottish referendum polls, Wednesday's triple releases and Thursday's referendum on Scottish independence. Latest trades & charts
LATEST ARTICLE
Sep 12
Beware of Next Week's Correction
Earlier this year, plenty of ink was spilled about the "January effect" –the positive correlation between stocks' January performance and their year's overall...
PREVIOUS NEWS
The Dragon Awakes, Fed and Indyref in Focus
Sep 17, 2014 0:22:
The theme early in the week was that Chinese officials were reluctant to react to softer growth but that proved to be wholly untrue as the PBOC injected 500 billion yuan in a surprise move. The US dollar sank on the headlines and dovish commentary from Hilsenrath. The Canadian dollar was the best performer after Poloz said a domestic pickup appears underway. 2 new
GBP Premium trades
and charts have been added ahead of Wednesday's triple releases and Thursday's referendum on Scottish independence. All latest trades & charts are found in
the Premium Insights
. Fears that China wanted to wring out some of the excesses in the lending sector were put to sleep by the massive injection from the PBOC into the 5 largest lenders. It's good news that officials are willing to act but it's also worrying that they felt the need to react so strongly.
Read More...
Ahead of Tomorrow's Key UK Data
Sep 16, 2014 20:31:
GBP traders preparing for Thursday's Scottish independence referendum will first have to deal with Wednesday's triple releases of the BoE minutes, Jul ILO unemployment rate and the all-important Jul average earnings figures. These will be followed by Thursday's release of Aug retail sales. Tomorrow's jobs figures will likely be dominated by the earnings figure, whose negative figure in June was largely behind the sharp selloff in GBP on Aug 13. If we mentioned each single "If and but" of this week's UK data as well as the run-up to Thursday's referendum announcement and the plethora of polls and projections, then confusion will have the final word. Ahead of these events, we issued a new GBP trade for our Premium Insights subscribers, which can be seen in the latest trades & charts.
Read More...