Posted Nov 26, 1:17
| | |
| --- | --- |
| New Home Sales (OCT) (m/m) | 0.495M |
| New Home Sales Change (OCT) (m/m) | 10.7% |
| Durable Goods Orders (OCT) | 3.0% |
| Durables Ex Transportation (OCT) | 0.5% |
| Continuing Jobless Claims (NOV 13) | 2.207M |
More Events...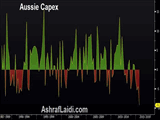 11 hours ago:
The major story on Wednesday was a leak from the ECB but with just 8 days to go, it's concerning how little has been decided. The kiwi was the top performer while the Swiss franc lagged. Aussie is falling across the board following worse than expected decline in Q3 and plannned 2015-2016 capex. The link to the English Premium Video Analysis is found here and the Arabic Video is found here.
Read More...
PREMIUM INSIGHTS
Update: Nov 23, 11:00

AUD Trade issued in early Tuesday
Issuing a new AUD Trade, with yield spreads charts supporting the tech case.
http://ashraflaidi.com/premium/latest
PREVIOUS NEWS
Focus on Fear, Aussie on a Tear
Nov 25, 2015 0:09:
Oil rallied Tuesday after Turkey shot down a Russian jet. The Australian dollar was the top performer while sterling lagged. Australian construction data and the BOJ's Shirai are due later. Appropriately, the best trade of the Premium Insights' 4 profitable trades has been the GBPAUD short, which is currently over 170 pips in the green.
Read More...
Will Fed Raise the Discount Rate Today?
Nov 23, 2015 15:46:
Will the Fed raise its discount rate at its previously unscheduled meeting for today? Thursday's post on the Federal Reserve's website that "an expedited, unscheduled meeting of the Board of Governors of the Federal Reserve to review the discount rate" will be held today (Monday) at 11:30 ET (16:30 London/GMT). The discount rate, the rate at which banks borrow from the Fed's discount window is set by the Board of Governors, rarely used by the banks. This must not be confused with the fed funds rates, which is set by the Federal Open Markets Committee.
Read More...
LATEST ARTICLE
Sep 07
Fed Tightening Cycles & USD Performance
Is the peak of the US dollar behind us? Depending on your USD measure of choice, the dollar may have already peaked, when using EUR and JPY, the two largest and most liquid currencies...
HOT-CHART
Sep 17
Comparison of Sep & Jul Fed Statements
The Fed kept rates unchanged with an unambiguously dovish statement, focusing on weakening inflation, rising market turbulence and a new reference to foreign developments.