Posted May 3, 0:12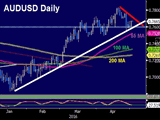 1 hour ago:
The Australian dollar was the top performer while the US dollar lagged on Monday. The AUD/USD gain comes despite the looming, tough-to-call RBA decision. We look at what's expected and examine the market moves so far this week. On Friday we closed our short AUDJPY at a gain, leaving one AUD trade in progress ahead of the RBA.
Read More...
PREMIUM INSIGHTS
Update: Apr 28, 13:50

From JPY to Equity Trades
After adding a 2nd JPY trade, we move onto shorting an equity index. Trades section.
PREVIOUS NEWS
China PMI Misses, AUD Longs in Peril
May 2, 2016 1:20:
The yen ripped right to the finish line on Friday and is slightly higher to begin the week. China's manufacturing PMI was released on the weekend and edged lower. Holidays could complicate trading to start the week. On Friday, the Premium trades took a 335-pip gain in AUDJPY, while 6 of the 9 existing Premium trades are at in the gain with +100 pip each. The Video below is open for subscribers and non-subscribers alike, containing Ashraf's take on how/why stops were hit 2 weeks ago and how matters change last week.
Read More...
The Lessons From the Carnage
Apr 29, 2016 0:27:
The BOJ and RBNZ yesterday were a shining example of just how much dovishness the market demands from central bankers. The yen rocketed higher after the BOJ and the kiwi was the next best performer while the US dollar lagged. We take a look through the wreckage of the yen pairs. There are 2 JPY Premium trades, one taken today after the BoJ, the other 24 hours prior to the BoJ on expectations the BoJ would nothing.
Read More...
LATEST ARTICLE
Mar 18
Leaving Long Island
What do the US dollar rally and a Donald Trump rally have in common. Scroll down to the bottom for the answer.
HOT-CHART
Mar 03
مؤشرات الأسهم الخليجية
Performance of Gulf Bourses since oil's August top . مؤشرات الأسهم الخليجية التغير المئوي منذ ذروة النفط في أغسطس 2015 ..