Posted Oct 20, 19:59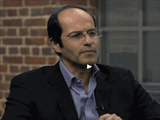 Oct 20:
Ashraf's interview with Sylvain Asimus of Market Tutors on trading markets and the importance of learning. Full interview.
Read More...
PREMIUM INSIGHTS
Update: Oct 20, 15:29

Post-Debate, Post-Draghi Trades
Two Premium trades have been issued--One trade after the Clinton-Trump debate & one trade after Draghi's conference. Full trades & charts.
صفقتين جديدة أصدرت - واحدة بعد حوار كلنتون-ترامب و أخرى بعد خطاب دراغي
The Strongest & Weakest
LATEST ARTICLE
Aug 26
JPY Crosses & Equity Indices
The divergence between yen crosses and US stock indices has persisted for 6 months, the longest and deepest divergence since 2002.
HOT-CHART
Oct 18
Clinton-Trump Spread & Stocks
The chart below suggests that US stock indices are tend to be more negatively impacted by declines in Clinton's lead in opinion polls vs Trump, than boosted by improvements in her lead over...