Posted Feb 17, 12:47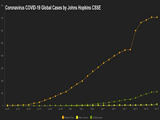 3 hours ago:
Global stocks pushed higher on the narrative of slowing growth in the number of coronavirus cases, which reached 71,810. The PBOC injected additional short term funds. US equities will close in observance of President Day Holiday but futures will remain open. CAD is the strongest performer, dragging USDCAD towards its 200-DMA. Japan is paying the price of another sales tax, seeing its biggest growth contraction in over five years. A new Premium trade was posted late Friday, bringing the number of open trades to seven. More below.
Read More...
PREMIUM INSIGHTS
Update: Feb 14, 19:45

Pre-Weekend Trade
St Valentine's Trade
صفقة مساء الجمعة مع أربعة مخططات و التفسير بالعربي داخل الرسوم البيانية




Full trades & charts
PREVIOUS NEWS
Bazooka or Nuclear Stimulus
Feb 14, 2020 10:35:
It's far too early to declare anything about the coronavirus epidemic but the market reaction has been instructive – fiscal and central bank policy is overwhelming fundamentals. The pound was the top performer Thursday while the kiwi lagged. Stocks retreated slightly lower after the Fed announcd it was reducing the daily operations of its repo agreements, but will hold the monthly amount of t-bill purchases unchanged at $60 bn per month. Silver and CAD are at the top of the day's performers. US retail sales are due up next.
Read More...
Look Here Before Jumping in
Feb 13, 2020 16:38:
Whether you follow indices or not, it's crucial to keep in mind of the intraday and day-to-day flows across equity sectors in the US. I warned in today's earlier IMT against shorting feverishly at the first sign of a 0.5% drop in indices and cited in today's video (below) my reluctance to short indices on Friday (despite the approaching Friday bell and usually negative virus implications for markets). Having said, it is peculiar that the usually aggressive technology sectors (Not NASDAQ) have yet to hit new records (SOX and XLK). Further, as US indices hit new highs for the day (as of 16:39 London/GMT), defensive sectors are in the lead (utilities and consumer staples). So keep an eye on SOX, XLK for that crucial component needed to maintain upward momentum and I'll keep an eye at their equivalent in the DAX. Below is the video for Premium members, where I note the 2 metrics Im watching before a possible short.
Read More...
The Strongest & Weakest
HOT-CHART
Jan 07
Forex Brokers' Share Price Performance
The latest on share price performance of major forex firms shows CMC Markets in the lead, up 34% since January 2019, followed by IG Markets' 20% and Swiss Quote at 9%.