Posted Jan 18, 22:51
| | |
| --- | --- |
| Employment Change | Jan 19 00:30 |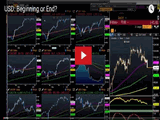 20 hours ago:
North American central bankers sent their currencies in opposite directions Wednesday as the market refocuses on fundamentals. The US dollar was the top performer while the Canadian dollar lagged. The Australian employment report is due up next. A new CAD trade has been issued. GBPJPY has been stopped out.
Read More...
PREMIUM INSIGHTS
Update: Jan 17, 19:30

New Index & GBP Trades
New Index & GBP Trade
صفقة جديدة على مؤشر أوروبي و الإسترليني
Full trades & charts.
PREVIOUS NEWS
Politics Put on the Squeeze
Jan 17, 2017 23:43:
Cable shorts were squeezed from both sides on Tuesday as May laid out some Brexit details and Trump lamented the strong US dollar. Both politicians had their way as the pound led the way and the US dollar lagged. EURUSD is entering its 5th weekly gain, the longest since March 2014. Fed talk was also a factor. 2 new Premium trades were issued (an index and GBP), bringing the total number of open trades to 6, 3 of which are in the green. A Premium vide of the latest and existing trades will be released at the Tokyo Wednesday open.
Read More...
Sunny Days in Australia?
Jan 17, 2017 0:05:
Sometimes the people who are most successful are the quiet ones who do the work in the background and don't cause a stir. The market can be the same way. The Premium Insights are considering opening a GBP trade ahead of Tuesday's speech by PM Theresa May due at 11:45 GMT.
Read More...
The Strongest & Weakest
LATEST ARTICLE
Aug 26
JPY Crosses & Equity Indices
The divergence between yen crosses and US stock indices has persisted for 6 months, the longest and deepest divergence since 2002.
HOT-CHART
Dec 27
Commodities 2017 Performance
Natural Gas is the biggest winning commodity in 2017 up 58%, followed by brent oil, sugar, crude oil, palladium, copper, soya, silver, gold, coffee and wheat -14%..