Posted Apr 3, 19:45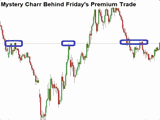 Apr 03:
US employment fell by 4x expectations, showing a 701K decline in March, but this was not the story of the day. A 40% intraday rally in oil following a series of Trump remarks helped the loonie and prevented further. A new Premium Insights' trade was issued for Premium subscribers after the US jobs, which will remain into the weekend.
Read More...
PREMIUM INSIGHTS
Update: Apr 3, 15:55

Friday's Premium Trade
***
New
FX Trade with 2 Charts & Notes
***
صفقة جديدة للمشتركين مدعومة بمخططين و التفسير العربي داخل الرسوم البيانية
PREVIOUS NEWS
Quarter-End Flows Unwind
Apr 2, 2020 13:09:
The only real change in fundamentals Tuesday was the turn of the calendar, but that was sufficient to spark further risk-off trades. The yen was the top performer while the Canadian dollar lagged. Today, gold, silver and GBP are at the lead. US weekly jobless claims numbers are up next (more below). The Premium Insights' short in #DOW30 opened on Tuesday was closed yesterday at 21360 for 1070-pt gain, with suggestions on what/where to keep position posted & sent.
Read More...
More Swap Lines?
Apr 1, 2020 15:16:
The Fed took further steps to relieve the US dollar crunch on Tuesday and we look at what is happening and why. USD strength is resurfacing today, but gold, silver and GBP remain higher against the greenback. The US ADP employment survey for March dropped to -27K, the lowest since 2017, but economists indicate the worst from Coronavirus hit was far from captured in the report. Meanwhile, the US March ISM manufacturing index fell to 49.1 vs 45.0 expected, from 50.1. Tuesday's Premium short in the DOW30 is currently +1000 pts in the green. Below is today's weekly Premium video for English speakers, focusing on indices, sectors and gold.
Read More...
The Strongest & Weakest
HOT-CHART
Feb 21
GBP Index & Upside Econ Surprises
In a phase when unwinding of carry trades and risk-repositioning dominate FX markets, beware from excessive divergence from the data.