Posted Jan 15, 13:57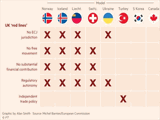 19 hours ago:
We have already covered Brexit yesterday on here so we'll cover China's dismal trade figures, which raise fresh questions about the risks of a sharp slowdown. CAD & NZD are the strongest and CHF & JPY are the weakest since the start of Asia's Tuesday session. The Brexit vote is due later today at 14:00 Eastern/19:00 GMT. The Premium video ahead of the Brexit vote shall be posted to subscribers after the close of the London session. More on Brexit Vote Scenarios here
Read More...
PREMIUM INSIGHTS
Update: Jan 11, 12:00

Crypto Trades
2 Crypto Trades
صفقتان جديدتان على العملات الرقمية للمشتركين
PREVIOUS NEWS
الإسترليني قبل وبعد تصويت الثلاثاء
Jan 14, 2019 17:28:
تُطلق رئيسة الوزراء البريطانية تيريزا ماي محاولة في اللحظة الأخيرة لإنقاذ صفقة خروج بريطانيا من الاتحاد الأوروبي، محذرة أولئك الذين سيصوتون ضد خطة الخروج غداً (الثلاثاء) في البرلمان، والتي من المرجح أن تبقي بريطانيا في الاتحاد الأوروبي أكثر من المغادرة دون اتفاق. ويدعى الخروج بدون اتفاق بـ "بريكست بدون صفقة"، وهو السيناريو الأسوأ بالنسبة للاقتصاد والجنيه الإسترليني. التحليل الكامل
Read More...
May Digs in on Brexit
Jan 14, 2019 14:21:
Theresa May heads to staunchly pro-Brexit territory on Monday in a promise to deliver on the referendum vote but she faces a massive task ahead of Tuesday's vote. The yen and Swiss franc are the strongest since the start of Asia's Monday trade, but NZD, AUD and GBP are in the top 3 (in this order) performing currencies over the last 5 trading days while the USD lags.The US government shutdown extended to a record 22 days on Monday and CFTC FX positioning data is one of the releases that continues to be delayed. Two Premium trades were issued on Friday in the cryptospace with charts & notes.
Read More...
The Strongest & Weakest
HOT-CHART
Dec 20
Yen far from Overbought
Although USDJPY hit a 3-month low at 110.96, reaching its 100-WEEK MA for the 1st time in 3 months and its 200-DAY MA for the 1st time in 4 months, YEN strength is far from excessive.