Posted Jan 27, 17:07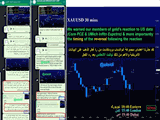 11 hours ago:
Here is an example from today's trading, setting up our Whatsapp Broadcast Group members with written, voice and chart notes pre-US data. Once the data were released 8:30 & 10:00 Eastern time (13:30 & 15:00 London), we followed-up by guiding members on gold's likely reaction as well at which point the reversal would start (we missed the timing by 30 mins today). The WBG does not only rely on intramarket technicals to trade FX, metals and indices, but also takes a dive into intraday flows, when conditions are suitable--like today, yesterday and Wednesday (see the 30-mins chart inside the WBG chat).
Read More...
PREMIUM INSIGHTS
Update: Dec 30, 12:00

Our WhatsApp Broadcast Group
The Whatsapp Broadcast Group is our sole product offering.
PREVIOUS NEWS
Another Short Long Combo in Gold مضاربة الذهب على الإتجاهين
Jan 18, 2023 17:38:
Here is another example of taking advantage of our anticipation of the familiar pattern in $40-50 declines off Gold's tops. We already demonstrated how this worked in late December here. Yesterday, we entered a short around 1913, targetting 1900, while we retained our 1919 long targetting 1926/7. It's all good to say "gold should extend higher", or "time for a pullback", but the challenge is to implement ideas into trades. Since November, gold made $40-$50 pullbacks in 6 occasions, respecting a simple classic trendline support. Here it is below.
Read More...
CAD on the Cusp
Jan 11, 2023 16:13:
USDCAD is back down below 1.3500, not quite hitting the final Head and Shoulders target mentioned to our
WhatsApp Broadcast Group
members on Nov 4th
[see chart below]
. So what is next for the pair? Last Friday, Canada had a stellar jobs report from with employment rising (full-time and part time), unemployment falling and the participation rate gaining. See how each USDCAD rebound above the neckline failed to break the right shoulder of 1.37 during market selloffs (risk-off). Any
renewed episode of market selling
(possibly a strong CPI tomorrow) could lift the pair back to 1.3480/90s. Yet, my
position remains unchanged
(as it has since Nov 4th). Will the next phase of USD selling take us to 1.3170?
What's so special about 1.3170 apart from it being a H&S target
?
Most pertinently,
there is a unique relationship between USDCAD and its 200-DMA, which makes a retest of the average an inevitability. If you want to learn how incorporate interFX and intermarket analysis such as using the
CNH H&S
as a reference for your positioning alongside XAUUSD, then come to my private seminar in
London this Saturday
. There will be several fellow traders, a 3-course lunch from The Gherkin restaurant and a free autographed copy of my book, not to mention trading account incentives from our sponsor.
Click To Enlarge
Read More...
The Strongest & Weakest
HOT-CHART
Jan 11
Dax 200 MA Extension
If the DAX40 maintains its habit of extending 13% above its 200 DMA, then current upside may extend to as high as 15300, just below the 76% retracement of the decline from the Jan 2022 high to...