Posted Aug 20, 19:28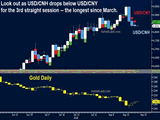 11 hours ago:
The US dollar was broadly lower on a slow Monday session following Trump comments on Friday indicating he expected Jerome Powell to be a "cheap-money" Fed chairman. The comments were made at a fund-raiser for wealthy Republican donors at the Hamptons. There were no specific USD comments but the greenabck dropped off on the interest rate side of it.CFTC positioning showed a net euro short for the first time in 15 months.The Premium short in USDJPY was closed at 110.00 for 120 pt gain as the remarkable divergence between USDJPY and USDX continued. The chart below indicates that the USD/CNH has fallen below the USD/CNY for the 3rd straight session, meaning a lower USD exchange rate against the offshore yuan than the USD rate vs onshore yuan (more managed). This may indicate that the PBOC is more successful at swaying speculating selling against the CNY in the hard-to-control offshore market. More on this in tomorrow's Premium video.
Read More...
PREMIUM INSIGHTS
Update: Aug 16, 17:20

2 More Indices Shorts
Opening 2 more
فتح صفقتين على مؤشرين أساسيين
PREVIOUS NEWS
Don't Forget CAD & NAFTA
Aug 17, 2018 12:27:
Let's take a short break from the lira and the yuan for a moment and return to the Canadian dollar ahead of today's Canadian CPI. The best performing major currency since the start of July is the Canadian dollar, while the best performing emerging market currency is the Mexican peso. Their common denominator is NAFTA risk. Despote improved tone of negotiations, major uncertainty remains. What's the potential upside for the Canadian dollar if a deal is done? A 3rd Index short was opened for Premium subscribers yesterday and is already in the green.
Read More...
The Strongest & Weakest
LATEST ARTICLE
Jun 07
Ahead of the ECB
EURUSD posts its biggest weekly gain in five months despite ongoing uncertainty in Italy and fresh declines in Italian bonds and equity indices.
HOT-CHART
Jul 26
ECB Scenarios
The ECB decision is at 1145 GMT (12:45 London), but it's a foregone conclusion that interest rates won't change. Instead, focus on messaging and press conference 45 mins later.