Posted Apr 27, 18:47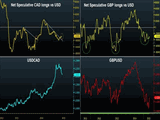 2 hours ago:
We focus on emerging developments in GBP/USD GBPUSD and USDCAD positioning among futures speculators as GBP shorts vs. USD fell to 29,281 contracts last week (from 36,045) -- the least negative in more than seven weeks, while net shorts in CAD vs. USD fell to an 11-week low of 27,051 contracts (from 30,578). Full charts and analysis.
Read More...
PREMIUM INSIGHTS
Update: Apr 22, 19:10

Which CHF Pair after SNB Announcement?
As the SNB eliminates deposit exemptions from negative interest rates, find out whoch currency we are buying against the CHF Trade & charts found here
LATEST ARTICLE
Mar 05
Euro hits $1.10 as ECB kicks off QE
The euro currency had short-lived rally off its latest 11-year lows when the ECB revised its 2015 GDP forecasts to 1.5% from December's 1.0% and upgrading its 2016 growth view to 1.9% from the...
PREVIOUS NEWS
USD Headwinds May Fade, Yen Shorts Shrink Further
Apr 27, 2015 0:37:
The week ahead features Q1 GDP and the FOMC decision, two events widely expected to weigh on the USD dollar but if we look beyond the story begins to improve. Markets open the week relatively unchanged. CFTC positioning showed a small squeeze on dollar longs and a retreat of yen shorts. Our Premium EURUSD long at 1.0605 hit its final 1.0880 target on Friday. Other Premium trades: NZDUSD, GBPAUD, EURGBP and GBPUSD are currently in progress.
Read More...
Total Data Domination
Apr 24, 2015 0:36:
The Fed repeatedly said its data dependent and trades have evidently taken it to heart as markets have grown extremely sensitive to economic data. It was on display Thursday as the US dollar fell in New York trading after a round of soft numbers. The Japanese services PPI and the all-industry index are due later. The Premium long in EURUSD opened on ECB Day just over 1.0600 is nearing the final target. NZDUSD, GBPAUD, EURGBP and GBPUSD are the
other Premium trades
currently in progress. During many periods, markets ignore the second and third tier US economic data and focus on the general trend but with the Fed undecided on raising rates and the market suddenly less-confident in a US growth pickup, every release is market moving. We can't remember a time – at least since 2007 – when markets were so hung-up on data.
Read More...