Posted Jul 22, 0:14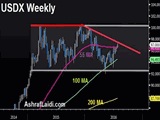 Jul 22:
The ECB decision was a dud as it pushed the key decisions until September. The yen was the top performer after comments from Kuroda surfaced; the kiwi lagged. The speech from Donald Trump at the RNC is due later but a draft copy leaked early. There are 8 Premium trades, including 2 in metals and 2 in JPY.
Read More...
PREMIUM INSIGHTS
Update: Jul 19, 16:33

NZD Plays
Two trades on the NZD have been opened since Friday. Trades section.
PREVIOUS NEWS
Capital Key to the Euro
Jul 21, 2016 3:22:
The euro was calm ahead of the ECB decision but the reaction on Thursday will depend how Draghi tweaks bond buying. GBP was the top performer on the day while the yen underperformed all currencies. NZD took another tumble in early Thursday Pacific trade after the RBNZ signalled further easing in its latest economic assessment.
Read More...
Cable Clipped Again, AUD Sags
Jul 20, 2016 0:13:
UK CPI data was a touch higher than expected but the pound plunged again anyway. The yen was the top performer while the Australian dollar lagged after the RBA minutes. More Australian data is due later with the skilled vacancies report. The latest Premium video, discussing our FX & metals trades is found below. It also includes a preview for Wednesday's UK jobs report and Thursday's ECB press conference. Last week's JPY trades has now been filled and is in progress.
Read More...
HOT-CHART
Mar 03
مؤشرات الأسهم الخليجية
Performance of Gulf Bourses since oil's August top . مؤشرات الأسهم الخليجية التغير المئوي منذ ذروة النفط في أغسطس 2015 ..