Posted Jun 22, 15:19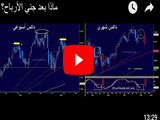 2 hours ago:
كثير من المتداولين يتمكن من الدخول في صفقات تداول ناجحة متوقعين تحركات الأزواج توقعات صحيحة مما يمكنهم من تحقيق أرباح ,لكن ماذا بعد تحقيق الأرباح ؟ (الفيديو الكامل)
Read More...
PREMIUM INSIGHTS
Update: Jun 22, 14:22

New Index Trade
2 consecutive monthly gravestome dojis is difficult to resist
(إياك و تجهل شمعتين قرايفستون دوجي متتاليتين)
PREVIOUS NEWS
Price Action Shrugs Calendar
Jun 22, 2018 14:31:
This week's activity in FX and equity markets has been busier than had been expected in light of the relatively empty economic calendar. Broadening trade tensions (US, China and Europe) and a surprisingly hawkish vote from the Bank of England helped extend the sell-off in global equities and remind us of the June seasonals. Next week will be busier with end-of-quarter rebalancing than meaningful data. A new Premium trade has been issued as we cannot ignore two consecutive monthly gravestone dojis.
Read More...
The Strongest & Weakest
LATEST ARTICLE
Jun 07
Ahead of the ECB
EURUSD posts its biggest weekly gain in five months despite ongoing uncertainty in Italy and fresh declines in Italian bonds and equity indices.
HOT-CHART
Mar 20
Rare Quarterly Dow Doji
The quarterly candle on the Dow Jones Industrials Average shows a rare long-legged doji, one of the most striking reversal signs in candlestick analysis. Full Analysis..