Posted May 26, 22:53
| | |
| --- | --- |
| Durable Orders (APR) | 3.4% |
| Durable Orders , ex-transportation (APR) | 0.4% |
| Pending Home Sales (APR) | 5.1% |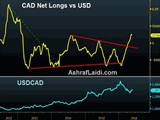 May 26:
A weak durable goods report and comments from the Fed's Powell offered some insight into what the Fed will do next. CAD and JPY were the top performers, while the pound sterling lagged. Japanese CPI and Aussie Capex are due next.The April US durable goods report highlighted the challenges the Fed faces. There are currently 9 Premium trades in progress, 2 of which are CAD longs.
Read More...
PREMIUM INSIGHTS
Update: May 25, 12:00

New CAD Trade
Adding a 2nd CAD trade to the Premium Insights ahead of the Bank of Canada decision and oil figures. Trades section.
PREVIOUS NEWS
CAD Outperforms on BoC, Oil
May 25, 2016 23:51:
The Bank of Canada took a more-neutral stance than expected on Wednesday and along with rising oil prices that helped made the Canadian dollar the top performer while the yen lagged. Australian capex data and the New Zealand budget are due later. The Premium Insights added a 2nd CAD long to the trades ahead of the BoC decision and EIA inventory announcement. Full rationale and charts analysis to the CAD and other trades is in today's Premium Video.
Read More...
Dollar Bid Arrives
May 25, 2016 0:11:
The follow-through from the strong FOMC Minutes finally arrived Tuesday and EUR/USD closed at the lowest since mid-March. The pound was the top performer while the euro lagged. Australian construction and Chinese sentiment numbers are due later. The Premium Video for English speakers will be posted and sent to subscribers after this IMT, covering the existing 8 trades.
Read More...
HOT-CHART
Mar 03
مؤشرات الأسهم الخليجية
Performance of Gulf Bourses since oil's August top . مؤشرات الأسهم الخليجية التغير المئوي منذ ذروة النفط في أغسطس 2015 ..