Posted Oct 19, 23:48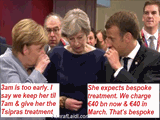 Oct 19:
We were once again reminded that this is the era of political-driven trading after a surprise coalition formed in New Zealand. The euro and Swiss franc led the way while the kiwi lagged badly. On the Fed, the latest report is that Trump is leaning towards Powell. The long EURUSD Premium trade was closed for 110 pips, while the other EUR trade remains in progress, currently 110 pips in the green.
Read More...
PREMIUM INSIGHTS
Update: Oct 20, 14:50

New EUR Trade
New EUR Trade after Closing EURUSD at 110 pip gain
صفقة ثانية على اليورو
Full trades & charts
PREVIOUS NEWS
ندوة مساء الثلاثاء مع اشرف العايدي
Oct 19, 2017 13:10:
هل سيقدم المركزي الأوربي على إعلان تقليص اضافي هذا الشهر؟ و ما مدى تأثير مثل هذه القرار في ظل الصراع بين توقعات رفع الفائدة الأميركية و تقليص التيسير الكمي الاوروبي سنسلط الاضواء في ندوتنا القادمة بتاريخ 24 أكتوبر مع الاستاذ أشرف العايدي على قرار المركزي الأوروبي المقرر يوم الخميس 26 أكتوبر شارك في الندوة
Read More...
China Hints, Aussie Jobs Next
Oct 18, 2017 22:59:
Signals from China are usually subtle and actions are often dramatic, we look at Xi's landmark speech to start the Party Congress. The Canadian dollar was the top performer and the yen lagged. The Australian jobs report and a sensitive Chinese GDP reading are up next. The latest Premium video is posted below.
Read More...
The Strongest & Weakest
LATEST ARTICLE
Aug 17
Euro Moves Far from Brutal
Earlier today, euro suffered a minor bump on the release of the minutes from last month's ECB Governing Council policy meeting, which revealed growing concerns with a possible overshoot in...
HOT-CHART
Aug 24
US Stocks Sector Performance
In comparing the year-to-date sector performance for the S&P500 to that of 2016, the 2 most striking developments is the reversal in energy stocks from best performer in 2016 to the worst so...