Posted Jul 19, 10:56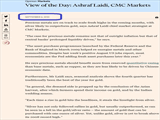 3 hours ago:
Gold and silver are unsurprisngly getting much attention now, and everywhere you look there's a gold/silver ratio chart popping out. Here's an FT piece quoting me about the "Mint Ratio" from a while ago (see date). Useful to compare & contrast with today's case. Link
Read More...
PREMIUM INSIGHTS
Update: Jul 17, 18:20

2nd Trade of the Week
Backed by 5 charts
الصفقة الثانية هذا الأسبوع
PREVIOUS NEWS
Your Favourite Trade
Jul 19, 2019 10:13:
If you were given $10,000 in real money today with one requirement: You must place 3 trades between now and the rest of the month, what would you do? The choice is strictly among spot forex (currency pairs), gold, oil, DOW30, SPX500 or DAX30. Pick your choice here
Read More...
Deal Mirage, Earnings Unease & G7 Chatter
Jul 18, 2019 10:24:
A fresh report on Wednesday saying the US-China have failed to make any progress since the G20 hurt sentiment. Moreover, there is a growing sense that the conditions aren't right for a deal. GBP is the strongest currency on a combination of stronger than expected UK retail sales and comments from EU chief Brexit negotiator reviving hopes of reaching a compromise on the Irish border issue.See the notes on Alcoa, CSX and Netflix below. Euro lost ground on a report stating that the ECB may revamp its approach to inflation. Both of this week's newly added Premium trades are in the green. There are currently 6 trades open. The Premium Video titled "The Short Backed by All 3 Metrics" is out.
Read More...
The Strongest & Weakest
LATEST ARTICLE
May 24
After Theresa May
Now that PM Theresa May has announced stepping down from the Conservative Party leadership as of June 7, the ongoing political chaos will shift temporarily from striking a deal on the Withdrawal...
HOT-CHART
Mar 14
Ashraf's Trade on Real Vision TV
Ashraf Laidi of Intermarket Strategy, returns to Real Vision to analyze the historical cycles in the British pound and to discuss the fundamental backdrop & news regarding Brexit, runs...