Posted Jun 30, 0:31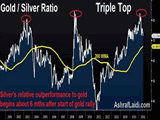 14 hours ago:
The Brexit bounce continued for a second day, although GBP slipped late in the day. Sterling was still the top performer and the yen lagged for the second day in a row. Japanese industrial production and Australian credit data is due later. A new trade was issued in USD, shaped by the conspiring 55-WMA.
Read More...
PREMIUM INSIGHTS
Update: Jun 29, 22:33

55-WMAs Conspire
New USD trade issued as the post-Brexit fallout calms further. Trades section.
HOT-CHART
Mar 03
مؤشرات الأسهم الخليجية
Performance of Gulf Bourses since oil's August top . مؤشرات الأسهم الخليجية التغير المئوي منذ ذروة النفط في أغسطس 2015 ..