Posted Nov 13, 13:51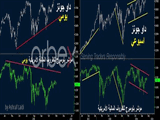 2 hours ago:
يوضح الرسم البياني الاختلاف الواضح بين مؤشر "داو جونز الصناعي" (المعروف باسم "داو جونز" لمعظم المتداولين) ومؤشر الظروف المالية في الولايات المتحدة، الصادر عن شركة "بلومبرج" للأنباء المالية. التحليل الكامل
Read More...
PREMIUM INSIGHTS
Update: Nov 12, 15:55

New Premium Trade
New Index Trade
صفقة جديدة مدعومة بخمسة مخططات مع التفسير بالعربي




Full trades & charts
PREVIOUS NEWS
Threats, Hearings & Testimonies
Nov 13, 2019 11:03:
Global equity indices are a lower across the board due to a number of factors after the S&P500 posted its 19th record high of the year, matching the same number of highs in 2018. The DOW30 remarkably matched (but did not break above) its high from earlier this week. Not only Trump's speech stayed far away from confirming reports of removing US tariffs on China, but also renewed his threats towards Beijing. The RBNZ's surprise decision to not cut rates is also contributing to the risk-off climate, especially as Fed chair Powell will be expected to deliver the same message to Congress (no need for any more rate cuts any time soon). A new trade was issued yesterday, backed by 5 charts.
Read More...
Pound Jumps, China Inflation Surges
Nov 11, 2019 16:43:
The pound jumped by a full cent to 1.2898 after Brexit Party chief Nigel Farage said his party will not run in Conservative-held seats in next month's election so as to help result into a victory for the Conservatives and for Brexit (More below). China's consumer inflation hit 7-year highs, complicating the PBOC's decision to cut rates last week. CFTC positioning data showed growing CAD longs and EUR shorts. This week's market highlights include: UK jobs (Tues), UK and US CPI (Wed), Powell's Congressional testimony (Wed), RBNZ rate decision (Thurs), UK retail sales (Thurs) and US retail sales (Fri). Gold printed 1448, stopping us out at 1450. A new Charts analysis on gold has been sent to the Premium subscribers.
Read More...
The Strongest & Weakest
HOT-CHART
Oct 16
GBP-USD Yield Spreads
As GBP becomes the 2nd highest performing currency in the G10 since the start of the year, posting daily gains not seen in 10 years, here is a look at the current yields situation, with GBP...