Posted Jul 1, 16:17
| | |
| --- | --- |
| Eurozone PPI (MAY) (m/m) | Jul 02 09:00 |
| Eurozone PPI (MAY) (y/y) | Jul 02 09:00 |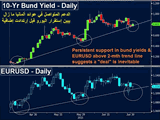 7 hours ago:
The Bunds-Euro relationship remains intact, as both continue to converge along the crucial trendline support since the April bottom. With yet another yields bounce off the support today, bunds are further eliminating Grexit scenario for now as does the single currency.
The initial rise in the euro and bund yields emerged upon PM Tsipras' announced counterproposal to creditors, expressing his acceptance of their conditions along 5 amendments on pensions, VAT, fiscal/structural measures and labour markets. But the euro rally was quickly eroded as soon as German finance minister Schauble and later Chancellor Merkel announced that any counterproposal from Tsipras were considered null as long as Sunday's scheduled referendum was not cancelled.
Read More...
PREMIUM INSIGHTS
Update: Jul 10, 18:31

What to do with GBPUSD Trade?
We issue a new trade on GBPUSD with 3 supporting charts as the existing trade nears our stop. Trade & charts found here
LATEST ARTICLE
May 22
Intermarket convergence: Bunds, Oil, USD, EUR
The latest technical picture in intermarket dynamics suggests the USD is not yet ready to regain the positive momentum of the recent months, but the stabilisation path for oil, euro, bond yieds...
HOT-CHART
Apr 30
Bailing out of DAX & Dehedging EURUSD
Wednesday's 378-point collapse in Germany's DAX-30 index—a 3.2% drop, was the biggest in a single day since the eruption of the Spanish/Italian debt crisis in June 2012.
PREVIOUS NEWS
Is Canada in Recession Already?
Jun 30, 2015 22:53:
The Greek drama continues but we change gears today and take a closer look at the Canadian dollar after a soft GDP report. We also look at the quarter and Japanese Tankan report due later. On Tuesday, the Aussie was the top performer while its kiwi cousin lagged. A new EUR trade was added to the Premium Insights, with 3 charts supporting the technical case. Our long AUDNZD from 1.1100 is 280 pips in the green and nears its final target.
Read More...
Euro's Falling Share of Reserve Allocation
Jun 30, 2015 19:34:
The IMF's latest quarterly FX reserves figures show central banks' euro share of global official currency reserves fell to 22.1% of total official reserve allocation in Q1, the lowest level since 2002. The US dollar's share of disclosed currency holdings rose to 64.1%, the highest since March 2009, which is the peak of the USD's rise during the global financial crisis.
Read More...