Articles
Draghi Boosts Euro, Rebuffs Disinflation
Another euro-positive ECB presser highlights the reasons for lower inflation, with the implication that low prices are of temporary nature. The conference re-affirms the ECB is in no hurry to use up its eroding interest rate armory to tackle disinflation risks without first considering unsterilising its money market operations.
The chart below reminds that the last time extreme lows in Eurozone inflation were accompanied by multi-year highs in German business and macro data was in mid-2009, a period propped by optimism in global equities rather than a manifestation of broad Eurozone improvement. Less than 6 months later, the Eurozone was dragged into a 3-year slump of debt defaults, bailouts and austerity.
Click To Enlarge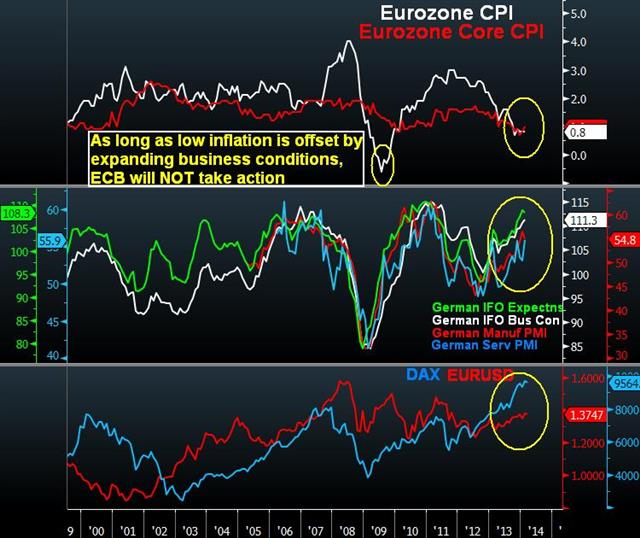 Today, 3-year lows in Eurozone inflation are not only occurring simultaneously with 3-year highs in Germany business confidence, but also backed by broadening stabilisation of growth dynamics in the periphery, four upgrades in the Eurozone since Nov alongside robust performance in equities and the single currency.
Draghi offered fresh data attributing low inflation to the euro's appreciation and the growth spillover from high austerity policies in "stress nations". Draghi quantified the effect of the euro rise on inflation at -0.4%, while stating that 2/3 of the 1.9% decline in inflation from 2012 Q1 to have been caused by lower energy prices, or -0.3% impact.
The ECB lowered its CPI forecasts for 2014 to 1.0% from 1.1% in December and held its 2015 forecasts at 1.3%. These forecasts may reflect the central bank's commitment to improved transparency but they prove of little value to the markets, especially as the accuracy of these forecasts is constantly challenged by revisions.
More importantly, the 1.0% rise in preliminary core Eurozone CPI for February showed a 25% rise, which was the biggest since September 2011. The main difference between now and 2011 is the dissipation of sovereign debt factor (four upgrades in periphery nations since November) and improved macro dynamics in those economies. Considering that the euro's sole handicap over the past 6 months anticipation of a forced rate cut, any indications that the ECB will abandon such this solution, will maintain the pair supported above 1.3600 and make $1.40 a reality.
Click To Enlarge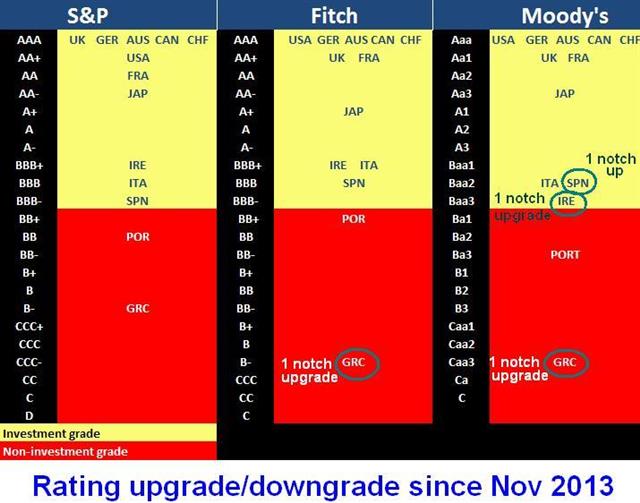 For tradable ideas on FX, gold, silver, oil & equity indices get your free 1-week trial to our Premium Intermarket Insights here
Follow us on Twitter @Alaidi