Intraday Market Thoughts Archives
Displaying results for week of Jan 13, 2019
Jan 15, 2019 13:57 | by Adam Button
We have already covered Brexit yesterday on here so we'll cover China's dismal trade figures, which raise fresh questions about the risks of a sharp slowdown. CAD & NZD are the strongest and CHF & JPY are the weakest since the start of Asia's Tuesday session. The Brexit vote is due later today at 14:00 Eastern/19:00 GMT. The Premium video ahead of the Brexit vote shall be posted to subscribers after the close of the London session. More on Brexit Vote Scenarios here
Click To Enlarge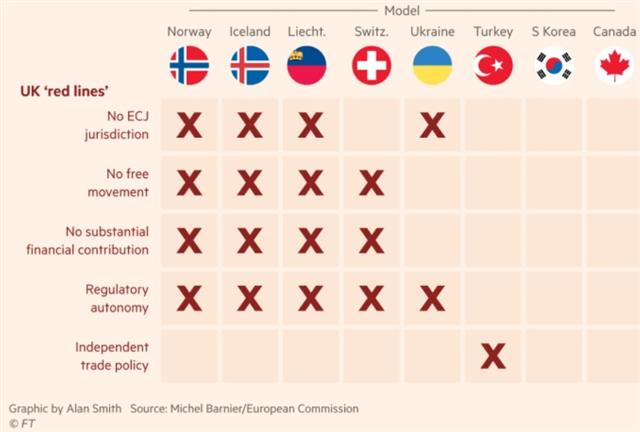 China's economy could be struggling far more than believed. We have long highlighted the importance of Chinese imports as a leading indicator of global growth. Trade is also one of the most-reliable Chinese data points owing to its bilateral nature -- ie it's extremely tough to manipulate given that both trade partners report the number.
In yuan terms, imports fell 3.1% year-over-year in December compared to a rise of +12.0% expected. In dollar terms imports were down 7.6% y/y (lowest since mid 2016), compared to +4.5% expected. Either way it's one the largest misses on Chinese data in memory.
The market was surprisingly sanguine. The thinking is that this is a temporary slowdown that will be reversed by the end of the trade war and Chinese stimulus but that's hardly a guarantee. Moreover, China has previously resorted to industrial levers, but this time it will require consumers cooperate -- a tougher task ahead.
The Chinese data calendar is quiet until next Monday when retail sales, industrial production and GDP are all due. Watch for de-risking on Friday ahead of the data and keep an eye on corporate commentary on the state of China's economy.
In the shorter term, the focus will be on the meaningful Brexit vote. It's expected between 1900-20:00 GMT. For more on this, please see yesterday's IMT.
Jan 14, 2019 17:28 | by Ashraf Laidi
تُطلق رئيسة الوزراء البريطانية تيريزا ماي محاولة في اللحظة الأخيرة لإنقاذ صفقة خروج بريطانيا من الاتحاد الأوروبي، محذرة أولئك الذين سيصوتون ضد خطة الخروج غداً (الثلاثاء) في البرلمان، والتي من المرجح أن تبقي بريطانيا في الاتحاد الأوروبي أكثر من المغادرة دون اتفاق. ويدعى الخروج بدون اتفاق بـ "بريكست بدون صفقة"، وهو السيناريو الأسوأ بالنسبة للاقتصاد والجنيه الإسترليني. التحليل الكامل
Jan 14, 2019 14:21 | by Adam Button
Theresa May heads to staunchly pro-Brexit territory on Monday in a promise to deliver on the referendum vote but she faces a massive task ahead of Tuesday's vote. The yen and Swiss franc are the strongest since the start of Asia's Monday trade, but NZD, AUD and GBP are in the top 3 (in this order) performing currencies over the last 5 trading days while the USD lags.The US government shutdown extended to a record 22 days on Monday and CFTC FX positioning data is one of the releases that continues to be delayed. Two Premium trades were issued on Friday in the cryptospace with charts & notes.
Click To Enlarge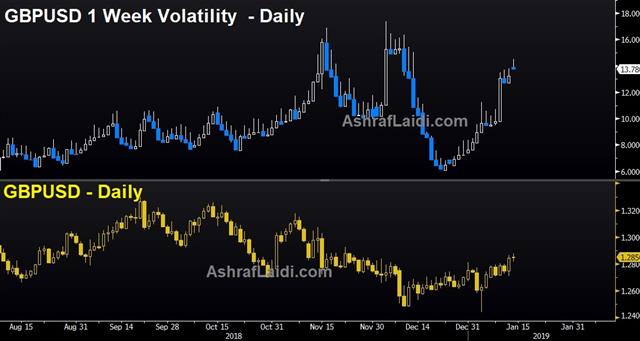 The pound hangs in the balance with parliamentarians set to vote on Brexit Tuesday. The odds of a win for Theresa May are remote. She's failed to find a middle ground that can gain enough support with her narrow parliamentary majority. She spoke in Stoke-on-Trent Monday in a last ditch effort to rally support, warning that if this deal isn't done, some in parliament may try to keep the UK in the EU indefinitely. A weekend report said some lawmakers may try to seize control of the legislative agenda from the government and try to extend the March 29 deadline.
Earlier today, the EU releaseed a letter reiterating that the Irish border backstop is only temporary.
Some Brexit Vote Scenarios
A defeat of Tuesday's vote by a significant margin
(more than 70-80 votes)
, would be difficult to envision a path forward and the pound could face an extended slump, raising questions for a No-Deal Brexit. A
closer result, especially within 30-40 votes
, could be GBP-positive as it would underscore that some voters only want to cast a token protest vote before falling into line. Others may need some smaller concessions. Traders should also be aware that the
3 likely consequences of rejection of tonight's vote:
1) Canada-style agreement; UK negotiates trade with all EU members similar to the one reached between Canada and the EU and took 8 years to negotiate and finalize.
2) 2nd referendum -- Also known as the people's vote -- is the ideal scenario for remainers (and GBP) would likely ask 3 questions (remain, accept current agreement or exit w/out deal). There's currently backing of 150 MPs for a 2nd referendum from all 4 main parties but more than 300 would be needed to secure majority.
3) Norway Plus agrmt -- Britain stays in customs union or single market -- but Brexiters oppose this as it requires UK to take orders from the EU & make budget payments to EU.
How the EU will handle the backstop issue in order to appease the DUP shall depend on the margin of Tuesday's vote.
Click To Enlarge