Intraday Market Thoughts Archives
Displaying results for week of May 21, 2017
May 22, 2017 23:02 | by Adam Button
Saudi Arabia's oil minister made a trip to Iraq Monday and shored up support for a 9-month quota extension. On Monday, the kiwi was the top performer while the pound lagged. A speech from the Fed's Brainard later could be telling. There are 5 Premium trades currently open.
Click To Enlarge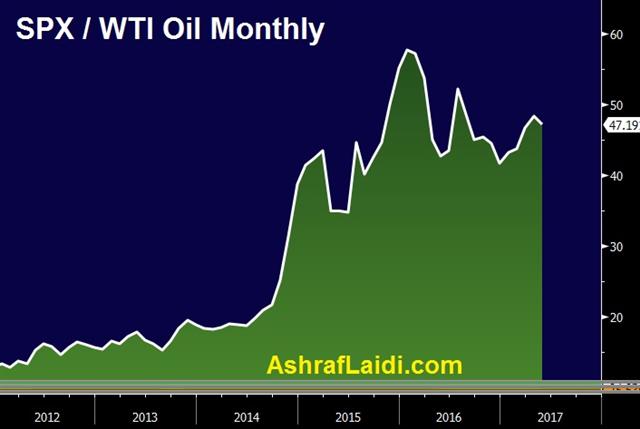 Saudi's Al-Falih traveled to Iraq amidst reports that Baghdad, Oman and Kuwait only wanted a six month extension to OPEC quotas. His plan worked and late in the day, Iraqi officials said they were on board.
What's puzzling is that Iraq has been one of the worst violators of the initial production levels as it seeks to recover lost ground due to war. Al-Falih was confident a nine-month deal is coming so that could move the discussion towards deeper cuts in what's a possible upside risk on Thursday when the decision is due.
The wildcard remains Iran. Leaders there have been less-enthusiastic about cuts and the government wants to regain market share. On the topic of oil, the Fed's Kaplan talked about US share on Monday and he was highly optimistic about the amount of investment and potential yield from technological improvements in US shale. He also hinted that breakeven points are coming down. A huge risk for 2018 is that US supply continues to climb and it forces OPEC to pump flat-out.
On monetary policy, Kaplan's comments where characterized as typically-hawkish by the newswires but it was a mischaracterization. Indeed he said he still favors 2 more hikes this year but he repeatedly warned that inflation numbers had raised warning signs and that he will be watching closely.
At the moment, the Fed calendar until the June 3 blackout is quiet in terms of heavyweights. That's likely to change as talks are added but at the moment, the only Fed governor on the schedule is Brainard, who speaks at 2330 GMT today. She's a dove but s also one of the first policymakers who tipped the March hike. If she drops any hawkish hints, it could send the dollar skyward.
Act
Exp
Prev
GMT
FOMC's Evans Speaks
May 23 1:10
FOMC's Kashkari Speaks
May 23 19:00
FOMC's Harker Speaks
May 23 21:00
May 22, 2017 11:29 | by Adam Button
As we enter the new week, the euro has gained big in five of the past six days. Early moves are small with GBP and AUD losing some ground. CFTC positioning showed a fresh extreme in CAD. Euro jumps to 1.1230s after Merkel says Germany's rising trade surplus is a result of the low euro, which is caused by ECB policies. The Premium GBPUSD long was closed at 13035 on Friday for 185-pip gain and a new Index trade was opened before the close. Here is the USD analog that Ashraf referred to back in January here and here.
Click To Enlarge
The market is slowing falling in love with the euro. Macron's win and the continued troubles for Trump along with the idea that the ECB and Eurozone economy are turning the corner has made for a powerful move in the past week.
EUR/USD has climbed from 1.0850 to 1.1200 and it finished last week on the highs. Technically, the pair continues to carve out six-month highs as it nears the US election night high of 1.1300. An inverted head-and-shoulders bottom targets 1.14 but we will have a closer look at the fundamentals in the day ahead.
The week starts with Japanese trade balance and Swiss sight deposits. Note that the calendar is quiet in the US with only Harker and Kashkari to liven things up. Canada is off on holiday.
CFTC Commitments of Traders
Speculative net futures trader positions as of the close on Tuesday. Net short denoted by - long by +.
EUR +37K vs +22K prior GBP -33K vs -47K prior JPY -60K vs -36K prior CHF -21K vs -15K prior CAD -98K vs -86K prior AUD +6K vs +26K prior NZD -12K vs -11K prior
It's the second week of big positioning shifts. The net Canadian dollar position is most-extreme on record. What's even more incredible that only two months ago, CAD was net long 22K and at that time the loonie was trading very close to where it is right now. The takeaway is that the vast majority of that position is close to underwater. With the OPEC meeting this week, the risks are high.
Otherwise, the yen move was a big one and the market has soured on the Australian dollar. With the euro grabbing some momentum and the spec market still relatively neutral, there is plenty of fuel to burn.
Act
Exp
Prev
GMT
Trade Balance
0.10T
0.25T
0.11T
May 21 23:50
Trade Balance
2.87B
3.10B
May 23 6:00