Hot-Charts
What's Next for Aussie?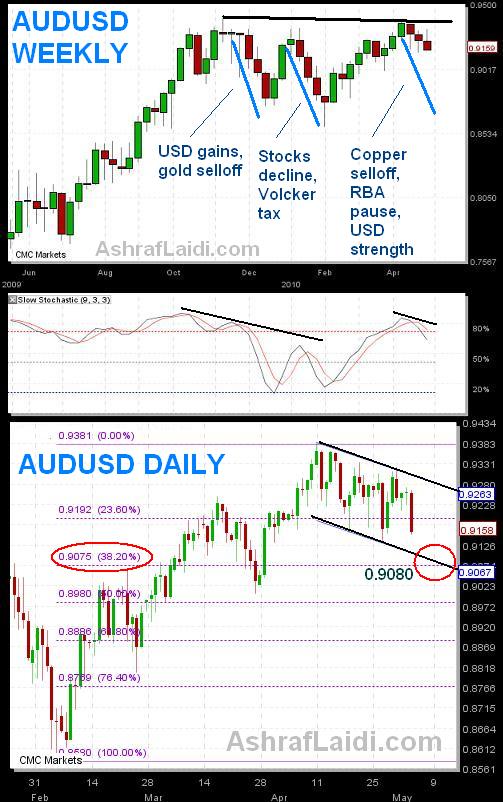 SHORTING THE AUSSIE AFTER 3 STRAIGHT down weeks may be a risk for such a high yielding currency, but the latest 25-bp rate hike to 4.50%, was accompanied by a neutral policy statement in which RBA governor Stevens said: rates for most borrowers will be around average levels compared to the April statement when he said: Interest rates to most borrowers nonetheless have been somewhat lower than average... it is appropriate for interest rates to be closer to average. Todays rate hike sent the message that the RBA could pause, especially considering further tightening in China as well as the potential for further deterioration in Eurozone sovereign debt. While this does not necessarily mean the RBA is done for the year, a pause into the next 3 months would be sufficient to pare longs from AUD. AUDUSD is now to 0.9080, a break of which would test the next key support at 0.8980. Weeklies suggest 0.89 can be attained later this month in the event of further risk dislocation from US bank stocks. TODAY's 130-pt damage may well be followed by recovery towards 0.9220, but medium term players must also be protected against any 0.9280 trend line resistance. Shorting AUDJPY may also be an option, but care must be exercised in the event of continued US data surprises, which could drag down JPY.
More Hot-Charts
Sep 6, 2016 16:38 | by Ashraf Laidi

Six days after the manufacturing ISM index dived back into contraction territory along with its employment and new orders components, today's release of the services version does its part of...

Aug 12, 2016 19:08 | by Ashraf Laidi

That's where things have reached. Swimming against the tide, missing growth/inflation targets for 4 years in a row and much more..

Mar 3, 2016 13:09 | by Ashraf Laidi

Performance of Gulf Bourses since oil's August top . مؤشرات الأسهم الخليجية التغير المئوي منذ ذروة النفط في أغسطس 2015 ..
Hot-Chart Archives