Hot-Charts
Silver Still Holds...for now
Click To Enlarge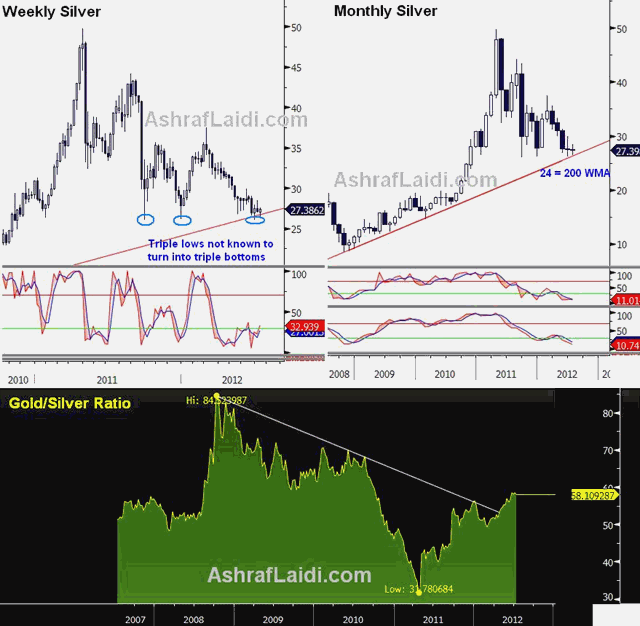 Unlike gold, silver continues to remain supported above its 4-year trendine, which it has probed for the past 3 weeks. Nonetheless, gold remains above its 100-week MA since December 2008, while silver has broken below its own 100-WMA.
According to the gold/silver ratio, silver has fallen 21% relative to gold since March. Since April 2011, silver dropped by over 80 against the yellow metal.
SPECULATIVE NET LONGS IN silver in the Comex exchange edged up to 9,706 contracts last week from the 9-year low of 6,222 contracts reached in late June. Meanwhile, gold speculative interest dipped to 4-year lows in early June at 110,712 contracts, before rebounding to 137,000 contracts.
THE FATE OF BOTH METALS REMAINS LARGELY DEPENDENT upon the policies of the Federal Reserve. There is some speculation that the Fed may deliver a 3rd round of quantitative easing this year, before the current Operation Twist is concluded. Such an act would be an usual sign of desperation by the central bank, yet the only viable means for gold and silver to have any realistic chances of a rebound back to 1700 and 32.00s.
THE DIVERGING SIGNS OF GLOBAL MACRO SLOWING are increasingly apparent, especially as they emerge from China and the US, both long seen as the remaining effective cylinders of the world economy. Coordinated easing policies from the major central banks are already under way, while metrics of fear in global markets remain relatively acquiesced. Yet, there will come a time when these gauges of risk appetite begin to escalate at the ever clear realization of diminished returns from liquidity injections. Unlike in 2008/09, when zero interest rates were considered to be shock-&-awe, today they are the new normal. But the converging macro deterioration is "anything but".
With the aforementioned picture, the Feds Operation Twist shall not be enough. It is already proving to be this way. And if matters stay this way, silver will eventually break below the 4-year trendline, retest the triple lows of 26.00. This would give way to the next landmark figure at the 200-WMA, currently at 23.40.
For the LATEST TRADABLE IDEAS ON SILVER silver, EURJPY, GBPUSD , gold and oi, see Thursdays Premium Insights by clicking here: http://ashraflaidi.com/ products/ sub01/ access/ ?a=665 NON-SUBSCRIBERS can click here: http://ashraflaidi.com/ products/ sub01/
More Hot-Charts
Jan 11, 2023 10:57 | by Ashraf Laidi

If the DAX40 maintains its habit of extending 13% above its 200 DMA, then current upside may extend to as high as 15300, just below the 76% retracement of the decline from the Jan 2022 high to...

Dec 6, 2022 14:34 | by Ashraf Laidi

We know the DXY is highly correlated with USD/CNH so if the Head-&-Shoulder on USD/CNH formation proves valid, then further USD downside lies ahead. ..

Nov 12, 2021 12:55 | by Ashraf Laidi

https://www.binance.com/en?ref=13288560...
Hot-Chart Archives