Hot-Charts
Clinton-Trump Spread & Stocks
The chart below suggests that US stock indices are tend to be more negatively impacted by declines in Clinton's lead in opinion polls vs Trump, than boosted by improvements in her lead over Trump.
Click To Enlarge
Click To Enlarge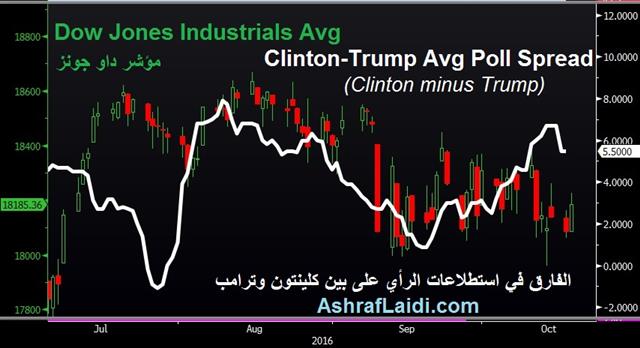 More Hot-Charts
Dec 18, 2020 17:52 | by Ashraf Laidi

What a miserable year for the US dollar. As goes the December as went the year in FX, while silver & soybeans topped commodities, as oil & coffee ranked bottom in the % Change YTD league..

Feb 21, 2020 13:14 | by Ashraf Laidi

In a phase when unwinding of carry trades and risk-repositioning dominate FX markets, beware from excessive divergence from the data.

Feb 19, 2020 11:43 | by Ashraf Laidi

CMC Markets' share price performance maintains the lead among major forex brokers since our last update six weeks ago.
Hot-Chart Archives