Hot-Charts
Clinton-Trump Spread & Stocks
The chart below suggests that US stock indices are tend to be more negatively impacted by declines in Clinton's lead in opinion polls vs Trump, than boosted by improvements in her lead over Trump.
Click To Enlarge
Click To Enlarge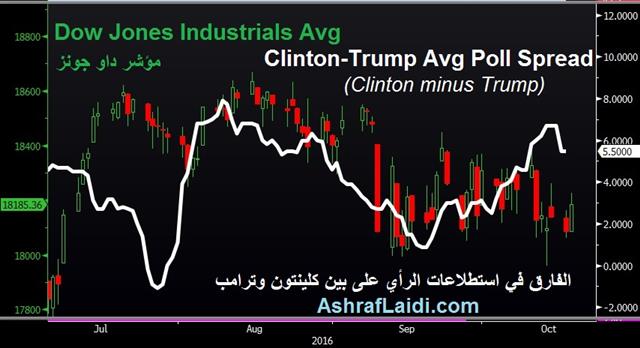 More Hot-Charts
Feb 27, 2021 1:00 | by Ashraf Laidi

The prolonged ascent in USDJPY remains fortified by the technical breakdown in net JPY futures longs (inversely related with USDJPY pair) shown in this striking analog from Q4 2016.

Feb 18, 2021 20:52 | by Ashraf Laidi

Will the pattern from mid-late Feb 2020 repeat itself today. PROCEED WITH CARE. ..

Feb 2, 2021 19:49 | by Ashraf Laidi

Ethereum is ready to exceed gold. That is all. ..
Hot-Chart Archives