Hot-Charts
Clinton-Trump Spread & Stocks
The chart below suggests that US stock indices are tend to be more negatively impacted by declines in Clinton's lead in opinion polls vs Trump, than boosted by improvements in her lead over Trump.
Click To Enlarge
Click To Enlarge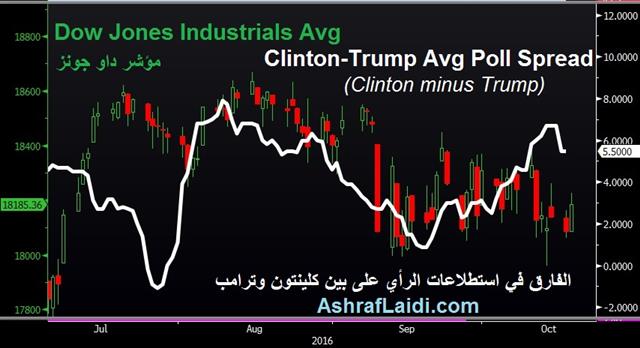 More Hot-Charts
Jan 11, 2023 10:57 | by Ashraf Laidi

If the DAX40 maintains its habit of extending 13% above its 200 DMA, then current upside may extend to as high as 15300, just below the 76% retracement of the decline from the Jan 2022 high to...

Dec 6, 2022 14:34 | by Ashraf Laidi

We know the DXY is highly correlated with USD/CNH so if the Head-&-Shoulder on USD/CNH formation proves valid, then further USD downside lies ahead. ..

Nov 12, 2021 12:55 | by Ashraf Laidi

https://www.binance.com/en?ref=13288560...
Hot-Chart Archives