Hot-Charts
Dow Theory in Focus
Is the Dow Transportation Index inability to close above its recent highs a red flag for Dow Theory followers? The theory holds that new highs (lows) in the Dow Industrials, or Transportation index, must be confirmed by new highs (lows) in the other. Failure to do so could imply that the highs (lows) attained in one index are unlikely to follow.
Click To Enlarge
Click To Enlarge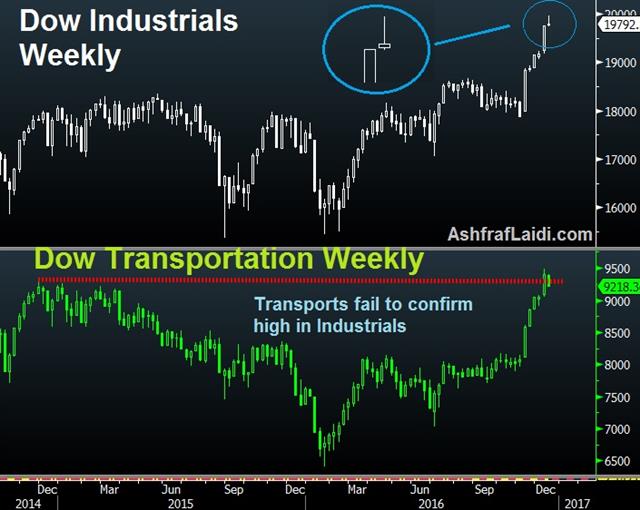 Although, the Dow Jones Transportation Index did end last week above its 2014 record high, its current decline below the latest highs (and 2014 highs) may raise doubts over the continuity of the advances in the Industrials. A possible reason for Wednesday's stock market selloff could be the disconnect between the Fed's higher than expected 3-rate hikes for 2017 and the modest upward revision in GDP to 2.1% from 2.0% in September. And with Yellen re-highlighting throughout her conference that inflation remains below the Fed' target, the question on whether the spike in yields is too unsustainable gains in validity.
More Hot-Charts
Feb 20, 2017 11:28 | by Ashraf Laidi

نسلط الضوء على اهمية نسبة المشاركة في المؤشرات من خلال عدد الأسهم التي تجاوزات متوسط ال 200 و 55 يوم. و مشكلة القمم المنخفضة ليس فقط في مؤشر التداول السعودي و لكن أيضا في نسبة المشاركة.

Dec 27, 2016 14:45 | by Ashraf Laidi

Natural Gas is the biggest winning commodity in 2017 up 58%, followed by brent oil, sugar, crude oil, palladium, copper, soya, silver, gold, coffee and wheat -14%..

Dec 25, 2016 19:45 | by Ashraf Laidi

أداء مؤشرات الأسهم الخليجية يقودها دبي وأبو ظبي والسعودية والكويت والبحرين والقطر ..
Hot-Chart Archives