Hot-Charts
Dow Theory in Focus
Is the Dow Transportation Index inability to close above its recent highs a red flag for Dow Theory followers? The theory holds that new highs (lows) in the Dow Industrials, or Transportation index, must be confirmed by new highs (lows) in the other. Failure to do so could imply that the highs (lows) attained in one index are unlikely to follow.
Click To Enlarge
Click To Enlarge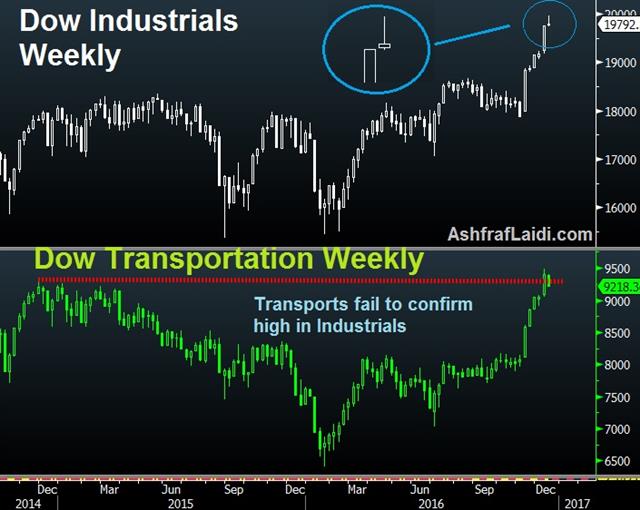 Although, the Dow Jones Transportation Index did end last week above its 2014 record high, its current decline below the latest highs (and 2014 highs) may raise doubts over the continuity of the advances in the Industrials. A possible reason for Wednesday's stock market selloff could be the disconnect between the Fed's higher than expected 3-rate hikes for 2017 and the modest upward revision in GDP to 2.1% from 2.0% in September. And with Yellen re-highlighting throughout her conference that inflation remains below the Fed' target, the question on whether the spike in yields is too unsustainable gains in validity.
More Hot-Charts
Aug 24, 2017 19:30 | by Ashraf Laidi

In comparing the year-to-date sector performance for the S&P500 to that of 2016, the 2 most striking developments is the reversal in energy stocks from best performer in 2016 to the worst so...

Jul 10, 2017 13:41 | by Ashraf Laidi

As Bitcoin is set to post its first 3-day consecutive daily drop in nearly 4 months, digital currency traders will want to know more about the biggest potential development currently surrounding...

Jun 5, 2017 15:28 | by Ashraf Laidi

Qatari stocks tumbled more than 7%, the worst decline since 2009 after Saudi Arabia led an immediate regional break in economic and political relations with Qatar, which includes Bahrain, UAE,...
Hot-Chart Archives