Hot-Charts
ECB Scenarios
The ECB decision is at 1145 GMT (12:45 London), but it's a foregone conclusion that interest rates won't change. Instead, focus on messaging and press conference 45 mins later.
Click To Enlarge
Click To Enlarge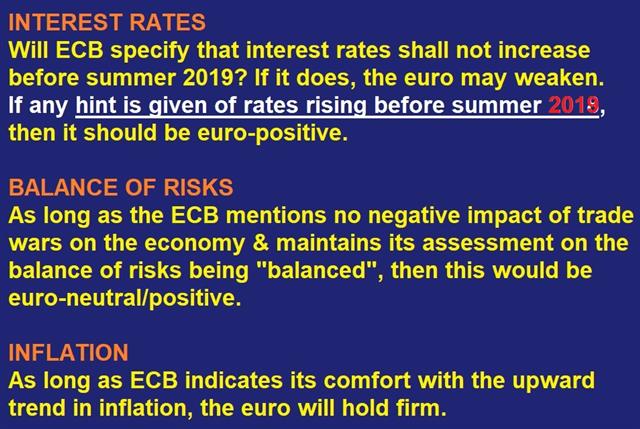 Focus on any rewording of the calendar guidance. Draghi is in a tough spot as he tries to retain an upbeat stance on the economy and keep a rate hike at this time next year on the table without driving the euro excessively higher. In the past he has been a masterful messenger, but the tweaking and messaging has gotten so precise that he finds himself in a near-impossible spot with a high risk of sending the wrong signal. If he can navigate the choppy waters, the underlying bias may be toward euro strength in the day ahead if Juncker's deal isn't picked apart.
More Hot-Charts
Dec 20, 2018 18:43 | by Ashraf Laidi

Although USDJPY hit a 3-month low at 110.96, reaching its 100-WEEK MA for the 1st time in 3 months and its 200-DAY MA for the 1st time in 4 months, YEN strength is far from excessive.

Mar 20, 2018 11:02 | by Ashraf Laidi

The quarterly candle on the Dow Jones Industrials Average shows a rare long-legged doji, one of the most striking reversal signs in candlestick analysis. Full Analysis..
Hot-Chart Archives