Hot-Charts
Fed will Cut "Transitory" in September
A Russian saying goes "nothing is more permanent than temporary". At the Federal Reserve, "transitory" may mean "permanently", or could also mean "we have no clue". Oil has dropped by 57% since over the last 12 months but the +200 PhDs at the world's biggest central bank continue to describe lower energy prices as "transitory". At the June FOMC, the Fed made some progress and finally dropped its phrase from the FOMC statement that "energy prices have stabilized".
Click To Enlarge
Click To Enlarge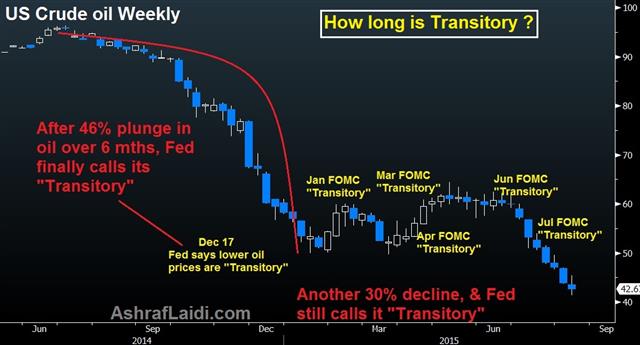 We long asserted that it will be impossible for the Fed to raise rates this year if US crude oil remains below $48.00—even if the next non-farm payrolls come in between 200K and 300K. The October-March decline has already triggered a chain reaction of broadening cuts in capital and labour expenditure, which effectively cast a spell on the suppliers of these energy and mining companies. And barely when oil began its spring time recovery, the declines emerged anew.
Yesterday's release of US July import prices contracted (not slowed) by 0.9% m/m and 10.4% y/y, the biggest fall since 2009. We expect oil to inevitably fall below $40, which would be a 60% decline in oil prices, thus, amplifying the impact on the already sub-Fed target inflation readings.
Market-based vs survey-based inflation
Next week's CPI release will be in focus.
But the 5-year forward break-even inflation reference (5-year treasury yield minus US inflation-linked bond forward 5 years), has dropped back below 2.0% from last week's 2.4%. More importantly for the Fed, will be the crucial core PCE price index, due later this month, now at 1.3%y/y, below the Fed's 2.0% target.
Jackson Hole will be about inflation
Holding oil and the US dollar constant (if we can realistically do that), the path for a Fed hike this year does make sense. But bringing back reality into the situation, including a disinflationary USD and recessionary oil/mining sector, the question should re-emerge at the Fed's annual Jackson Hole symposium, where unsurprisingly the topic of this year's conference will be "Inflation Dynamics and Monetary Policy".
More Hot-Charts
Mar 14, 2019 11:48 | by Ashraf Laidi

Ashraf Laidi of Intermarket Strategy, returns to Real Vision to analyze the historical cycles in the British pound and to discuss the fundamental backdrop & news regarding Brexit, runs...

Feb 12, 2019 11:40 | by Ashraf Laidi

Share price performance of all publicly traded Forex firms is clearly down since the summer on a combination of plummeting traders' interest in cryptocurrencies and a tightening of European...

Jan 17, 2019 14:14 | by Ashraf Laidi

أداء العملات مقابل الذهب يشير الينا ان الين اقوى عملة و الكندي الأضعف كما نشاهد التحسن الملحوظ في اداء الإسترليني منذ بداية العام.
Hot-Chart Archives