Hot-Charts
Forex Brokers' Performance
Share price performance of all publicly traded Forex firms is clearly down since the summer on a combination of plummeting traders' interest in cryptocurrencies and a tightening of European regulations with regards to Contract for Difference trading. Today, Plus500, whose share price growth led the way relative to the five other players, plunged 39% or 640 pence on a profit warning. To what extent will regulatory dynamics and crypto trends raise questions for other FX firms remains an important question. Going forward, let's keep an eye on advertising deals (especially football), margin rates management and geographical expansions/retrenchement.
Click To Enlarge
Click To Enlarge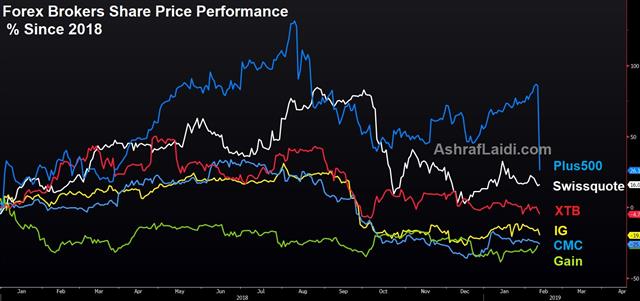 More Hot-Charts
Jan 7, 2020 11:17 | by Ashraf Laidi

The latest on share price performance of major forex firms shows CMC Markets in the lead, up 34% since January 2019, followed by IG Markets' 20% and Swiss Quote at 9%.

Nov 18, 2019 21:34 | by Ashraf Laidi

Those who have shorted equity indices over the past 3 weeks (like I have) were simply wrong.

Oct 16, 2019 15:08 | by Ashraf Laidi

As GBP becomes the 2nd highest performing currency in the G10 since the start of the year, posting daily gains not seen in 10 years, here is a look at the current yields situation, with GBP...
Hot-Chart Archives