Hot-Charts
2020 FX & Commodities YTD Performance
What a miserable year for the US dollar. As goes the December as went the year in FX, while silver & soybeans topped commodities, as oil & coffee ranked bottom in the % Change YTD league. The final weeks of the year have shown a clear outperformance of iron ore and silver, followed closely by a sharp ascent in energy---- all typical signs of expectations for a global recovery & further USD damage. Will these markets be right? Will Copper "Mr PhD in Economics" be finally at fault? Will the Medical-Quanttv-Easing of the vaccine swell indices to new heights? Most importantly, will this be accompanied by a boost in nominal yields as well as REAL yields? If inflation does fails to keep up with rising yields, gold and silver may sustain fresh downside. Take a look at this yields chart and stay tuned.
Click To Enlarge
Click To Enlarge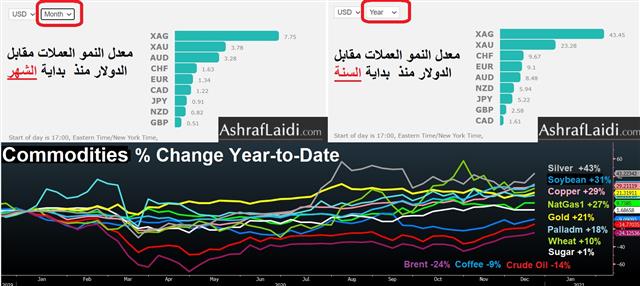 More Hot-Charts
Feb 27, 2021 1:00 | by Ashraf Laidi

The prolonged ascent in USDJPY remains fortified by the technical breakdown in net JPY futures longs (inversely related with USDJPY pair) shown in this striking analog from Q4 2016.

Feb 18, 2021 20:52 | by Ashraf Laidi

Will the pattern from mid-late Feb 2020 repeat itself today. PROCEED WITH CARE. ..

Feb 2, 2021 19:49 | by Ashraf Laidi

Ethereum is ready to exceed gold. That is all. ..
Hot-Chart Archives