Hot-Charts
Gold's Best 3 Months
Gold is quickly catching up in erasing the damage from late spring-early summer as it completes 2 consecutive monthly rises and is the 2nd best performing commodity so far this quarter, up 14% (after silver's 20%).
Rising yields are generally considered a negative for gold as they render investors an implicit rate of return, which is lacked by gold. If on the other hand, yields are propped by inflationary expectations then the case for the yellow metal gold sets in. But we are farm from those days. Not only interest rates remain near 40-year lows, but there is no certainty that the Federal Reserve will not be forced to step up asset purchases 6 months from now.
Resurfacing Debt Ceiling
This week's reminder from US Treasury Secretary Lew that US government borrowing will hit its limit in mid-October should further rally gold bugs as it not only sets the stage for another round of budgetary brinkmanship but also limit the Fed from scaling down its stimulus. The US government would be left with about $50 billion in cash reserves to pay for emergency bills. These emergency funds are expected to last into November, during which the government would have no borrowing authority, but only with cash on hand for short-term obligations. As the government is faced with a new round of spending cuts to replace this year's sequester cuts, markets will expect the Fed to be more cautious and asset purchases to be extended, but not necessarily increased.
Gold is seen targeting the top of its 10-month trend line, nearing $1480 as long as the $1360 support holds. Seasonality may also help. Over the last 10 years, September, October and November have proven to be the best three months for the metal. Anticipating the combination of debt ceiling negotiations and timid measures from the Fed to taper purchases, the rebound in gold is here to stay for now.
Click To Enlarge
Click To Enlarge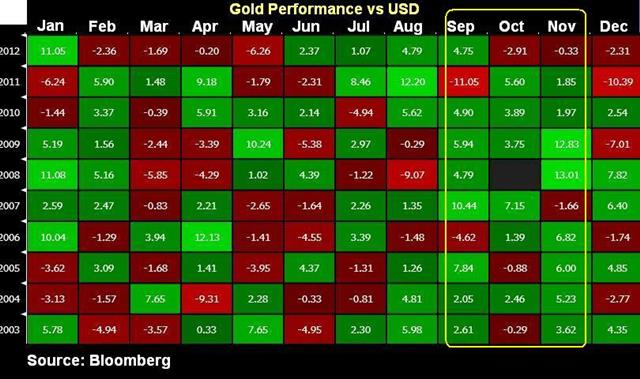 More Hot-Charts
Mar 17, 2023 21:28 | by Ashraf Laidi

.

Jan 11, 2023 10:57 | by Ashraf Laidi

If the DAX40 maintains its habit of extending 13% above its 200 DMA, then current upside may extend to as high as 15300, just below the 76% retracement of the decline from the Jan 2022 high to...

Dec 6, 2022 14:34 | by Ashraf Laidi

We know the DXY is highly correlated with USD/CNH so if the Head-&-Shoulder on USD/CNH formation proves valid, then further USD downside lies ahead. ..
Hot-Chart Archives