Hot-Charts
Latest Clinton-Trump Spread
In the latest chart on Clinton's lead over Trump in opinion polls, the positive relationship between Clinton's and US stocks has firmed up as Clinton's lead drops to 4.7 from 7.2, while stocks sustain fresh selling bout. More importantly, the relationship is increasingly clearer during a loss in Clinton's momentum, than it is from a rise in the market during an improving Clinton lead.
Click To Enlarge
Click To Enlarge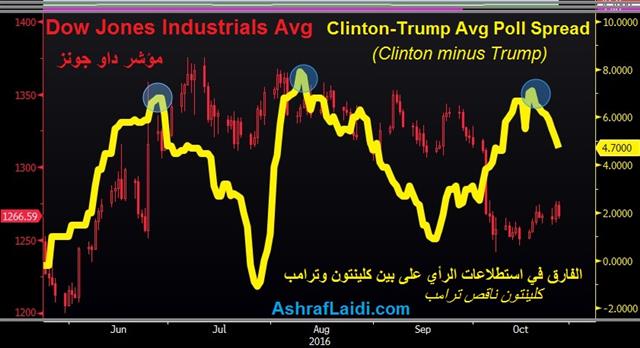 More Hot-Charts
Jun 22, 2023 16:46 | by Ashraf Laidi

I mentioned last week on here on how and why both gold and USD are falling together. Since then, the trend accelerated alongside another detail.

Mar 17, 2023 21:28 | by Ashraf Laidi

.

Jan 11, 2023 10:57 | by Ashraf Laidi

If the DAX40 maintains its habit of extending 13% above its 200 DMA, then current upside may extend to as high as 15300, just below the 76% retracement of the decline from the Jan 2022 high to...
Hot-Chart Archives