Hot-Charts
Saudi Tadawul Participation
نسلط الضوء على اهمية نسبة المشاركة في المؤشرات من خلال عدد الأسهم التي تجاوزات متوسط ال 200 و 55 يوم. و مشكلة القمم المنخفضة ليس فقط في مؤشر التداول السعودي و لكن أيضا في نسبة المشاركة. فنرى أن ارتدادات المؤشر في آخر 10 أيام من شهر يناير قد رافقت نسبة مشاركة ضعيفة. و نسبة أسهم المؤشر التي تجاوزت متوسط ال 200 يوم لم تزيد عن 77% من من إجمالي الأسهم في المؤشر، و أما عدد الأسهم فوق متوسط ال 50 يوم فلم يتجاوز 71%. و يعني ذلك أن ارتدادات الأشهر الماضية كانت متركزة في أسهم و قطاعات قليلة.
Click To Enlarge
Click To Enlarge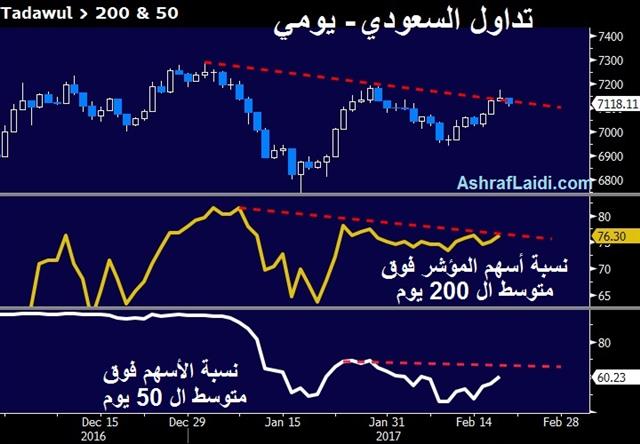 More Hot-Charts
Jul 10, 2017 13:41 | by Ashraf Laidi

As Bitcoin is set to post its first 3-day consecutive daily drop in nearly 4 months, digital currency traders will want to know more about the biggest potential development currently surrounding...

Jun 5, 2017 15:28 | by Ashraf Laidi

Qatari stocks tumbled more than 7%, the worst decline since 2009 after Saudi Arabia led an immediate regional break in economic and political relations with Qatar, which includes Bahrain, UAE,...

May 17, 2017 17:59 | by Ashraf Laidi

The matrix below highlights the 12 trades in EURUSD issued by the Premium Insights since December 2015.
Hot-Chart Archives