Hot-Charts
Silver, Gold & Broken Records
We may have started to sound like a broken record with our repeated stance in favour of silver over gold over the last 6-9 months, via our numerous bearish takes on the gold/silver ratio. But once record that just broke is the number of speculative longs in silver at the Comex, which reached a net 105,515 contracts, compared to gold net longs, reaching 172,666 contracts, but remain 50% below the record reached last summer.
Click To Enlarge
Click To Enlarge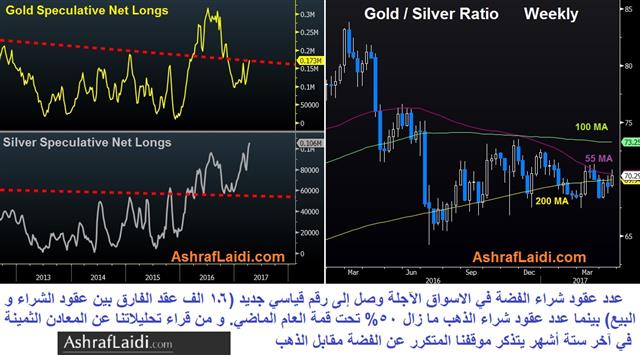 Silver bears may be pointing to the failure to break above the 50% retracement of last year's high-low move, but the bulls remain fixated on silver's higher lows and the potential golden cross on the daily and weekly charts. The higher lows on the gold/silver ratio are the less obvious but more powerful signal.
Premium subscribers were told about the implications of a falling gold/silver ratio. Both gold and silver trades in the Premium Insights remain open and in the green.
More Hot-Charts
Mar 20, 2018 11:02 | by Ashraf Laidi

The quarterly candle on the Dow Jones Industrials Average shows a rare long-legged doji, one of the most striking reversal signs in candlestick analysis. Full Analysis..

Feb 15, 2018 18:55 | by Ashraf Laidi

Why is USD sustaining fresh selling despite expectations of 3-4 Fed hikes this year. Does the budget deficit matter for FX. And one more look at gold. Watch the full video..

Aug 24, 2017 19:30 | by Ashraf Laidi

In comparing the year-to-date sector performance for the S&P500 to that of 2016, the 2 most striking developments is the reversal in energy stocks from best performer in 2016 to the worst so...
Hot-Chart Archives