Hot-Charts
Silver, Gold & Broken Records
We may have started to sound like a broken record with our repeated stance in favour of silver over gold over the last 6-9 months, via our numerous bearish takes on the gold/silver ratio. But once record that just broke is the number of speculative longs in silver at the Comex, which reached a net 105,515 contracts, compared to gold net longs, reaching 172,666 contracts, but remain 50% below the record reached last summer.
Click To Enlarge
Click To Enlarge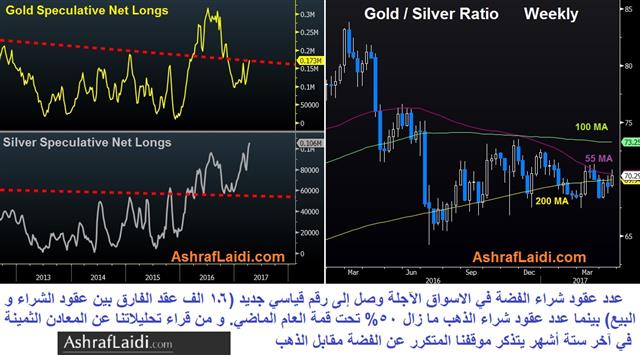 Silver bears may be pointing to the failure to break above the 50% retracement of last year's high-low move, but the bulls remain fixated on silver's higher lows and the potential golden cross on the daily and weekly charts. The higher lows on the gold/silver ratio are the less obvious but more powerful signal.
Premium subscribers were told about the implications of a falling gold/silver ratio. Both gold and silver trades in the Premium Insights remain open and in the green.
More Hot-Charts
May 17, 2017 17:59 | by Ashraf Laidi

The matrix below highlights the 12 trades in EURUSD issued by the Premium Insights since December 2015.

Mar 10, 2017 19:58 | by Ashraf Laidi

We know that bond yields and oil generally move in the same, but sometimes the relationship breaks down as it did in last Nov-Dec due to powerful USD rally surging with yields to the extent that...
Hot-Chart Archives