Hot-Charts
Surging UK CDS ahead of Scottish Referendum
UK CDS continue gaining following the biggest weekly increase in over 2 years. The 5-yr CDS is testing its 200-DMA for the first time since June2013. The UK Treasury has sought to calm bond market fears by guaranteeing the Scottish part of UK debt in case a newly independent Scotland goes on with its threat to not honour its obligations of the UK debt. Part of the decline in interest rate hike odds has emerged from anticipation that the BoE would be forced into its "lender of last resort" role during the uncertainty-filled period following a "yes" vote, and preceding the official independence. So, can the UK handle such guarantees one year after emerging from a triple dip recession and barely graduating from the school of austerity?
Click To Enlarge
Click To Enlarge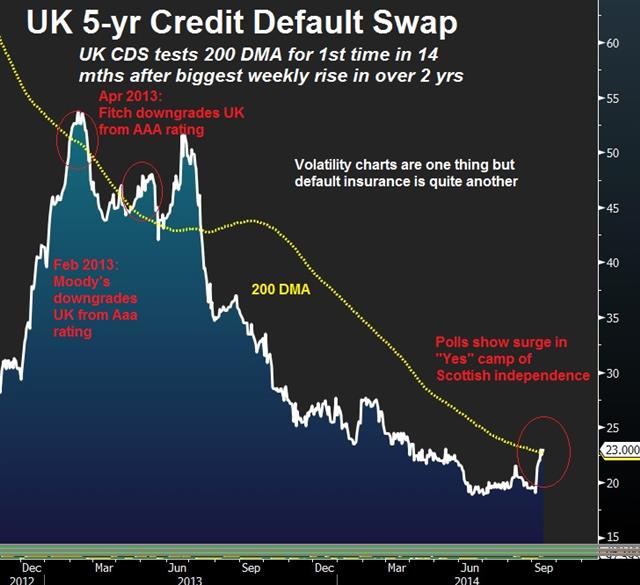 More Hot-Charts
Jun 22, 2023 16:46 | by Ashraf Laidi

I mentioned last week on here on how and why both gold and USD are falling together. Since then, the trend accelerated alongside another detail.

Mar 17, 2023 21:28 | by Ashraf Laidi

.

Jan 11, 2023 10:57 | by Ashraf Laidi

If the DAX40 maintains its habit of extending 13% above its 200 DMA, then current upside may extend to as high as 15300, just below the 76% retracement of the decline from the Jan 2022 high to...
Hot-Chart Archives