Hot-Charts
Trusting Inv H&S Formation Beyond the Weekend
Some subscribers complained that last Tuesday's Premium trade (Aug 27) shorting the DAX30 was issued too early in the morning (many did not hear the SMS, see the email, Tweet or Telegram notification), but the market did pull back for at least 2-3 hrs to get everyone (at every timezone) at the stated price range. The trade is currently about +300 pts in the green. We decided to risk sticking to the trade into the weekend, while cautioning in favour of taking partial profits before Friday's s close and keep 1/2 or 1/3 of the trade, depending on your positioning/sizing. As in all other Premium trades, there is technical and fundamental rationale laid out below in English and Arabic.
Click To Enlarge
Click To Enlarge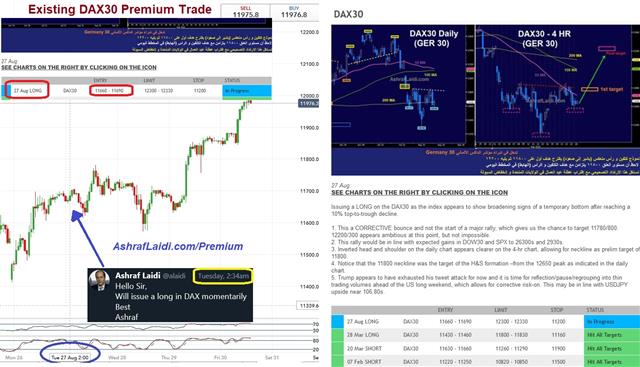 More Hot-Charts
Nov 18, 2019 21:34 | by Ashraf Laidi

Those who have shorted equity indices over the past 3 weeks (like I have) were simply wrong.

Oct 16, 2019 15:08 | by Ashraf Laidi

As GBP becomes the 2nd highest performing currency in the G10 since the start of the year, posting daily gains not seen in 10 years, here is a look at the current yields situation, with GBP...
Hot-Chart Archives