Hot-Charts
US Stocks Sector Performance
In comparing the year-to-date sector performance for the S&P500 to that of 2016, the 2 most striking developments is the reversal in energy stocks from best performer in 2016 to the worst so far this year and the sharp rebound in healthcare stocks from the worst of 2016 to the 2nd best in heathcare. If utilities are seen as defensive stocks, then why are they are in the top 3? How about technology --the top performer of the year is being manifested in NASDAQ's clear outperformance (+12%) of the S&P500 (+5%) and DOW30 (+6%). Technology overtook heathcare about 1 month ago. But have you seen the NASDAQ chart lately? Lower highs since late July. Keep these relative performance issues in mind.
Click To Enlarge
Click To Enlarge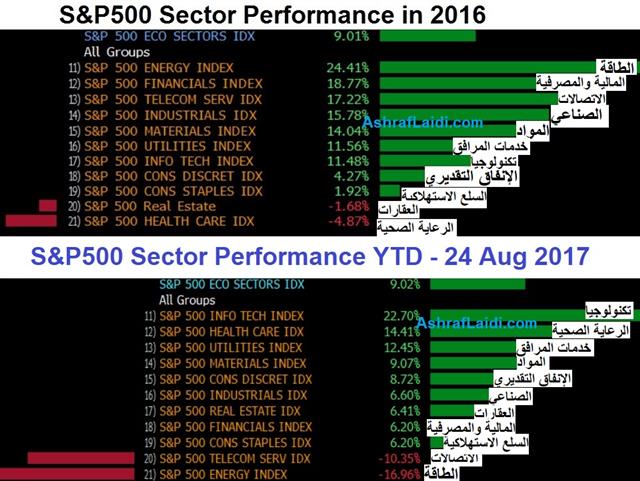 More Hot-Charts
Jul 26, 2018 11:51 | by Ashraf Laidi

The ECB decision is at 1145 GMT (12:45 London), but it's a foregone conclusion that interest rates won't change. Instead, focus on messaging and press conference 45 mins later.

Mar 20, 2018 11:02 | by Ashraf Laidi

The quarterly candle on the Dow Jones Industrials Average shows a rare long-legged doji, one of the most striking reversal signs in candlestick analysis. Full Analysis..

Feb 15, 2018 18:55 | by Ashraf Laidi

Why is USD sustaining fresh selling despite expectations of 3-4 Fed hikes this year. Does the budget deficit matter for FX. And one more look at gold. Watch the full video..
Hot-Chart Archives