Hot-Charts
US Stocks Sector Performance
In comparing the year-to-date sector performance for the S&P500 to that of 2016, the 2 most striking developments is the reversal in energy stocks from best performer in 2016 to the worst so far this year and the sharp rebound in healthcare stocks from the worst of 2016 to the 2nd best in heathcare. If utilities are seen as defensive stocks, then why are they are in the top 3? How about technology --the top performer of the year is being manifested in NASDAQ's clear outperformance (+12%) of the S&P500 (+5%) and DOW30 (+6%). Technology overtook heathcare about 1 month ago. But have you seen the NASDAQ chart lately? Lower highs since late July. Keep these relative performance issues in mind.
Click To Enlarge
Click To Enlarge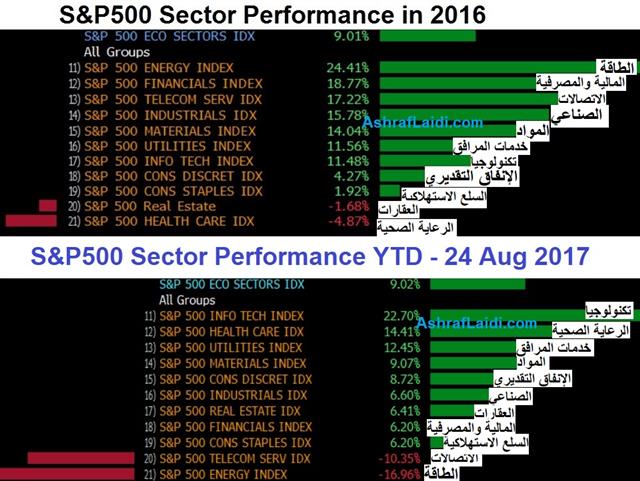 More Hot-Charts
Jul 10, 2017 13:41 | by Ashraf Laidi

As Bitcoin is set to post its first 3-day consecutive daily drop in nearly 4 months, digital currency traders will want to know more about the biggest potential development currently surrounding...

Jun 5, 2017 15:28 | by Ashraf Laidi

Qatari stocks tumbled more than 7%, the worst decline since 2009 after Saudi Arabia led an immediate regional break in economic and political relations with Qatar, which includes Bahrain, UAE,...
Hot-Chart Archives