Hot-Charts
US Stocks Sector Performance
In comparing the year-to-date sector performance for the S&P500 to that of 2016, the 2 most striking developments is the reversal in energy stocks from best performer in 2016 to the worst so far this year and the sharp rebound in healthcare stocks from the worst of 2016 to the 2nd best in heathcare. If utilities are seen as defensive stocks, then why are they are in the top 3? How about technology --the top performer of the year is being manifested in NASDAQ's clear outperformance (+12%) of the S&P500 (+5%) and DOW30 (+6%). Technology overtook heathcare about 1 month ago. But have you seen the NASDAQ chart lately? Lower highs since late July. Keep these relative performance issues in mind.
Click To Enlarge
Click To Enlarge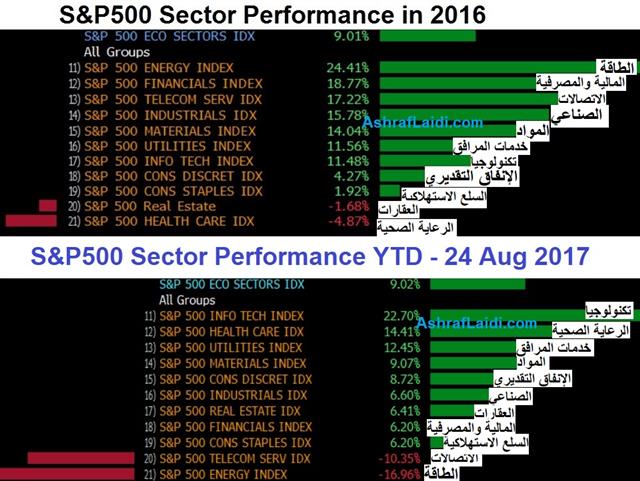 More Hot-Charts
Feb 12, 2019 11:40 | by Ashraf Laidi

Share price performance of all publicly traded Forex firms is clearly down since the summer on a combination of plummeting traders' interest in cryptocurrencies and a tightening of European...

Jan 17, 2019 14:14 | by Ashraf Laidi

أداء العملات مقابل الذهب يشير الينا ان الين اقوى عملة و الكندي الأضعف كما نشاهد التحسن الملحوظ في اداء الإسترليني منذ بداية العام.

Dec 20, 2018 18:43 | by Ashraf Laidi

Although USDJPY hit a 3-month low at 110.96, reaching its 100-WEEK MA for the 1st time in 3 months and its 200-DAY MA for the 1st time in 4 months, YEN strength is far from excessive.
Hot-Chart Archives