JPY Trade Index 29-Year Chart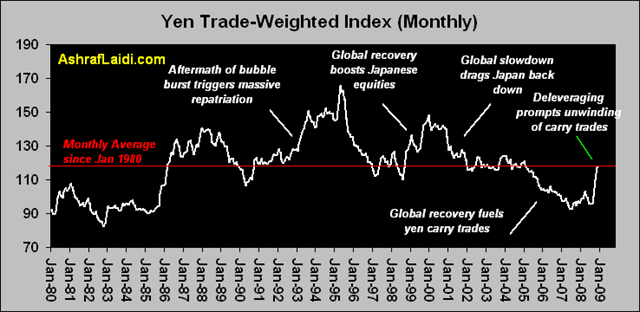 The yen's trade-weighted index is calculated using the weighted geometric average of the yen's exchange rates against 15 major currencies. The weights are based on the average of Japans relative exports to trading partner. The yen's exchange rates are deflated by the price indices of Japan and the corresponding countries and regions to calculate the real exchange rate. The weights are based on 2005 trade data, with a base 100 value set from March 1973.

The basket comprises 15 countries, with the main components as follows: U.S. 25.8%; China 15.4%; Eurozone 12.4%; Korean Republic 8.9%; Taiwan 8.4%; Hong Kong 6.9%; Thailand 4.3%; Singapore 3.6%, U.K. 2.9%.