Articles
Euro Moves Far from Brutal
Earlier today, euro suffered a minor bump on the release of the minutes from last month's ECB Governing Council policy meeting, which revealed growing concerns with a possible overshoot in the value of the euro. The full text was as follows: "While it was remarked that the appreciation of the euro to date could be seen in part as reflecting changes in relative fundamentals in the euro area vis-a-vis the rest of the world, concerns were expressed about the risk of the exchange-rate overshooting in the future." Before we start speculating over when ECB policy makers may start jawboning the currency lower, it is worth reminding the times when the ECB warned over excessive euro strength:
Click To Enlarge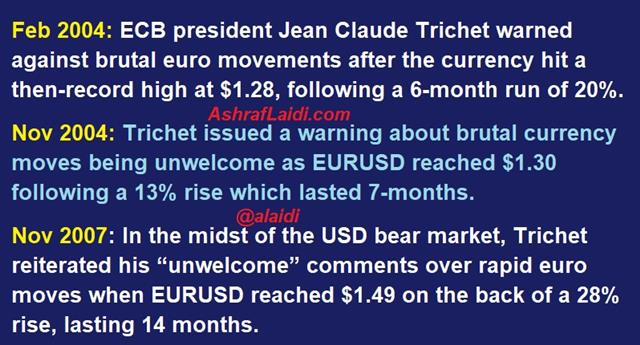 Click To Enlarge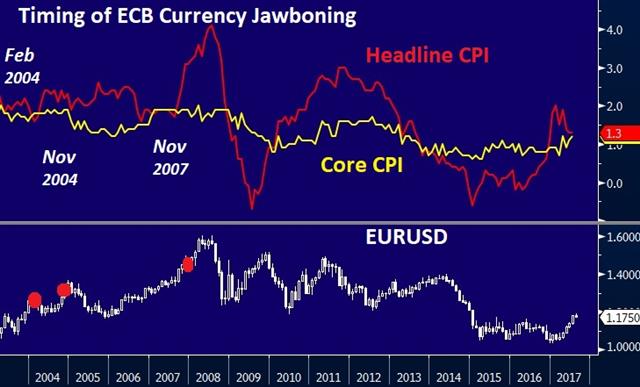 Secular strength: EURUSD is up 15% year-to-date, with headline and core inflation at 1.3% and 1.2% respectively. This compares to periods of higher levels of inflation and a secular bear market in the US dollar in each of the above 3 cases. EURUSD's ascent is in in part a result of USD weakness (USD is down against all major 10 currencies year-to-date), the euro is the 2nd strongest currency so far this year (behind the Swedish Krone), which means the strength is broad and secular. The same cannot be said about the euro's performance in 2004 and 2007, when it was surpassed by most commodity currencies.
What does this mean? The combination of broad euro strength so far this year and a rising trend in the core CPI reflects not only expectations of inevitable QE reduction, but also a broad upswing in economic activity and a notable curtailment in sovereign and corporate risk. The currency impact of any verbal intervention would be short-lived.