Articles
More Euro Losses Ahead
The retreat in the inverse correlation between oil prices and the US dollar is set to continue into the quarter, with the US currency seen adding on to its gains despite robust energy prices ahead. Dollar strength is set to specifically emerge against the euro and the British pound. Since the euro accounts for 58% of the weighing in the US dollar index and EURUSD pair makes up over 25% of the average daily turnover in the foreign exchange market, we focus on the EURUSD pair in detailing the relationship between the USD and oil.
Fundamentally, the euros 5% decline in December against the dollar may have been accelerated by year-end squaring of positions, but the dollar and euro sides of the equation also played a role. Sovereign credit rating deterioration in Greece and Spain as well as lack of fiscal progress in France and Italy (as demanded by the Maastricht criteria) are set to hamper any exit strategy from the fiscal side.

Meanwhile, the recent pace of improvement in US jobs market has forced a repricing of fed funds expectations to the extent that US 10 year yields have broken away from their German counterpart, pushing the US-GE yield differential to +40 bps (in favour of the US), the highest since July 2007. The resulting withdrawal of liquidity from the Fed, as it modest as it may be, will likely maintain the yield differential in favour of the USD, thereby, offsetting steady energy prices in Q1.
Oil-Euro Break: Deja Vue
Integrating oil into the equation, the weakening of the once highly positive correlation between EURUSD and crude continues, but this time reflecting higher oil & lacklustre euro (instead of rising euro & falling oil during Nov-Dec). The December rally in oil despite the euros selloff has continued into this week and is expected to persist for most of Q1. Such pattern has already occurred in June 2003, January 2004, January 2005 and April 2008. Although oil has yet to break above its $82 high, we expect prolonged advances towards $89.90 by February.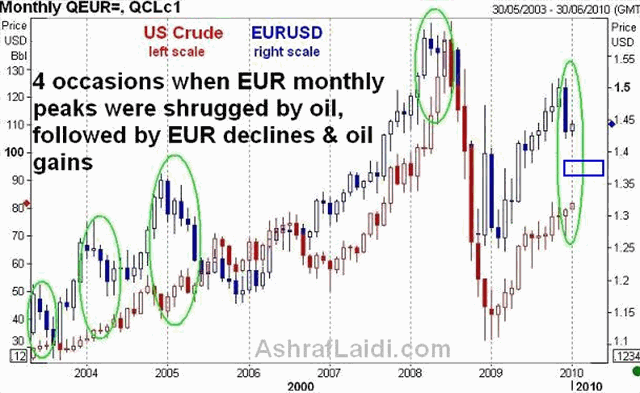 Technically, euro bulls cannot ignore the time-tested fact that monthly downward reversals greater than 4% have led to multi-month declines of at least 15% since the inception of the currency in 1999. The December decline of 5% (biggest since Jan 2008) is likely to reinforce our forecast for $1.37 before quarter end.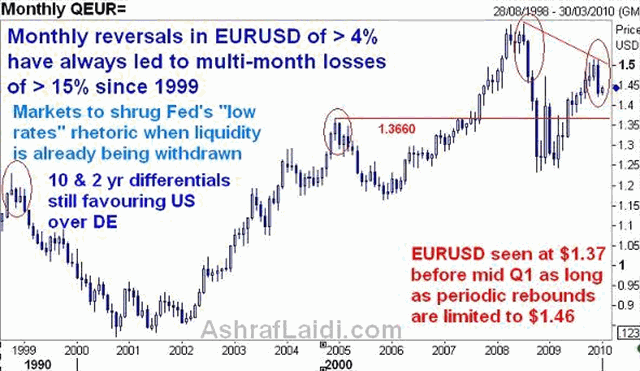 USDJPY and GBPUSD remain on course to hit the targets projected in last month's article. 93 yen is likely to pave the way for 95 but not without interim retreat to as low as 90.20s as the yen regains some short-lived lustre from an upcoming market pullback of no more than 7%. As USD picks up the mantle of next risk aversion from JPY, GBPUSD is likely to accelerate losses towards the $1.57 figure. But broader USD strength will be needed to achieve $1.55.