Hot-Charts
Consumer Confidence vs Stocks & Oil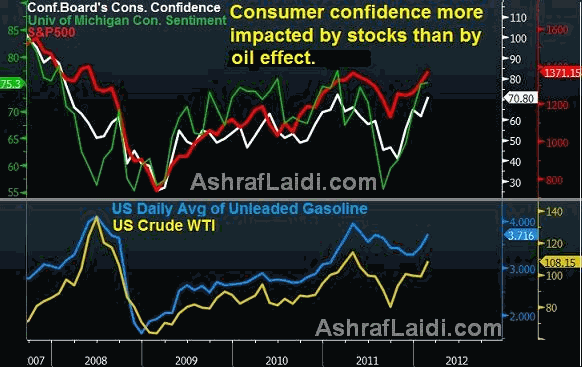 US February Consumer confidence a hit a 12-month high of 70.80, proving yet again that consumer confidence indices (Conference Boards consumer confidence and Univ. of Michigans consumer sentiment survey) are more impacted by equities rather than price of gasoline. The chart below clearly illustrates that rising oil and gasoline prices have weighed on consumer confidence mainly via the intermediation of falling equities. But a rise in OIL PRICE ALONE DOES NOT necessarily WEIGH ON CONSUMERS without a retreat in equities. Rather, we must gauge oils behavior RELATIVE TO OTHER COMMODITIES (as seen in yesterdays charts http://ashraflaidi.com/products/sub01/access/?a=607 in order to determine the true impact on the economy. Those charts showed that only when US crude peaked relative to a basket of commodities did equities begin to falter.
More Hot-Charts
May 6, 2021 13:55 | by Ashraf Laidi

https://www.binance.com/en?ref=13288560...

Feb 27, 2021 1:00 | by Ashraf Laidi

The prolonged ascent in USDJPY remains fortified by the technical breakdown in net JPY futures longs (inversely related with USDJPY pair) shown in this striking analog from Q4 2016.

Feb 18, 2021 20:52 | by Ashraf Laidi

Will the pattern from mid-late Feb 2020 repeat itself today. PROCEED WITH CARE. ..
Hot-Chart Archives