Hot-Charts
Top in Dollar Index?
Click To Enlarge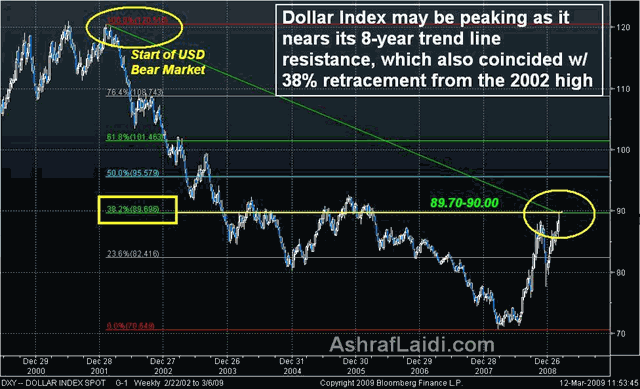 Emerging signs of a top in the dollar index as the currency falters against EUR, AUD, NOK, NZD and even JPY. GBP remains the exception, whose fundamentals in the banking sector remain most bleak. It may be argued that recovering stocks are weighing on USD, but in such conditions wed expect USDJPY to also rally. Chart below shows the index has faltered right at 89.60, which marks the 38% retracement of the decline from the 2002 high to the 2008 low as well as the TL resistance extending from the 120.50 high of Feb 2002. This is a medium term call, which suggests the 86 figure as the next target, supporting 1.2930 in EURUSD and 94 in USDJPY.
More Hot-Charts
May 6, 2021 13:55 | by Ashraf Laidi

https://www.binance.com/en?ref=13288560...

Feb 27, 2021 1:00 | by Ashraf Laidi

The prolonged ascent in USDJPY remains fortified by the technical breakdown in net JPY futures longs (inversely related with USDJPY pair) shown in this striking analog from Q4 2016.

Feb 18, 2021 20:52 | by Ashraf Laidi

Will the pattern from mid-late Feb 2020 repeat itself today. PROCEED WITH CARE. ..
Hot-Chart Archives