Hot-Charts
EURCHF Still has Legs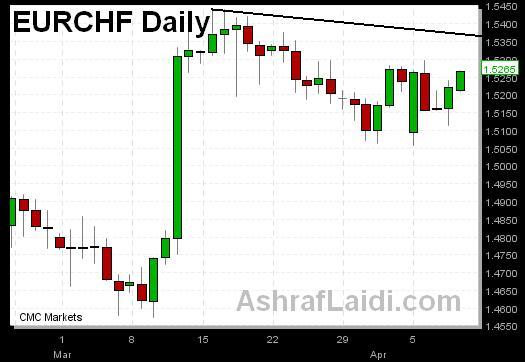 EURCHF rally has more legs as the franc-selling intervention is reminded by the SNB and the Euro licks wounds from another credit downgrade (Ireland). But an expected rejuvenation of risk appetite ahead of the Easter break could bolster EURCHF back to 1.53 and onto TL resistance of 1.5350. Holding above the 100-day MA was a positive sign, while the stabilization of stochastics at the 70.87 paves the way for fresh momentum.
More Hot-Charts
Nov 12, 2021 12:55 | by Ashraf Laidi

https://www.binance.com/en?ref=13288560...

Nov 8, 2021 17:05 | by Ashraf Laidi

We know that Gold's commitment reports from the Comex is for the trading working period ending in a Tuesday.

Aug 10, 2021 18:42 | by Ashraf Laidi

The below analysis was carried out last Friday (Aug 6th), after which both BTC and ETH have risen more than 14% each.
Hot-Chart Archives