Articles
Bitcoin regains $600, Gold below $1250
Bitcoin regains the $600 mark, rising 33% in May and 80% from its April lows. The rally is the result of increased interest from private equity funds and tech firms investing in the security infrastructure. All of this considering Bitcoin's 64% decline from its January high to its April trough, following a round of negative news. Those included China's ban on banks dealing with Bitcoin-based businesses, Russia's move to declare Bitcoin illegal and the collapse of Tokyo-based Bitcoin exchange Mt. Gox following a $450 million theft.
Today, there are more than five million Bitcoin wallets in use from major wallet providers such as Blockchain, Multibit and Coinbase. The continued rise in Bitcoin wallet ownership is a reflection of the surge in in crypto currencies.
Overtaking Paypal
The collapse of Mt. Gox exchange is said to create safer and better capitalised alternatives, with stronger technological structure and even regulation. Companies such as Circle.com are acting as a digital custodian, offering secure network architecture and audited by a national cybersecurity firm.
Click To Enlarge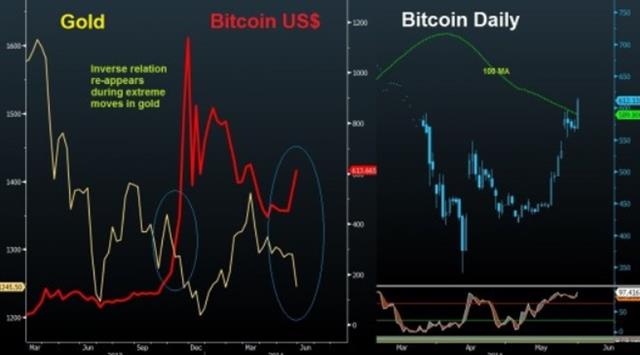 We are likely to see decent growth a surge in the number of such firms multiply in the years to come to accommodate demand for crypto currencies.
Medium of exchange then a store of value
This week's news that US satellite broadcaster Dish network will become the largest company to accept payments in Bitcoin underscores Bitcoin's rising role as a medium of exchange. For such a large company to accept Bitcoin, reflects an identifiable rise in demographics favouring the alternatives to legal tender due to factors such as growing resentment with the Federal Reserve's policy debasing the currency. Other more concrete motives are to do with anonymity, There are over 17,000 merchants using Bitcoin today, which lends credence to the notion that Bitcoin will eventually secure the function of "store of value". Increased infrastructure in the security and transparency of digital currency providers as well as fair regulation could help Bitcoin gain that status.
Farewell Inflation, hello Bitcoin
The chart below captures the inverse relation between gold and Bitcoin during phases of rapid selling in the yellow metal as in the past two days. Many hard currency loyalists who sought refuge into the safety of gold out of protest against central banks' erosion of currency value are now fleeing to Bitcoin. This time last year, gold was licking wounds from the biggest decline in over a quarter of century. Falling inflation, rising threat of disinflation, fears of Italy selling its gold reserves and Cyprus announcement to penalise depositors contributed to the selling, which accelerated on margin calls and cascading of stop orders.
As an alternative, Bitcoin's medium of exchange will only grow from here. Its "store of value" status is not a consideration for today but could become so next year.