Articles
Risk Appetite Pushes the Envelope
Equities attempting to rally more than 25% off their lows after the last two major bounces were confined to less than 20%. In past bear markets, false rallies have extended to as far as 35% before selling re-emerged. The last 3 weeks of 2008 witnessed a moving way from risk-driven trades in currency markets (whereby dollar and yen strengthen during falling equities) and in favour of dollar-specific trading. But with risk appetite pushing higher and the VIX falling to 3 month lows at 40, we expect risk aversion trades to return soon. This would correspond to the following approximate market parameters; USDJPY 92.50, S&P 500 925, EURUSD $1.47 and Gold 850/oz.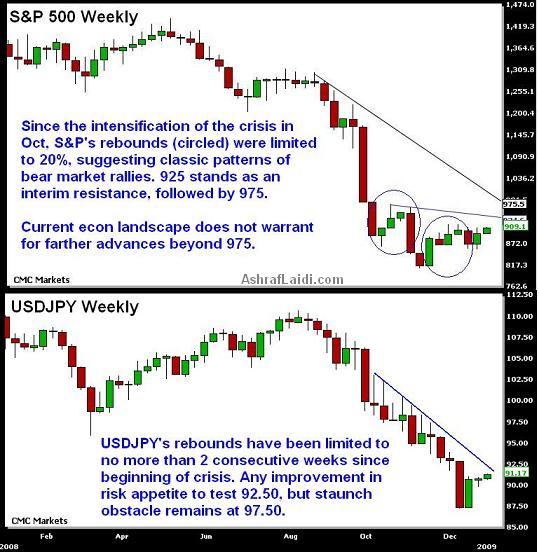 The 32.4 reading in the December manufacturing ISM was the worst since 1980, while the 22.7 reading in the production index was the worst since 1948. The employment index tumbled to fresh 26-year lows at 29.8, while the price index continuing its collapse, reaching 18 from 25.5 in November and 53.5 in September. The survey is the latest example of persistent deterioration in the face of the Federal Reserve's aggressive easing. Market chatter already mentioning a figure of -450K in next weeks release of the December non-farm payrolls, thereby, re-addressing the theme of lowering expectations as well as margin of disappointment.
Gold little changed at $870 after failing to break above $890. Nonetheless, Wednesday's price action was technically favourable as the metal managed to close above its 200-day moving average in 2 consecutive days for the first time since July. $845-850 remains as a short-term support until portfolio reallocation flows set the next trend ahead. Subsequent foundation stands at $810.
GBPUSD continues to prove why USD has yet to garner fresh gains versus the GBP as the Bank of England is widely expected to resume its easing campaign as early as next week with a possible 75-bp rate cut to 1.25%. This may exacerbate export conditions for the Eurozone, whose currency is bound towards parity vs GBP. Unless the ECB clarifies its quest to further easing, 1.03 in EURGBP may be realized before mid January. GBPUSD faces $1.42 and $1.40 as the next key levels of support.