Intraday Market Thoughts
21 and the Temporary Pause
Just as market sentiment began improving and the US dollar index showed its first 3-day losing run since March, selling resumes across the board. Yesterday's solid US retail sales gave Powell the confidence to stick to his "inflation-remains priority" rhetoric. Interestingly,
DXY, EURUSD and US-10 year all stabilized at their 21-day moving averages
. No, this is neither a piece about "bear market rallies", nor about "Intermarket technical confluences" covered successfully at last Thursday's market low. This in fact is about how the market could resume rallying into next week—despite Wednesday's wobble.
Click To Enlarge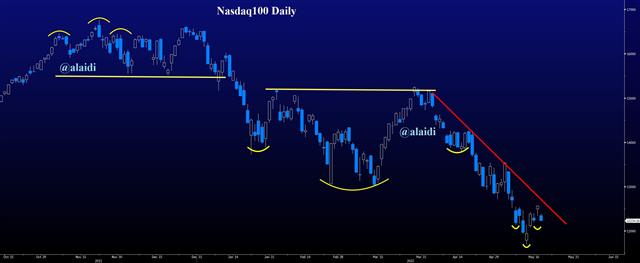 Technically, there is a chart pattern confluence support across Nasdaq100, SPX and XAUUSD near 12220, 3980 and 1808/12 respectively. As I emphasized yesterday (and today) on the importance of 1808/9 in gold, this has remained lone sign of stability—despite earlier $30 daily swings.
The gold part is partly backed by silver holding above the $21.00 level—served as a support/resistance over the last 4 decades.
Fundamentally, expect further loosening of lockdown restrictions from China –despite intensifying media coverage on the effects of the lockdowns. But matters are improving—albeit slowly—and China tech chares are noticing. If you think there are inflationary effects from China's disrupted supply chains, imagine the inflation from a "fully-open-back-in-demand" China. Whether this will coincide with the Fed easing off from tightening or before, yields are in for an rude awakening soon.
Latest IMTs