Intraday Market Thoughts
A Franc Discussion
The Swiss franc has quietly climbed for four consecutive months but it's still a middling performer this year; that could soon change. The US dollar led the way Wednesday while the pound lagged. The second look at Q2 US GDP is due up next. The Mystery Chart below is the basis of Tuesday's Premium Insights trade, which is already 200-pts in the green. Care to guess what it is?
Click To Enlarge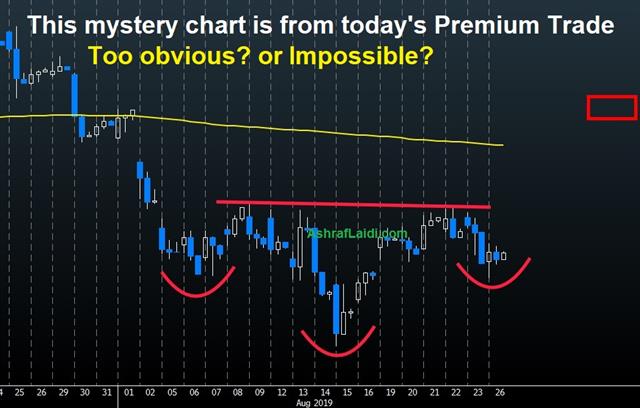 The Swiss National Bank once again finds itself in the unenviable position of trying to restrain franc gains. After hitting 1.20 last year the pair has slipped to 1.0875 with relatively little fanfare. It's been consolidating around that level for the past two weeks.
One interesting aspect of the franc strength is that it has not been driven by specs. As we noted at the start of the week, CFTC positioning still shows a net short in the franc.
That may be a result of the long memories of FX traders but it also reflects the possibility of fresh intervention. EUR/CHF has fallen below 1.10 in the past month and is at the lowest since June 2017. Levels to watch include the 2017 low of 1.0637 and mid-2015 low of 1.0230. It was a quick spike down close to parity in 2011 that prompted the SNB to institute the floor to begin with.
Note that both the dawn of the floor and the break of it were in response to extraordinary policy from the ECB. With Draghi preparing for his final act of 'whatever it takes' on Sept 12, the risks are greater than they appear.
The SNB has no doubt noticed and has lightly been active in the FX market according to sight deposit data. On Wednesday, the SNB's Maechler highlighted that there is still plenty of room for intervention.
Looking ahead, US revised Q2 GDP is due at 12:30 GMT/13:30 London, expected to trim growth to 2.0% from 2.1%, annualized. Personal consumption continues to be the main driver of growth with that component at 4.3% in the preliminary report.
Market risks around the report are minimal. We know that consumers were strong and the economy was solid in the quarter; the market is more concerned about late this year as trade weakness potentially spreads.
Latest IMTs