Intraday Market Thoughts
A Leap to Month End
Watch out for choppy trading in month-end flows as the yen wraps up its biggest monthly gain since October 2008. The yen is showing some early strength while the New Zealand dollar is the laggard after some soft domestic data. CFTC positioning data showed a cut in CAD shorts, fresh 4-year high in JPY longs and the lowest net shorts in EUR since June 2014. The NZD Premium trade was stopped out after the latest NZ figures. There are currently 5 trades in progress.
Click To Enlarge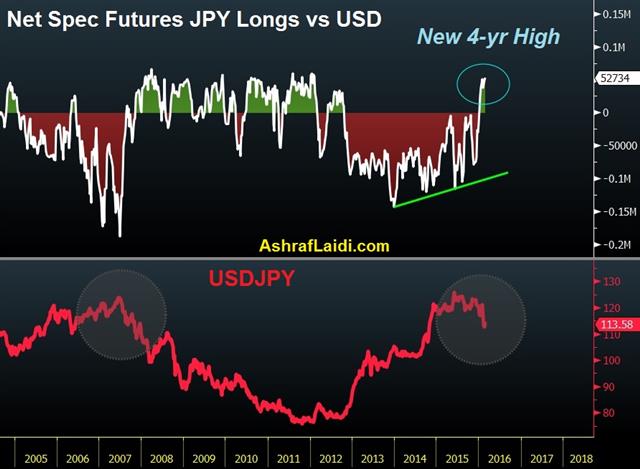 It's a leap year and that means one more day of February trading than usual. The yen has gained 6.1% this month followed by CAD up 3.2%. The worst performer was the pound as Brexit worries dominated.
It's a tough month to sum up. The early part of it included a continuation of January worries but the market has been much more selective in the past two weeks, with central banks and economic news at the forefront. US stock markets are headed for a flat month, European shares were down around 3% and Japan has fallen 7.6%.
Worries about China have certainly ebbed but they haven't disappeared. The FT reported on the weekend that China halted two outbound investment programs. The move highlights that, despite warnings otherwise, policymakers don't have a handle on why and how money is leaving the country. It also underscores their haphazard efforts to dam the flood of money leaving the country.
The G20 meetings delivered the usual platitudes. There is a growing chorus from central banks that they can't be responsible for fuelling growth but no indication that politicians anywhere are preparing grand ideas.
Early in trading, New Zealand business confidence plunged to +7.1 from +23.0. New Zealand building consents also fell 8.2% m/m. After the data, ANZ Bank changed its forecast to two RBNZ cuts this year from none.
There is an antipodean divergence unfolding. Metals prices are showing signs of recovery while dairy prices remain in a depression. That may help to buoy AUD/NZD.
Commitments of Traders
Speculative net futures trader positions as of the close on Tuesday. Net short denoted by - long by +.
EUR -47K vs -48K prior JPY +53K vs +48K prior GBP -33K vs -36K prior CHF -2K vs -4K prior AUD +10K vs +3K prior CAD -37K vs -45K prior NZD -7K vs -8K prior
The biggest move is in CAD but that's no surprise given the latest round of oil strength. What stands out is the euro short. It's not particularly big, especially given how massive it's been over the past year. With the euro beginning to trend lower, there is plenty of room for momentum chasers to pile in.
Act
Exp
Prev
GMT
Building Consents (m/m)
-8.2%
2.3%
Feb 28 21:45
Latest IMTs