Intraday Market Thoughts
After The Fed
A slide in the US dollar and rally in stocks Wednesday underscored the minimal expectations for a Fed hike on Thursday but we will examine what happens next whether Yellen launches liftoff or not. The pound was the top performer on the day while the yen lagged. 4 hours before the Fed, watch the release of the Sep Philly Fed following the dismal Empire Fed survey. A video of key equity indices and major FX pairs is featured today for Premium subscribers.
Click To Enlarge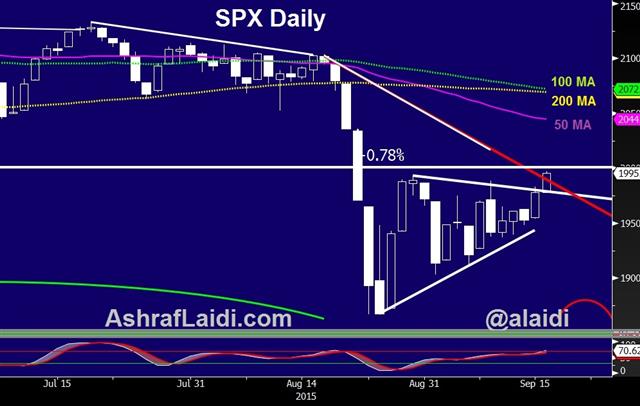 The game of 'will they or won't they hike' will come to a conclusion at 2 pm ET on Thursday. For weeks analysts have written exhaustingly on that question but there are other Fed-related puzzles to be solved.
If they don't hike, the next question is: when? Better market sentiment and good retail sales numbers on Tuesday may have tiled the Fed towards offering a signal about an Oct or Dec hike. The most-obvious sign would be if Yellen pre-announces a press conference following the October meeting. She is sure to follow this with many caveats that nothing is pre-ordained but markets will interpret it as a de-facto hike.
The extent of dissent against the decision will also be instrumental in hinting about prospects for a December action on rates.
Other signals about a hike could come in the Fed statement guidance dot plot or Yellen's press conference. We think that any hike this year would prove to be a mistake because of disinflationary forces from the strong US dollar and softening global demand. But there is some virtue in giving markets clearer guidance heading into future meetings rather than leaving speculators to guess.
Such an approach would allow market participants to better focus on what happens next. Namely, when will the Fed think about hiking again and what will happen with the $2.5 trillion in cash parked at the Fed. Keeping the effective Fed funds rate in the 0.25% to 0.50% range will be a challenge and they're hoping to use reverse repos to hold the floor. In the aftermath of the decision, markets will be closely watching the 0930 GMT daily release of effective Fed funds. That watch could start as soon as Friday.
Act
Exp
Prev
GMT
Fed's Monetary Policy Statement and press conference
Sep 17 18:30
Philadelphia Fed Manufacturing Survey (AUG)
6.0
8.3
Sep 17 14:00
Latest IMTs