Intraday Market Thoughts
Aussie Gets no Break
The Aussie remains the weakest currency of the week, especially amid more signs of slowdown from China. The latest wave of risk aversion seems to ease at the close of US trading and restart near the cash open (see chart below). AUDUSD attempts to hold at the 21-DMA, while softer than expected US CPI weighed temporarily on the USD, with the yen remaining the strongest of the day and of the past 5 sessions. Canadian CPI eased on a m/m basis but grew stronger compared to a year ago. A new
Premium trade was posted earlier today.
Click To Enlarge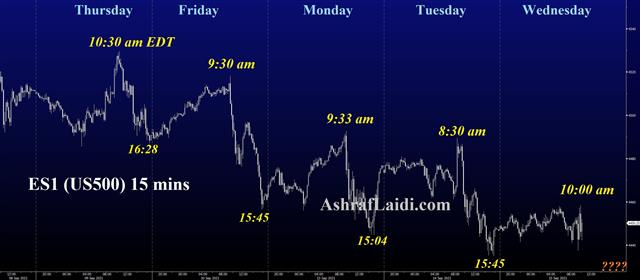 We wrote about China and global supply chain risks this week on here , and we got more evidence on Tuesday that those are curently the real market drivers -- not the Fed or inflation quirks.
Core US CPI in August rose just 0.1% compared to 0.3% expected. In year-over-year terms, it slowed to 4.0% versus 4.2% expected.
Initially, the FX market reaction was what you would expect with the dollar dipping 30 pips then extending that to around 50 pips across the board. Treasury yields sank, led by the long end.
Right around the time of the US equity open though, the theme changed as a broad risk off move unwound equity futures gains and reversed the dollar losses. As sentiment continued to sour, the dollar made further headway except against JPY and CHF.
What exactly the market is seeing (if anything) is unclear at the moment. The moves so far aren't big but they've been consistently in the same direction. That puts us on high alert for something the consensus is missing.
For non-CAD traders, we see more value than ever in following global data, particularly inflation. The pandemic kicked off at the same time nearly everywhere and the supply chain issues are global. Canadian inflation has had somewhat of a buffer from the rising CAD but what the market wants to know is the path forward. The US report Tuesday showed signs of a crest in inflation and that's likely to be globally synchronized, at least in developed countries.
Latest IMTs