Intraday Market Thoughts
BOC To Set the Tone Again
The April Bank of Canada decision kicked off a round of speculation about tapering but today will
likely emphasize patience and transitory inflation
, something that could also ripple through markets.
GBP is weakest currency of the lot and the only decliner vs USD
amid resurfacing tensions on EU/UK tariffs and doubts of a possible delay in the official "re-opening of the UK".
Yesterday's Premium trade is already +30 pips in the green.
The Bank of Canada interest rate decision is at 1400 GMT (10 am ET). There's
universal consensus that the overnight rate will be left at 0.25% and there is no press conference afterwards
.
Click To Enlarge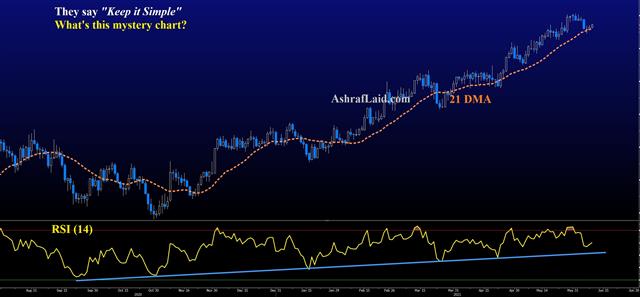 The only communication we will be getting is the press release and given everything that's happened since we last heard from the BOC, expectations for any kind of monetary shift are low.
The main reason none expects another hawkish surprise is due to the fact that the economy has undershot the BOC's April projections owing to harsh lockdowns in Canada's largest provinces. Both the market and the BOC will want to see how the economy looks in the reopening that's beginning now before taking another step.
One portion of the statement that could reverberate is on inflation. The latest BOC statement said "inflation is expected to rise temporarily to around the top of the 1-3 percent inflation-control range."
The world 'around' gives them some leeway but the April number was already 3.4% y/y and prices have continued to rise so the BOC could alter that slightly to get ahead of it. They could simultaneously neutralize that shift by continuing to emphasized that the central bank "expects CPI inflation to ease back toward 2 percent over the second half of 2021" while highlighting base effects and capacity constraints.
The overall message would the be dovish as they underline temporary inflation and confidence to look beyond it.
That's the same message the bond market is sending with US 10-year yields falling a further 3.6 bps on Tuesday to 1.53% -- the lowest close since mid-March. Thursday's US CPI report will be another big challenge but if the market can shrug off another high print, then it will cement the belief that price rises won't last and rates can remain low through the Fed's projection horizon.
Latest IMTs