Intraday Market Thoughts
Bond Bear Blueprints
The two best-known bond traders in the world squared off on Tuesday with competing visions of how and when the long-term bull market will end. The yen was the top performer while the New Zealand dollar lagged. Australian job vacancies are due next.
Click To Enlarge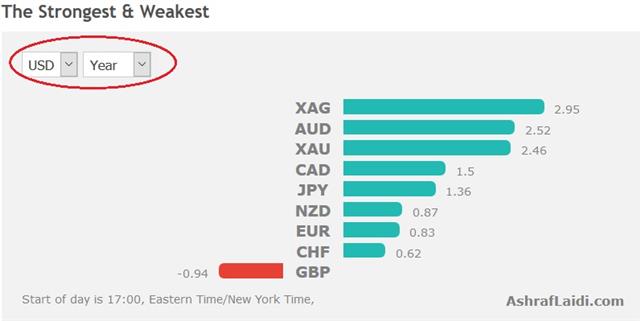 Bill Gross grabbed headlines Tuesday by casting aside all other markets and economic indicators and saying the future of global markets hinges on one chart – the 10-year yield. The T-note yield has been trending down for 30 years but is testing the upper limit of that channel.
Gross says a break above 2.60% would signal a new paradigm of growth and inflation that would be the start of a bear market in bonds. He didn't predict it was coming but said it would have to come with 3% real growth.
Gross' rival for the bond crown – Jeff Gundlach had a similar take but with 10-year yields at 2.37%, he allows for more leeway before declaring a new paradigm. He said it won't be a bear market in bonds until 3% yields.
What's fascinating to us is the interplay between fundamentals and technicals. Gross and Gundlach similarly based trades on fundamentals but use technicals for confirmation and timing. Their laser-focus on the 10-year yield is instructive and reminds us that it's moved 60 bps higher since election night. That kind of tightening will have effects on corporate profits and household finances that might be overlooked.
Finally, the overwhelming talk of a bear market in bonds is the kind of thing that's happened dozens of times in the past 15 years and failed to materialize. Yes, the President is different but Washington is still much the same and the demographics and secular trends in the US and global economy are little changed.
Overall in markets on Tuesday it was choppy but the majors closed less than 30 pips from opening levels. The big story this week continues to be the drop in oil. In terms of CAD, housing starts were strong but it can't get any traction until oil stabilizes, at the very least.
The top performer this year continues to be the Australian dollar. It will be in focus at 0030 GMT with job vacancies data due. Previously, openings rose 4.6% m/m.
Latest IMTs