Intraday Market Thoughts
Brexit Grind Intensifies
Less than 15 minutes before starting to write this IMT, GBPUSD spiked by more than half a cent on an FT report stating that EU's chief Brexit negotiator Barnier has said the core elements of their exit text text are ready to present to the UK cabinet on Tuesday. The pound started the week lower as a deal failed to materialized on the weekend as Brussels rejected May's latest proposal. In the Premium Insights, the latest index short extended into the green, while the EURUSD short hit the stop loss at 1.1270. Will EURUSD extend weakness to 1.10 or is it nearing a recovery? This will be covered in today's Premium video. Over the last 8 years, the USD Index has ended the month of November higher -- with the exception of 2017.
Click To Enlarge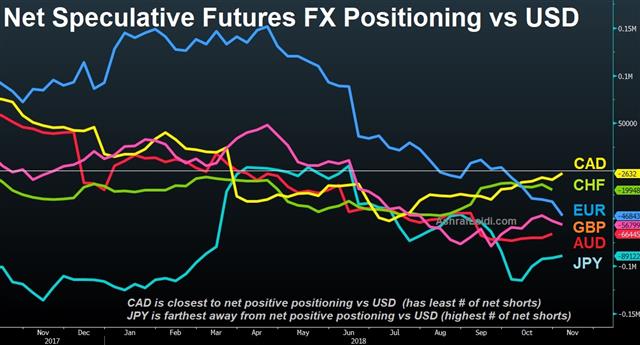 Cable started the week down 50 pips on a Times report saying that the EU had declined the UK's latest Brexit offer. There is also increasing pressure on May to hold her government together and fear that a deal will be voted down after Jo Johnson quit cabinet.Juncker said he sees a Brexit deal coming together but time is slowly running out as the EU will soon have to make a decision on a November summit.
USD resumes its climb, dragging EURUSD below 1.1300 as oil prolonged its fall for a record 10th consecutive day (until today). Saudi Arabia tried to arrest the decline by saying at the weekend's OPEC meeting that they will cut exports by 500K bpd in December. There was also talk of a wider OPEC production cut in December.
USD/CAD rose to a four-and-a-half month high and will need some help from risk trades, oil or Canadian economic data to reverse the slide.
Note that Monday is a holiday in severall markets, including the US bond market, so that could sap liquidity.
CFTC Commitments of Traders
Speculative net futures trader positions as of the close on Tuesday. Net short denoted by - long by +.
EUR -47K vs -33K prior GBP -57K vs -52K prior JPY -89K vs -92K prior CHF -20K vs -17K prior CAD -3K vs -10K prior AUD -66K vs -70K prior NZD -26K vs -35K prior
The notable move was in the euro and the short position is now the most-extreme since March 2017. Some of that undoubtedly reflects a bet that Draghi and the ECB will push out forward guidance as economic data continues to disappoint.
Latest IMTs