Intraday Market Thoughts
Brexit Polls Lottery
Brexit polls will continue to dominate the landscape even with US retail sales and the Fed due in the next two days. The yen was the top performer Monday while the pound lagged. Australian business confidence is due later.
Click To Enlarge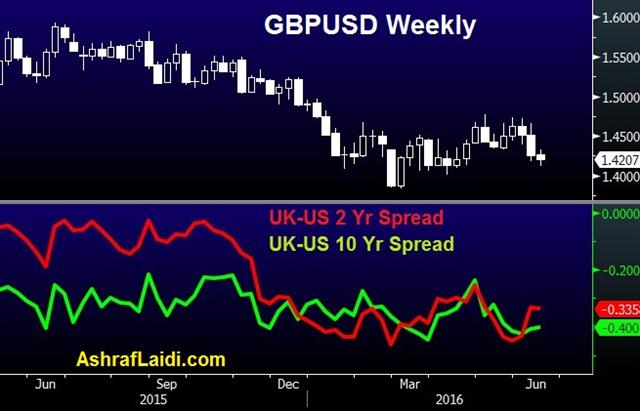 The FOMC two-day meeting begins on Tuesday but Brexit is the topic dominating markets. Polls are anticipated more than economic data points.
Today's 3 Polls
The
Guardian
hyped a poll for hours ahead of the release and when it was finally released it showed 'leave' ahead by 53% to 47% but newswires first reported it backwards before making a quick correction. Cable jumped a full cent and then crashed back down.
Late in the day another set of polls hit. Data from ORB showed 49% to remain and 44% to leave but the leave side had a slim lead among voters certain to vote.
Finally, a poll from YouGov put the leave side ahead 46% to 38% with the remainder undecided.
The vote is suddenly much closer and it's spilled over into a broad risk trade. Stocks fell hard for a second day but the fear is most visible in the VIX as portfolio managers rush into options trades to hedge. The VIX has risen to 21 from 15 in the past two trading days and is at the highest since March 1.
In FX, two things stand out. The first is that the pound has shown more resilience to signs of Brexit, which means a close vote may be priced in or that real money selling is ahead of the vote is largely done. Secondly, yen buying isn't as dramatic as stocks and the VIX might indicate. That may be due to technical support in USD/JPY as it approaches the May low or apprehension ahead of the Fed but it bears watching closely.
On the day, economic data was light but it will pick up on Tuesday with US retail sales followed by the Fed Wednesday. Those releases may be swamped in the near-term by the fear trade but, in turn, that could lead to a more dovish Fed and a bigger bounce if/when Britons vote to remain.
In the immediate future, the calendar is light for Asia-Pacific traders. The lone indicator that might move the market is NAB Business Confidence for Australia. The prior readings were +5 for confidence and +9 for conditions.
Japanese final April industrial production is also on the schedule at 0430 GMT but it is less likely to move the market.
Latest IMTs