Intraday Market Thoughts
Brexit Polltergeist
Four Brexit polls released on the eve of the vote sent the pound swiftly lower and then to the highest levels of 2016. On the day, the Australian dollar was the top performer while the yen lagged. We breakdown the timeline of Brexit events Thursday.
Click To Enlarge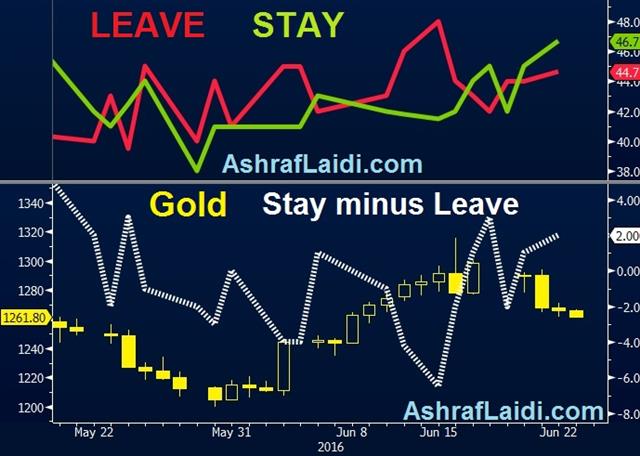 Two early polls showed the Leave side ahead on Wednesday and two released later showed Remain firmly in control.
GBP/USD fell to 1.4640 after Opinium showed Leave ahead 45-44%, a slight improvement for the Brexit side compared to the firm's previous poll at 44-44%. TNS later showed Leave ahead 43-41% and GBP remained under pressure while risk appetite sagged.
At the Asian open, however, a YouGov poll put Remain ahead 51-49% and a phone poll from ComRes had the Remain side up a healthy 48%-42%. Interestingly, every phone poll puts Remain ahead while online polls generally put Leave ahead.
Those late polls sent cable to 1.4844, which is the best level of 2016 and more than 800 pips in the past six days.
Trading the polls and going with the flow of the news is critical in the day ahead so here is the timeline. Polling opens at 0600 GMT (0700 BST) but at least two final polls are expected to be released before that deadline. The voting booths don't close until 2100 GMT, which will leave the market vulnerable to illiquidity and rumours throughout the day.
At the close of voting, two more polls are due from Sky and YouGov. These are not exit polls but were taken on Wednesday. However, they may be presented as exit polls and that could create some confusion. In any case, similar polls released after the Scottish referendum were highly accurate so they're likely to be market movers.
The first actual results – often from Sunderland and Newcastle– will be released sometime between 0100 GMT to 0200 GMT and it will be a steady stream from there. A model from a UK academic estimated that the Leave side should be ahead by 6 points in Sunderland. Other early results from Swindon and Oldham should put Leave ahead around 15 and 10 points, respectively. The market may misinterpret those numbers and mistakenly think Leave is going to win. However, the results will need to be even more lopsided than that to point to a national Leave win.
It will all happen relatively quickly and if one side has a clear lead, it will be essentially 'done' by 0300 GMT and a final declaration will be made around 0600 GMT, assuming there are no recounts.
Latest IMTs