Intraday Market Thoughts
Bringing back October
Regardless of the intra-day rebound in US and European indices last Monday and today, the recurring declines continue to stand out. In the case of the DAX-30, the German index gapped down about 450 points on Sunday November 28 in the futures market, before recovering half of those losses. But the gap remains unfilled. Today's post-Greek referendum recovery in the Dax also failed to fill the yesterday's 500-pt gap. The Dow Jones Industrials index will close below its 200-day MA for the 3rd time in the last five days, as the weekly chart remains above its 55-MA. The S&P500 nearing its own 55-WMA, which hasn't been crossed since the infamous October lows.
Combining these technical dynamics with the onset of US earnings season and the usual Greece developments, markets have sufficient reason for further volatility, especially as the Fed moves to keep its door open for an autumn hike at this month's FOMC meeting. The concentration of two appearances by Fed chair Yellen this month (10th and 16th) and July 29th FOMC should oblige with the fundamental catalysts for such volatility.
A painful summer lies ahead for the bulls.
Click To Enlarge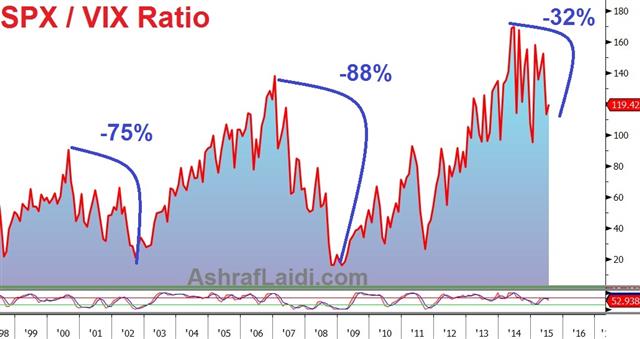 Latest IMTs