Intraday Market Thoughts
Cable Clipped Again, AUD Sags
UK CPI data was a touch higher than expected but the pound plunged again anyway. The yen was the top performer while the Australian dollar lagged after the RBA minutes. More Australian data is due later with the skilled vacancies report. The latest Premium video, discussing our FX & metals trades is found below. It also includes a preview for Wednesday's UK jobs report and Thursday's ECB press conference. Last week's JPY trades has now been filled and is in progress.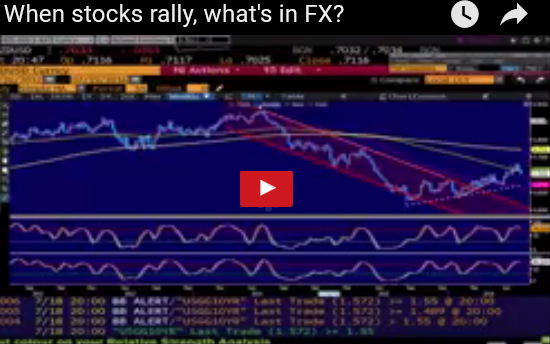 The clearest sign of a bear market is when something can't rally on good news. UK core CPI rose 1.4% compared to 1.3% y/y expected led to a momentary rise in the pound but it crashed down soon afterwards. Steady selling continue throughout the latter half of the day and the pound finished down 170 pips and just below 1.31 at a one-week low.
The IMF weighed in on the Brexit vote by cutting its 2016 global growth forecast for the fourth time. They lowered the estimate to 1.7% this year from 1.9% and for 2017 to 1.3% from 2.2%. Those numbers remain a touch higher than consensus views but it's all highly changeable given Brexit uncertainty.
What stands out is how sanguine the market is on 2017 given some of the estimates. There may be a sense that Brexit won't happen or won't be that bad. That's a dangerous assumption.
Looking ahead, the lone main data point on the calendar is Aussie skilled vacancies at 0100 GMT. The market is increasingly pricing in RBA and RBNZ moves in August and that weighed on AUD and NZD Tuesday. Skilled vacancies are a lower tier indicator but the market is growing more sensitive.
Another sensitive topic is Donald Trump as the Republican primary continues. Betting markets give him a 30% of winning the Presidency. Financial markets are likely lower. If he is to make it a close race, it's imperative that the RNC avoid any further gaffes. We will also be paying close attention to how hard he rails against trade and or globalization for a sign of how he will steer his campaign.
Latest IMTs