Intraday Market Thoughts
Central Bank Jawbreaker
We look at the market's indifference to US factory data, brewing problems in the Canadian housing market and why what central bankers say matters less than ever. The Australian dollar was the top performer Monday while the pound lagged. The RBNZ's Wheeler and the RBA Minutes are up next. The Dow trade was stopped out at 18,660, leaving 6 trades in progress.
Click To Enlarge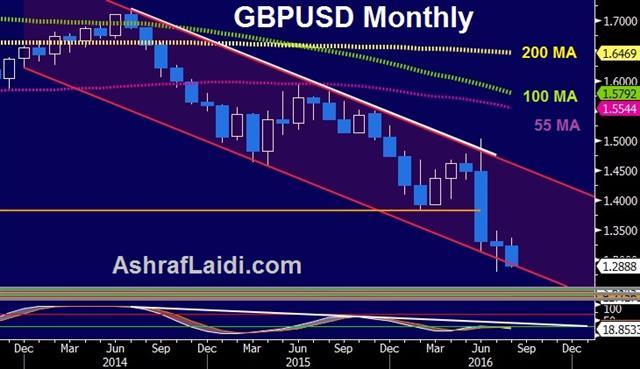 In economic data Monday, the Empire Fed manufacturing index fell to -4.2 compared to +2.5 expected. The miss hardly elicited a response. Manufacturing has struggled at various times since the crises but has never been able to spark any kind of sustained worries. Increasingly, the market is indifferent to US factory data.
One set of data that's growing in important is Canadian housing. The 15% foreign buyers tax on the West coast and rumblings of similar moves elsewhere could put a cooler on the market, along with a struggling resource economy. July existing home sales fell 1.3% compared to 0.9% expected.
Canadian house prices were up 9.9% y/y in a poor economy and officials are increasingly concerned. Fin Min Morneau on Monday said the government is focused on minimizing housing risks. They may be able to shield the financial sector but deflating a bubble is a tall task and one that will loom large in 2017.
In central banking, the trend is openness; in the sense that officials are more open than ever to alternative ideas. In a letter Monday, the Fed's Williams mulled raising the Fed's inflation goal or targeting nominal GDP.
In the pre-crisis era, central banks worked by raising or lowering rates in an essentially binary system. Markets are now demanding more creative policymaking and punishing currencies harshly when central banks fail to meet expectations, which are often unclear.
Much of what Williams is proposing is changing the communication function. What he's underestimating is how badly central bank credibility has been damaged. Targets, forecasts and even mandates have been missed so badly that markets are indifferent to changes.
Japan is a prime example of all the issues and yesterday's dismal GDP report emphasized the inability of central banks (and even governments) to battle demographics and altered consumer attitudes.
Looking ahead, the RBNZ's Wheeler is slated to speak at 2230 GMT. At 1:30 GMT, the latest RBA Minutes are due up. The policy outlook will likely mirror the latest statement and offer nothing new but comments on the growth outlook could be revealing.
Act
Exp
Prev
GMT
Prelim GDP (q/q) [P]
0.0%
0.2%
0.5%
Aug 14 23:50
Latest IMTs