Intraday Market Thoughts
China Covid Outbreak, & Bitcoin Correlated Stock
Chinese health officials delivered some bad news on the weekend, nothing that more than 100 covid cases have been confirmed in the past week across 11 provinces. The market took the news in stride early, but it's worth watching if cases begin to spread. On Friday, Powell reaffirmed the need to taper this year, prompting gold to lose half of the $30 rally generated earlier that daym before stabilizing above $1800. USD is up against most currencies as of Sunday's open, with the exception of against AUD and CAD. Minutes ago,
US crude oil just hit $85 for the 1st time in 7 years, which is another reason why Ashraf
reaffirms the
point made in 7:20 mins of this video
. Ashraf added a stock in the chart below, with a
high positive correlation with Bitcoin
. Care to guess/add it to your holdings?
Click To Enlarge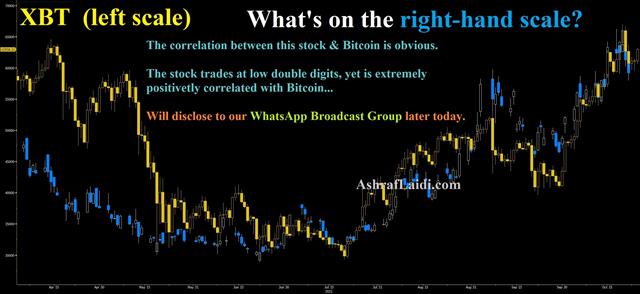 As bad as supply chain bottlenecks are, they could be much worse if covid had hit China as hard as the rest of the world. Or maybe it's only a matter of time because while China is making vaccine progress, it's jab is less effective than MRNA technology so they may eventually need to let it run.
While we're optimistic on covid receding further, the recent lockdown in Russia and rising cases in the UK, along with this news bear watching.
Otherwise, markets are consumed with rates and inflation talk. Powell on Friday struck a different tone in nothing the high prices will likely last well into next year. He also emphasized that they need to consider a full range of plausible outcomes.
While he still argued for patience, the confident 'transitory' talk from Jackson Hole is long gone. The Fed doves are seeing the pressure on jobs and supply chains and increasingly worrisome that higher prices will become embedded. Interestingly though, as the dollar rallied on this and short-dated rates pushed up, long dated rates pulled in, suggesting the risk of tightening prematurely and tee-ing up another decade of sub-2% inflation.
Economic data will be more lively in the week ahead with the US week starting with the
Chicago Fed index, Richmond Fed
and
new home sales.
Latest IMTs