Intraday Market Thoughts
China Re-Starts the Dangerous Property Game
The era of 7% growth in China essentially came to an end at the National People's Congress on the weekend. Early trading is light but the AUD is lagging and USD leading. CFTC data showed euro shorts and Aussie longs in fashion. Monday's key events will be mostly central bank related, including a speech from BoE's Haldane (4:10 ET/9:10 GMT), Fed's Brainard (17:00 GMT) and Fed's Fischer (18:00 GMT).In the Premium Insights, a new trade has been added on Friday, adding the total of existing trades to 7.
Click To Enlarge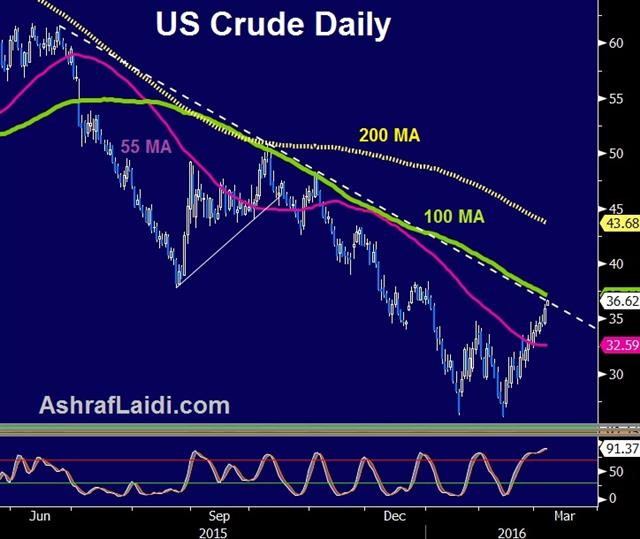 Top Chinese officials met in Beijing on the weekend and unveiled a 6.5-7.0% target, the first departure from +7% expectations. It was well telegraphed in advance but it underscores the difficulty in maintaining momentum. One concern is that the deficit will swell to 3% of GDP from 2.3% but a larger worry is that the government plans to stimulate the mortgage lending industry as well.
Along with reports of mass layoffs last week, the PBOC's Zhou voiced his support for an overhaul in state-owned enterprises in order to reduce overcapacity. That's something that could reduce demand for raw materials.
Overall, talk of more difficult reforms has been softly shuffled to the back burner. The clearest sign is the mortgage market. While that's good for near-term domestic and global growth, there will eventually be a bill to pay.
The lone event of note in Asia-Pacific trading is yet another speech from Kuroda at 0340 GMT. His recent comments left little doubt that he's prepared to ease again but there has been no hint of the timing.
Commitments of Traders
Speculative net futures trader positions as of the close on Tuesday. Net short denoted by - long by +.
EUR -68K vs -47K prior JPY +60K vs +53K prior GBP -39K vs -33K prior CHF -1.5K vs -2K prior AUD +17K vs +10K prior CAD -30K vs -2K prior NZD -4.2K vs -6.6K prior
The Australian dollar was the best performer last week, rising more than 4% on upbeat GDP and no hints of easing from the RBA. It doesn't take much to get momentum going in a high yielder and with positioning still relatively neutral, there is plenty of room for longs.
Act
Exp
Prev
GMT
Fed's Stanley Fischer speech
Mar 07 13:30
RBA Deputy Governor Lowe Speech
Mar 07 23:30
Latest IMTs