Intraday Market Thoughts
China's Debt Problem
China is in focus early this week after the central bank leader warned about rising debt levels. The yen was the top performer last week while the US dollar lagged. Weekly CFTC positioning data showed a squeeze in CAD and GBP shorts. There are currently 4 Premium trades in progress after EURUSD was closed at a profit and GBPUSD was stopped out. It will be a holiday shortened week. but not short of Fed speech.
Click To Enlarge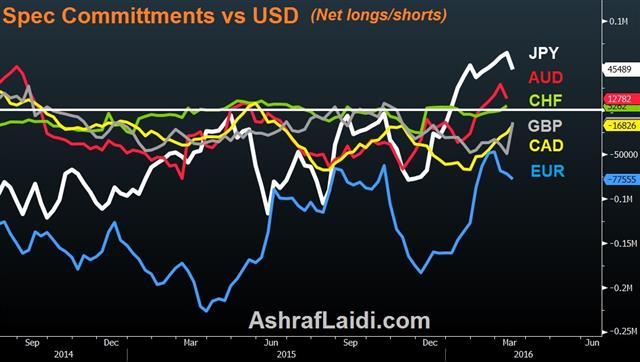 Weekend news was generally light but the PBOC's Zhou shed some rare light on growing problem. He said regulators want to tackle debt and warned that corporate lending as a share of GDP is too high. This may not matter to many after the Shanghai Composite regained 3000. Other new data such as the average Chinese account receivable takes over 80 days to be settled is also being taken into notice.
China bears often point to the overburdened lending market as a particular vulnerability. In the past two years, there were efforts to tighten up lending and quiet some of the risks. But in the past month, much of it has unwound. China has reopened the property-lending taps and has unveiled a program to buy bad bank debts.
It came after Chinese growth hit a minor bump. On the weekend, MNI reports that the NDRC Chairman said growth will be above 6.5% in each of the next five years.
So what other options does China have? Zhou hinted they will try to entice savers to invest in capital markets. By developing and liberalizing them, companies could use equity or non-bank lending more effectively. In order to make that transition the government will want to curb volatility in Chinese stock markets. Look for more intervention and steady gains in Shanghai shares in the coming months.
Commitments of Traders
Speculative net futures trader positions as of the close on Tuesday. Net short denoted by - long by +.
EUR -78K vs -72K prior JPY +46K vs +64K prior GBP -14K vs -49K prior CHF +5K vs -0.1K prior AUD +13K vs +29K prior CAD -17K vs -26K prior NZD +K vs -2K prior
Significant swings in sentiment last week highlight a market that's suddenly off balance. The market was buying back CAD shorts but fell out of love with AUD. Cable shorts rushed for the exits and yen longs hesitated. The FOMC on Wednesday will have speculators even more rattled.
Act
Exp
Prev
GMT
Fed's Lockhart speech
Mar 21 16:40
RBA Assist Gov Edey Speech
Mar 22 0:45
RBA's Governor Glenn Stevens Speech
Mar 22 5:30
Latest IMTs