Intraday Market Thoughts
China's FX Reality
January forex reserve data revealed on the weekend that China is burning through reserves at an unsustainable pace in order to strengthen the yuan. Yet the common theme remains that China wants to soften their currency. We look at the dilemma officials are facing and how it will end. In the Premium trades, Ashraf closed the USDJPY and GBPJPY shorts at 320 and 335 pip gains respectively. Many clients questioned his decision to short USDJPY 45 mins after the BoJ announced negative interest rates.
"فيديو جديد - خاص للمشتركين العرب "التوصيات القائمة و المحتملة بعد الوظائف الأمريكية
Click To Enlarge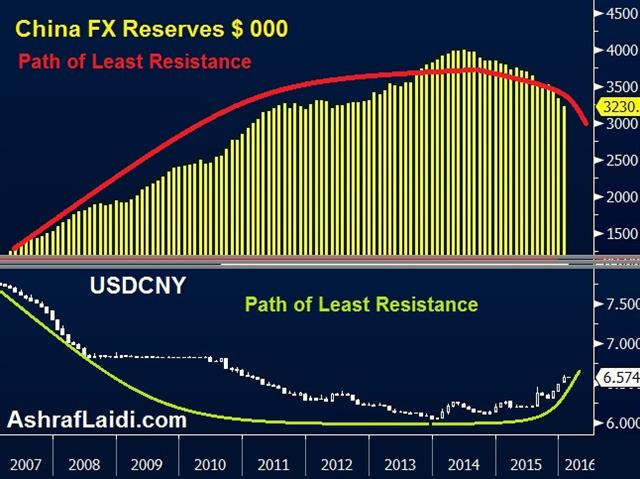 It's Chinese New Year Monday and markets there and in other parts of Asia will be closed all week. That may give markets an opportunity to stabilize as one of the factors driving volatility is removed.
It's also a chance to try to make sense of China's strategy. Why not just allow market forces to weaken the yuan?
For Chinese officials, what's as important as the direction of the currency is why it's moving. At the moment, they see capital exiting China on jitters about the economy and stock market. Beijing is obsessed with stability and the appearance of control. That's why they've put much effort into smoothing yuan and stock market moves.
China wants to have open markets, but only on its terms. Unfortunately, even the most well-developed, transparent markets are prone to irrational volatility, as 2016 so far has proven. China won't spend all its reserves to combat the inevitable loss to market forces, so it's a matter of when and how they give in.
Naturally, Beijing wants to give up control on its terms but it's increasingly likely that markets won't cooperate. The opacity of the Chinese economy will always make it vulnerable to capital flight. China's true dilemma is whether to accept it or change course back towards tighter capital controls. The latter is more likely than most market participants believe.
Commitments of Traders
Speculative net futures trader positions as of the close on Tuesday. Net short denoted by - long by +.
EUR -87K vs -127K prior JPY +37K vs +50K prior GBP -45K vs -47K prior AUD -26K vs -33K prior CAD -52K vs -67K prior NZD -8K vs -5K prior
This is the first look at the data since the surprise BOJ decision. The yen long trade wasn't squeezed as much as it appeared, although the numbers could also reflect fresh shorts after the USD/JPY to 121 fizzled. Instead, it was euro shorts that rushed out of the way and that was before the latest break above 1.10.
Latest IMTs