Intraday Market Thoughts
China the Worry, not US Jobs
Indices are mixed and so is the US dollar after Friday's US and Canadian jobs reports clouded the picture, but the real shocker was the drop in Chinese trade (see chart below). US January retail sales beat expectations with a 1.1% increase following a downward revised December to -2.3%. Friday's USD Premium short is in the green, while positions in indices are flat after exiting the DOW30 with a 400-pt gain. If you're in NY, Ashraf will be at the Traders' Expo today & tomorrow.
Click To Enlarge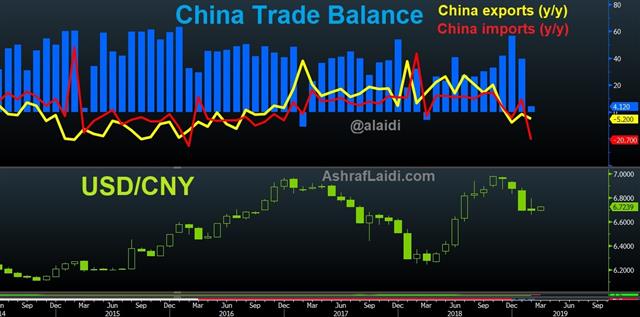 The headlines on US and Canadian jobs were diametrically opposed with the US creating just 20K jobs and Canada creating 56K but the details of the reports told a different story. In the US, the headline was the worst since Sept 2017 but the unemployment rate ticked lower to 3.8% and hourly earnings best estimates. In Canada, the report was entirely bullish with strong wage growth at 2.2% versus 1.7%, higher participation and all the gains in full-time jobs but the market treated the data with a dose of disbelief because of signs of weakness elsewhere in the economy.
Overall, the initial spikes in both currencies were the extremes of the day on Friday. That underscores the subsequent skepticism and the status of jobs reports as lagging indicators that can be highly volatile month-to-month. Numbers that are less volatile are often trade and that's what makes the trend in Chinese trade so concerning. February imports and exports both badly missed estimates and raise fresh concerns about growth.
Numbers around the lunar new year can be skewed by the holiday and maybe fretting about Chinese data during the trade spat is an overreacting – especially if you believe a deal is almost done. However, the market isn't so sure with the Shanghai Composite down 4.4% Friday.
Another area of worry is the pound. Cable fell below the 200-day moving average at the weekly open in a drop below 1.30. The UK rejected the EUs latest Brexit offer and there are rumblings they will ask for billions of pounds more in a Brexit divorce in exchange for a delay in the March 29 Article 50 deadline. The question with the pound is always: How much bad news is already priced in. After 8 days of declines, it's considerable but without any clarity on the next steps, there is no impetus for anyone to catch the falling knife.
Latest IMTs