Intraday Market Thoughts
China, Yen Shorts and the Left
Weekend data included solid data from China and a swing left in UK politics. Markets opened the week largely unchanged with the Fed in focus. Weekly CFTC positioning data showed yet another fall in yen shorts. The EURUSD Premium long at 1.1210 is currently in progress, along 4 other trades.
Click To Enlarge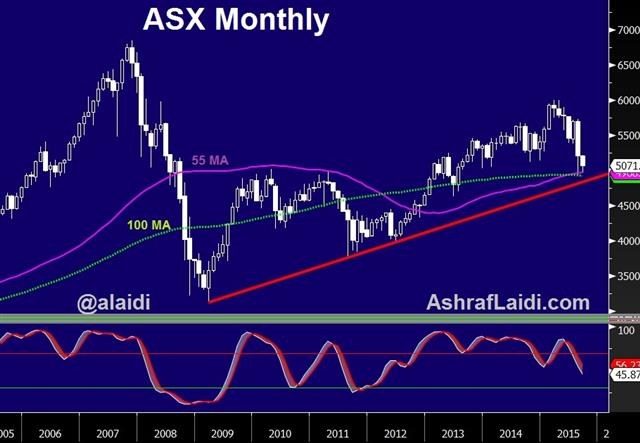 Fear about China is continuing to fade and the latest economic data should continue to sooth nerves. Retail sales and industrial production numbers released on the weekend were solid. Retail sales rose 10.8% y/y compared to 10.6% expected while industrial production climbed 6.1% y/y versus the 6.3% consensus forecast.
The volatility in Chinese stocks is slowly diminishing and that's good for risk assets globally and commodity currencies. The Australian dollar was the top performer last week while the yen lagged.
In the longer-term picture, a shift to the left is increasingly evident in major developed countries. The latest evidence was a landslide victory for Jeremy Corbyn for the leadership of the Labor Party. Britain isn't scheduled to hold an election until 2020 and but he's miles to the left from one-time leader Tony Blair. We note that the UK isn't the only place where anti-austerity and public investment politicians are gaining ground.
Canada holds elections in October and the two parties leading in the polls are both to the left of Prime Minister Harper. In the US, Bernie Sanders has narrowed Hillary Clinton's lead to 10 points and holds leads in Iowa and New Hampshire primary polls.
Commitments of Traders
Speculative net futures trader positions as of the close on Tuesday. Net short denoted by - long by +.
EUR -81K vs -68K prior JPY -7K vs -16K prior GBP -18K vs -11K prior AUD -53K vs -56K prior CAD -49K vs -56K prior CHF -7K vs -8K prior
Once again, the US dollar is in a net-long position right across the board, highlighting its vulnerability ahead of the Fed decision. The first currency to switch might be the yen, which was nearly unthinkable three weeks ago when it was held at a net -90K.
Act
Exp
Prev
GMT
Retail Sales (AUG) (y/y)
10.8%
10.5%
10.5%
Sep 13 5:30
Industrial Production (AUG) (y/y)
6.1%
6.4%
6.0%
Sep 13 5:30
Latest IMTs