Intraday Market Thoughts
Cohn out, USD Tumbles, Futures Shaken
Equity index futures are down sharply (S&P minis -33 pts or -1.2%) after the announced resignation of White House top economic advisor Gary Cohn, long regarded as the remaining "adult in the room" when it came to economic/fiscal policy was instrumental in shaping up Trump's tax reform. Cohn's sharp disagreement with Trump's trade war approach is widely attributed to his departure. A new Premium trade has been issued earlier today. There are 10 Premium trades in progress; 8 in the green, 1 flat and 1 at a loss.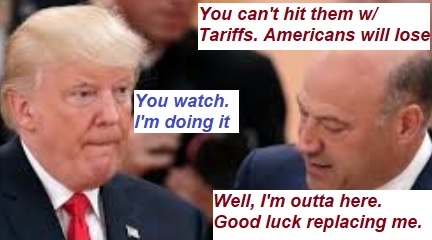 The twists and turns of tariff talk gave the loonie some relief on Tuesday. Trump tied them to a new NAFTA deal and, at the same time, Congress and business lobbies have rallied to head off a trade war. USD/CAD touched just above 1.3000 before sinking down to 1.2875.
The drop erases Monday's gain and leave some uncertainty about a break above the late-2017 highs. That's likely to be resolved with the Bank of Canada rate decision on Wednesday. The OIS market is pricing in a 13% chance of a hike but even that number is too high with virtually no economist is predicting a move.
The latest round of economic data in Canada sharply deteriorated and that's compounded by the trade talk. The previous BOC statement included the line "recent data have been strong" and that's almost certain to be downgraded.
Guidance, however, is likely to remain largely intact so the risks to the loonie are probably modest. That said, the BOC certainly has a flair for the dramatic and officials will tread cautiously on trade.
The bigger current question for the loonie is about the uncertainty between any implementation of tariffs and a NAFTA agreement. It's unclear if the White House will give Mexico and Canada a waiver while NAFTA negotiations continue. If not, that would provoke a kneejerk lower in CAD and MXN.
One indicator that can't be overlooked on Wednesday is trade data from the US and Canada. We've written recently about the rising US trade deficit and corresponding risks of clumsy policies to counteract it. The US trade deficit is expected at $55 billion per month in January.
Act
Exp
Prev
GMT
BoC Rate Statement
Mar 07 15:00
Latest IMTs