Intraday Market Thoughts
Trading in & out of the Fed
The release of the 2023 FOMC dot plots will send an important signal to markets on Wednesday with the key parts of policy assured to remain unchanged.
A similar story in Wednesday to Tuesday
as sterling remains the top performer, while the euro lags. US retail sales rise by less than expected and lower than the revised figures.
Below is today's
Premium video with suggested positioning ahead of the Fed decision/press conference.
Click To Enlarge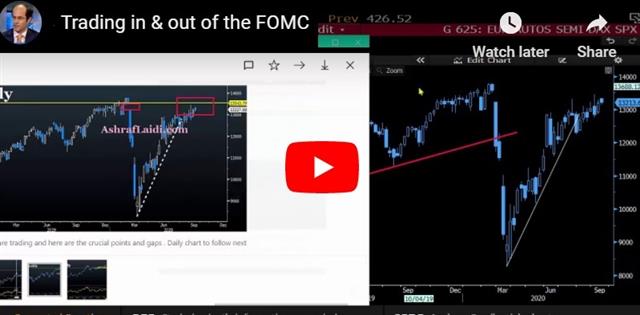 The FOMC decision is on Wednesday at 14:00 EST(18:00 GMT, 19:00 London, 22:00 Dubai) and it will include the latest economic projections and a press conference from Powell 30 mins later. (See Ashraf's view here on the Fed in orange).
There is little intrigue in the decision itself. Better economic data in Q3 has cut the chance of further easing to nearly nil. Instead the focus will be on communication about lower rates for longer, particularly via the dot plot.
This edition will feature the introduction of the 2023 dots and will also include some important changes to this year's forecasts. For 2023, the main question is on the median on rates. In the June forecasts, the median was still on the floor but some FOMC members likely see liftoff in 2023. If it's enough to move the dot, it could be seen as hawkish and USD positive.
Importantly, the pandemic has also unfolded better than the Fed anticipated. The 2020 growth forecast will illustrate that as the GDP estimate will move to around -3.5% from -6.5% along with better unemployment. A tail risk is that better economic outcomes lead some to see liftoff as soon as 2022.
There could also be a shift in PCE higher to account for average inflation targeting and if so, that could also underpin a selloff in bonds and bump in the dollar. Along those same lines, there is a seasonal bottom in Treasury yields that occurs in mid-September and a higher inflation forecast could be the tipping point.
A more-straightforward element to watch is the statement and whether it continues to include a nod to 'considerable risks' surrounding the outlook. Given the pandemic and election uncertainty, that's not likely to be altered but there is a chance.
Latest IMTs