Intraday Market Thoughts
December Dots Drive Dollar
The FOMC delivered a hawkish forecast on Wednesday and a fresh message of cautious optimism despite a hurricane-driven setback. The US dollar jumped across the board on the headlines while the euro was the laggard on the day. The Bank of Japan is next. A new JPY trade has been issued ahead of the Fed.
Click To Enlarge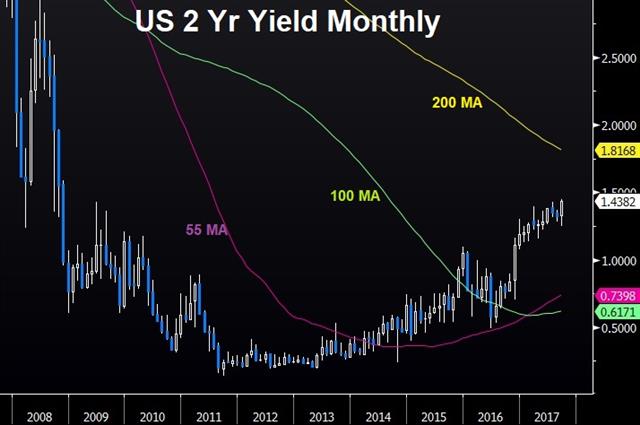 We warned about a hawkish surprise ahead of the Fed and the implausibility that the dots would be significantly downgraded. They weren't. 12 of the 16 FOMC attendees expect the Fed to hike again this year, that's the same as in June.
That's a strong message that despite worries about inflation, the Fed remains optimistic about the economy. That was partly reflected in the statement, where they touted a pickup in business investment. The formal forecasts on GDP, jobs and PCE inflation were tweaked but not enough to overshadow the dots.
It is a similar story for 2018, where the Fed median continues to show three hikes in addition to one before year end. The market doesn't believe in such an aggressive path and the Fed has frequently overstated the path but even two hikes in the next 15 months may be sufficient for a sustained USD bid.
As expected, the balance sheet reduction will also get underway in October but we will have to wait a few weeks before we get more details.
We won't have to wait long, however, for more central bank news. The BOJ decision is due around 0300 GMT plus-or-minus 30 minutes. There are no expectations for any kind of change in policy. Kuroda is happy to watch as other central banks tighten policy and depress the yen. He won't want to give any kind of indication that Japan is prepared to join in the global tightening.
The yen stance is reflected in things like AUD/JPY. On Wednesday, the pair broke above the July high to the best levels since December 2015 in what could be a significant break.
Latest IMTs