Intraday Market Thoughts
Does Euro Care About Catalonia?
Nearly 1000 people were injured in a voting crackdown Sunday in Catalonia as the central government aimed to stop an independence referendum. After having been the top performer in September, the pound is the day's worst performer amid growing concerns with PM May's authority ahead of this week's annual Conservative Party conference. US manufacturing ISM is up next. The Premium shorts in DAX and USDCAD were both stopped out. Here is a look at today's DAX chart. Could it be a case of "market is irrational longer than you can be solvent?"
Click To Enlarge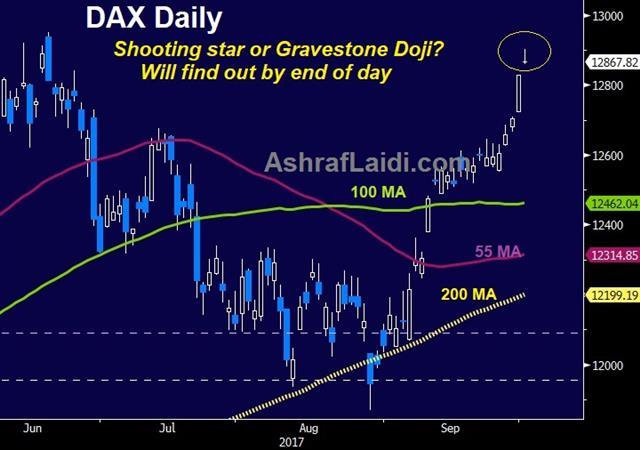 Spain's central government attempted to shut down voting as Catalonia aims to split in what's likely to be an acrimonious process. The challenge for Catalan leaders is to form a legitimate government and gain international recognition. The government will aim to enter into negotiations but given the violence and the deployment of police from outside the region, the days ahead are sure to be acrimonious and tense.
Will the euro suffer? Early indications are that it won't and so long as it doesn't spark a broader chord of anti-euro sentiment or a national crisis in Spain, then the headlines can be safely ignored. Catalonia's contribution to Spain's economy has been growingtremendously, but Spain's structural backing to Catalonia is also considerable.
A more-likely driver early in the week will be solid numbers from China. The official manufacturing PMI was at 52.4 compared to 51.6 expected while the services PMI soared to 55.4 versus 53.4 previously. In a sign that officials are loosening policy, China also loosed the RRR for some banks.
CFTC Commitments of Traders
Speculative net futures trader positions as of the close on Tuesday. Net short denoted by - long by +.
EUR +88K vs +62K prior GBP +5K vs -10K prior (1st positive in nearly 2 years) JPY -71K vs -51K prior CHF –1.8K vs -1.5K prior CAD +75K vs +59K prior AUD +77K vs 72K prior NZD +8K vs +12K prior
The power of central bankers has been on display in the cable data. GBP was deeply net short a few weeks ago and now the market is betting Carney will deliver a rate hike. Euro longs also rebounded after a dip last week as the market finds support near 1.17. The bounce shows how eager specs are to buy the dips.
Act
Exp
Prev
GMT
Final Manufacturing PMI [F]
53.0
53.0
Oct 02 13:45
ISM Manufacturing PMI
57.9
58.8
Oct 02 14:00
Eurozone Final PMI Manufacturing [F]
58.1
58.2
58.2
Oct 02 8:00
Latest IMTs